Photo by Ali, Disney Fine Art Photography on Pinterest
Disney Bride Stephanie is planning a Walt Disney World wedding at the Canada Pavilion and GM Conference Room for March 2018.
I'll admit that during the wedding planning process I've been pretty good at making decisions and sticking to them.
Choosing a photographer, however, was a completely different story.
In my opinion photography is easily the single most important element for your wedding. All of your decisions from months of planning will be documented and you want to make sure they are captured beautifully. You'll be looking at these photos throughout the years, and the last thing you want to tell yourself after the wedding is that you wished you would've splurged more for a photographer or taken more time to choose one that suits your taste and style.
Having said that, when it came time for us (and by us, I mean me, since I studied photography and my fiancé knew I'd make the decision on my own) to choose a photographer from Disney Fine Art Photography (DFAP), I spent a good chunk of time perusing their work, trying to determine which one is best suited for our big day.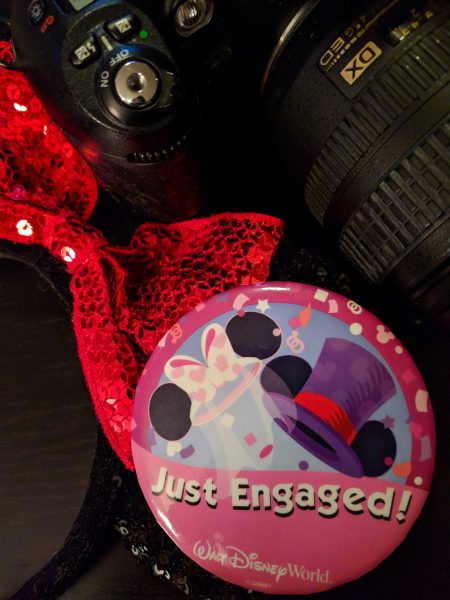 Since we chose the Wishes Package for our Walt Disney World wedding, we needed to meet an enhancement minimum expenditure by choosing a combination of services offered by Disney for our ceremony and reception. There is an option to choose an outside photographer and paying an extra fee to have them shoot your wedding; however, after looking through the many talented photographers that work for DFAP, and knowing this amount would go towards our minimum expenditure, it became a no-brainer for us to choose a photographer from DFAP (finally, an easy wedding decision, yay!)
Tips for Choosing A Disney Fine Art Photographer
Choose a Style – Before checking out these photographers' work, I would suggest to first look through wedding photos from your friends' weddings in order to establish what you like about them. Do you prefer more posed or straight-on photos? Perhaps more candid, taken at a low angle? Bright and colorful, or soft and subdued? There are many photography styles to consider nowadays. Each photographer offers something a little different. I find it helps looking through wedding photos of people you know in order to determine if the photographer did a good job capturing the essence of the wedding and the couples' personalities. This will then help you establish what style you are looking for, based on your theme, your style, etc. You can also look through blogs and magazines to help determine your photography style.
Do Your Research – Luckily, Disney's Fairy Tale Weddings has a board for each photographer on their Pinterest page. This is immensely helpful. There are a variety of photos ranging from different ceremony and reception venues, daytime and night shots, group shots, couple shots, portrait sessions at one of the Disney parks, getting ready photos, detail shots, etc etc. Take all of these different elements into consideration!
You Can Request Different Photographers for Different Events – If you decide to also book a portrait session at one of the parks on a different day, you'll also need to figure out if you'd like the same photographer/style for both. Maybe for the portrait session you would prefer more creative and artistic photos, whereas for the wedding you would prefer a classic and traditional approach.
Consider the Venues – Something else to consider would be if you chose a less popular venue space for your ceremony and reception. Take a look at the boards to see which photographers have worked at your venue and which ones have not. The photographers who have worked there before definitely have an advantage; they will be familiar with the angles and the lighting of the space and will be more comfortable taking photos throughout the day, which will ensure they don't miss any special moments. This was important for me to know about our photographer since our reception space only recently became available for weddings.
Once we had decided on a photographer for our wedding and for our portrait session, we emailed our planner with our top three choices. We managed to secure our top choice for each one, thankfully! Just another thing checked off our list – and one of the many reasons I am getting more & more excited for our wedding day!