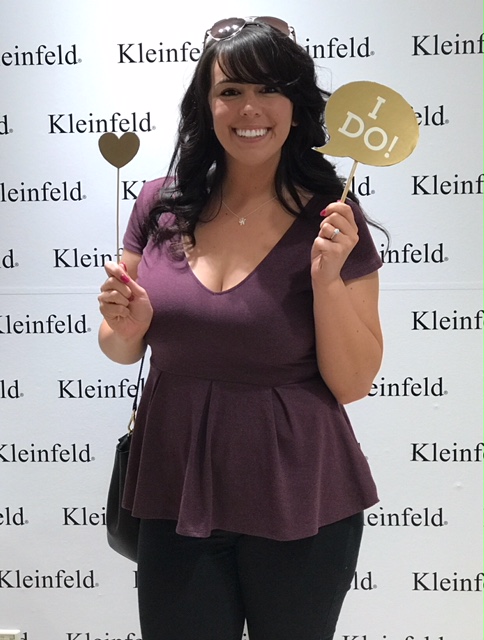 Disney Bride Nicole W is having a Walt Disney World wedding at the Wedding Pavilion and American Adventure Rotunda in November 2018.
From the start of the wedding planning process, Chuck and I have done a lot of Disney wedding research to help us decide on a location, a theme, and to use all of the great ideas from previous Disney brides and grooms as inspiration.
I found myself getting caught up in other couples' Disney weddings and there was one particular Walt Disney World wedding I was drawn to. As we began our planning, I found myself referring to that same Disney wedding over and over, and when it came time to make decisions for our own wedding, all I could think about was the Disney wedding I loved.
We ended up planning many of our wedding details based on that other Disney wedding, from wedding location, to timing, rehearsal dinner ideas, decor, and even invitation inspiration. I even contacted the bride herself and she gave me tons of advice and do's and don'ts for my own wedding.
When it came time to find my dream wedding dress, I was in search of a satin ball gown with beading on the bodice. I went to only two bridal shops before selecting exactly what I was looking for: a big, beautiful, strapless, satin princess dress with beading.
A few months passed after purchasing the dress and I found myself very confused. I would look at daily bridal gown posts from different wedding Instagram accounts that I follow, and every single dress I loved was a lace ball gown with off the shoulder sleeves and a beautiful long train. But this looked NOTHING like the dress I purchased!
When I thought back to the dress I had always dreamed of, it had always been a beautiful lace ball gown with off the shoulder sleeves. For a couple of months, I struggled with my dress decision. I could not understand why I had chosen a dress that was nothing like what I had spent years dreaming of.
After a lot of thought I realized why I has made this decision: I chose a dress based on what the other Disney bride wore! While her dress was absolutely beautiful it was not exactly what I had envisioned for myself. I spoke to my parents about my dress dilemma and they agreed the dress I chose originally was probably not the dress for me, and the search was back on! This time around I made sure to be true to myself and stick with what I had always dreamed of.
From this experience I learned it is more than okay to be inspired by, and get ideas from, other Disney brides and their weddings, but it is so important to stay true to your unique selves during the planning! After this experience I was able to take a step back and make sure we were making decisions that were best for us and not trying to have the exact same wedding as someone else.
It is so easy to get wrapped up in another couples' wedding day dream and while it's great to use other Disney weddings to spark ideas and guide you through planning, the most important thing is that you are true to yourself. Be your own bride!