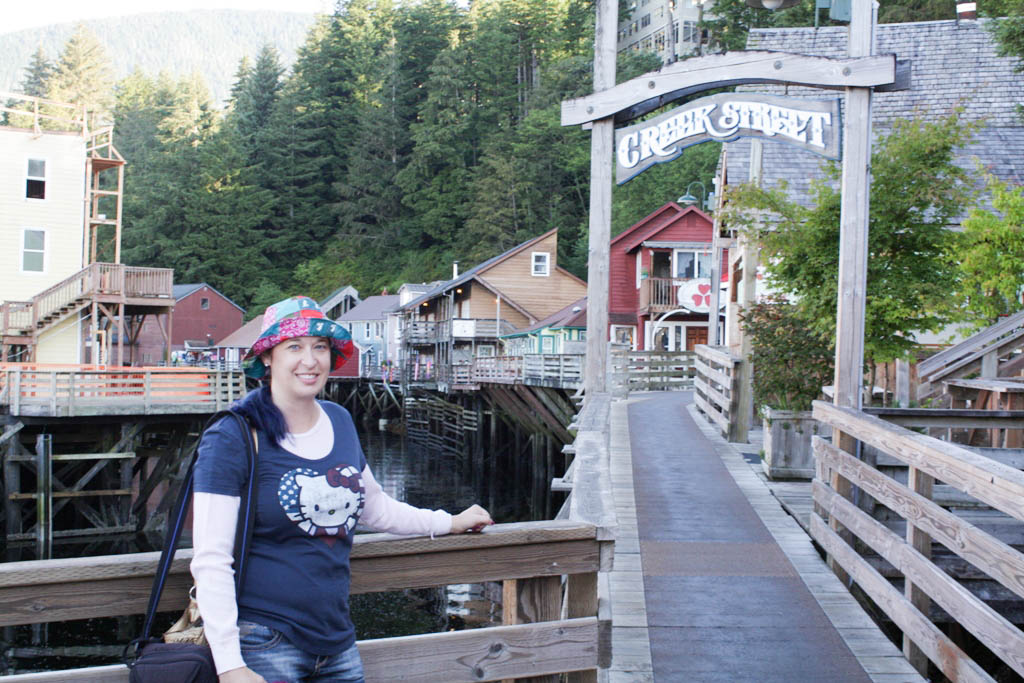 Day 4 of our trip was our first port stop in Alaska! Ketchikan is a very small but very colorful town, also known as "the salmon capital of the world," and we did see some salmon swimming upstream! It thrives on the cruise ship industry, so the downtown port area contains a lot of tourist shops, but it's also very quaint and charming.
We woke up around 6am for our 7am port arrival. We got ready for the day then grabbed a hearty breakfast at the buffet. Once we got off the ship we walked straight to Creek Street. Creek Street is quite literally a boardwalk built over Ketchikan Creek, high above the river on pilings. Creek Street used to be an infamous red light district in the 1920s, with more than 20 brothels. The buildings are still there but now they are souvenir shops and restaurants. One house – Dolly's House – is now a museum dedicated to Creek Street's most successful working woman, Dolly Arthur. When we arrived at Creek Street, it was so early in the morning, the shops were closed and no one else around. We decided to walk along the boardwalk to the "fish ladder" where we saw some salmon going upstream, before walking along "Married Man's Trail," a boardwalk staircase deep into the forest that was said to be a former escape route for the men visiting the brothels. We walked all the way up to the Cape Fox Lodge, which looked to be a very nice hotel and we actually ended up back there for lunch.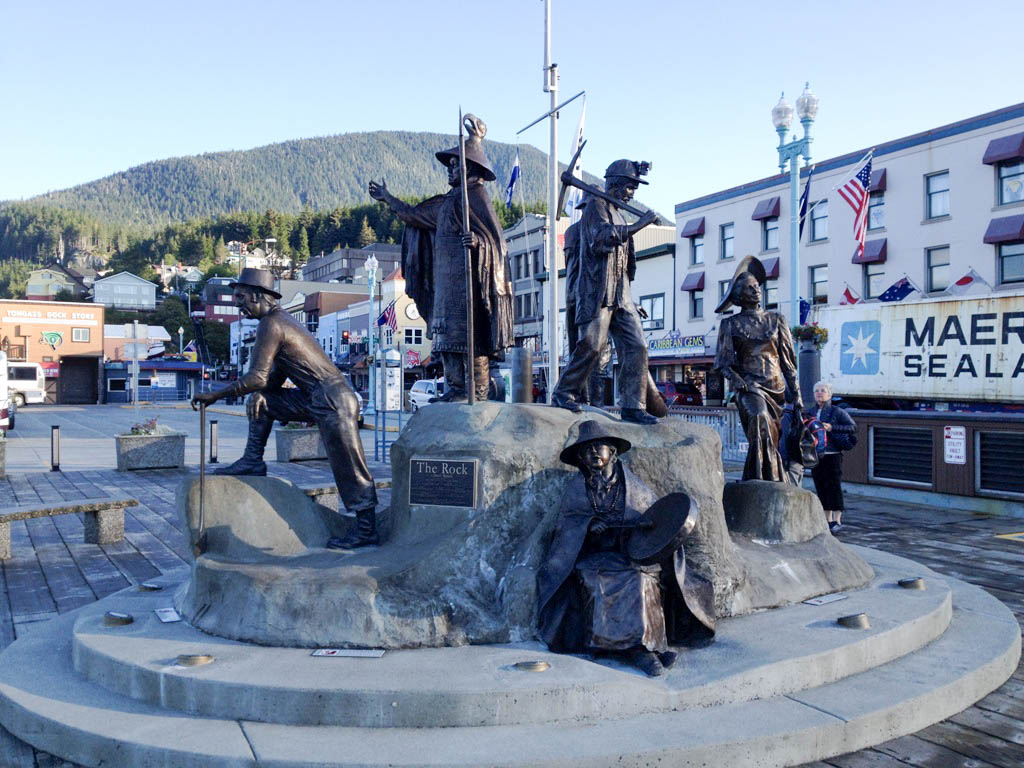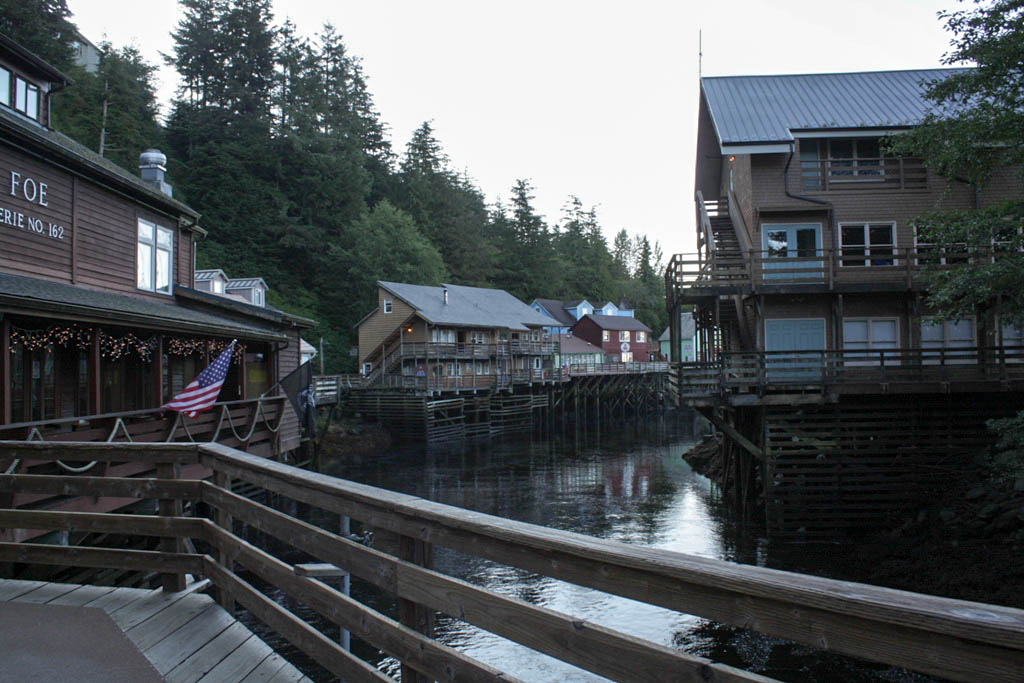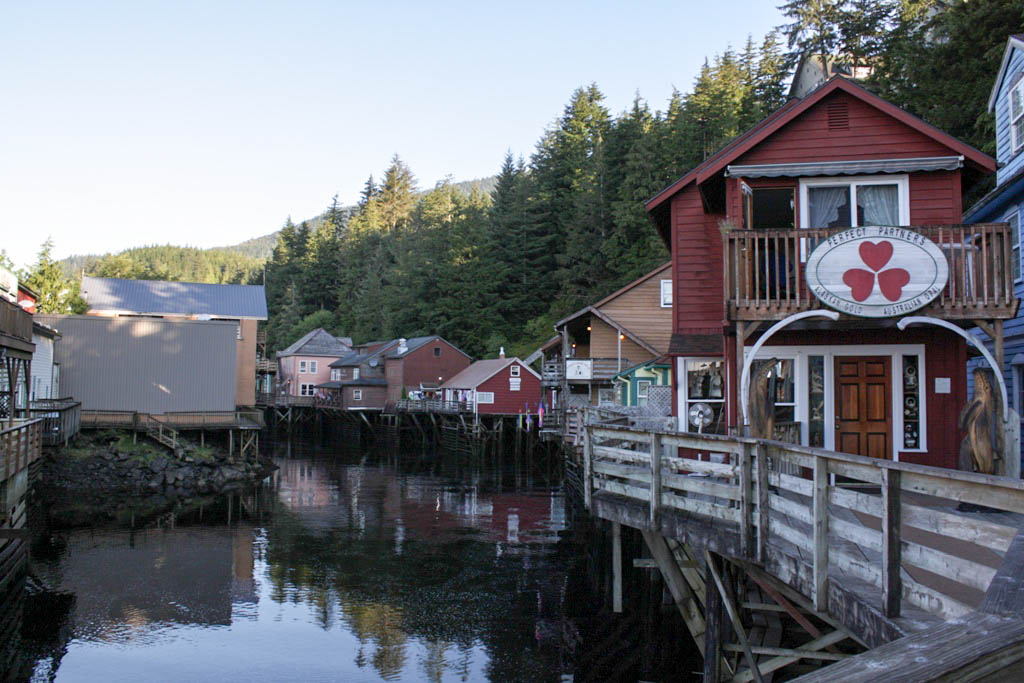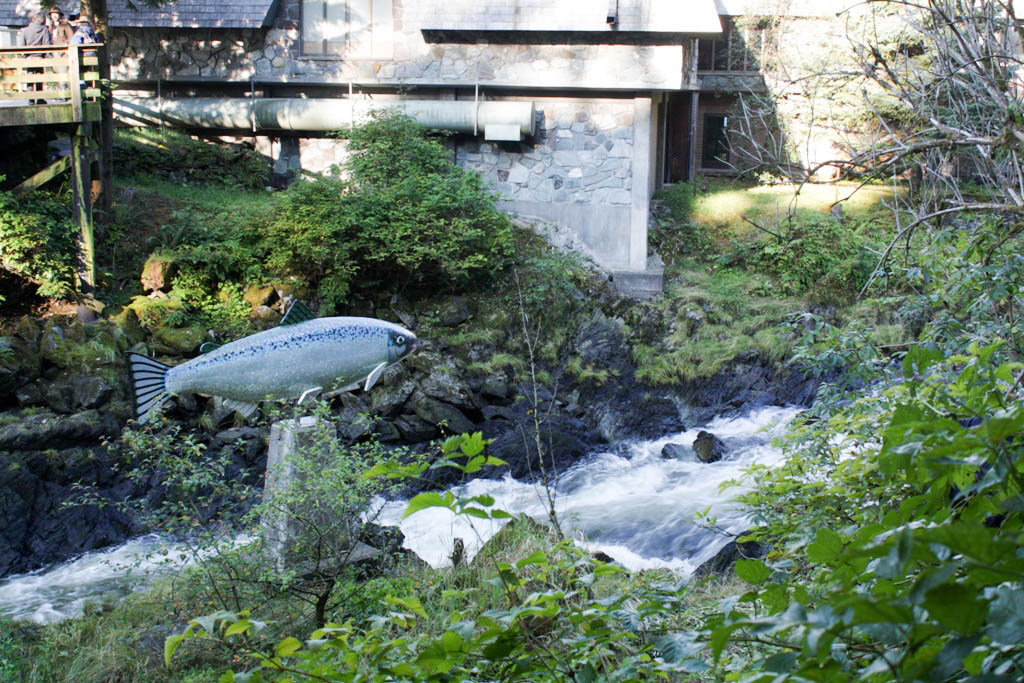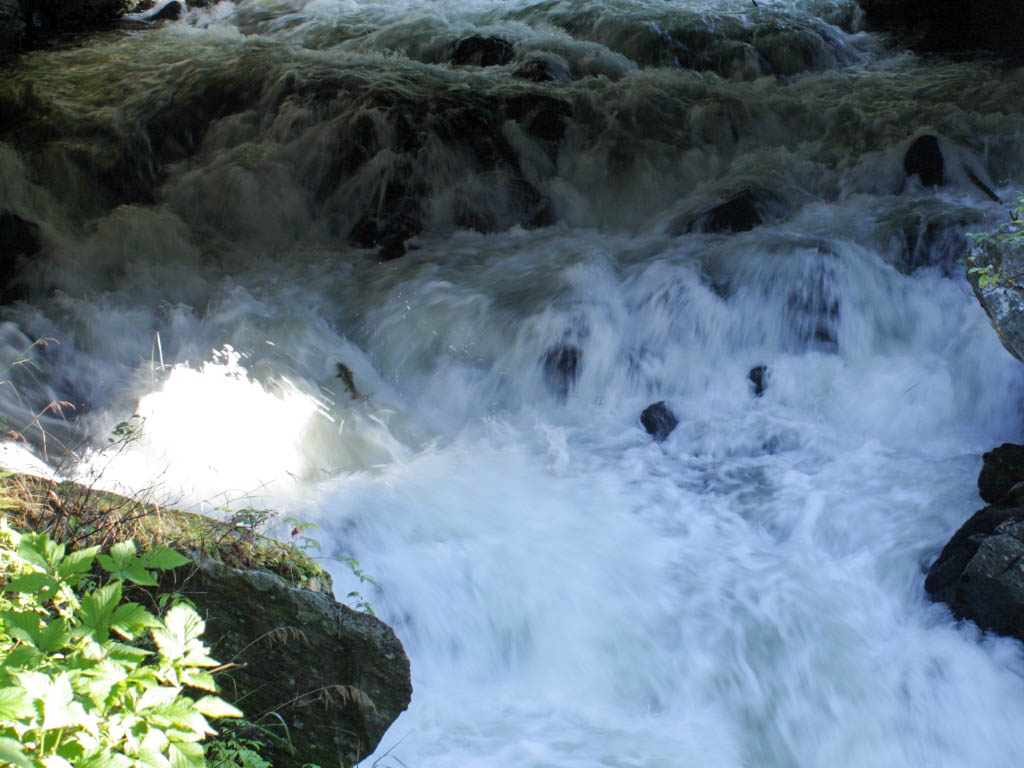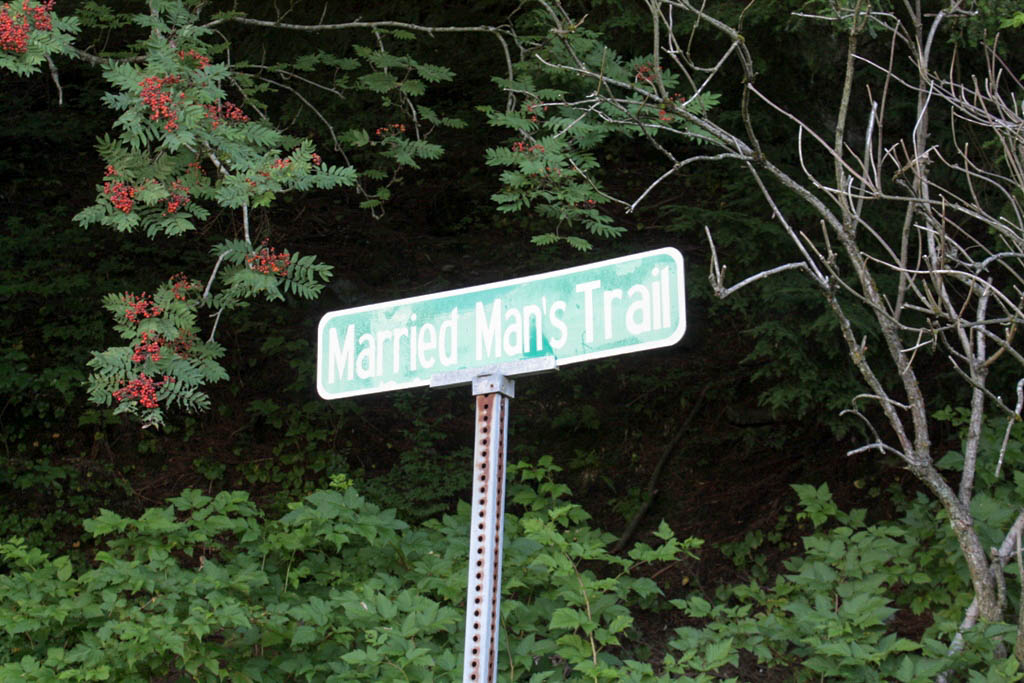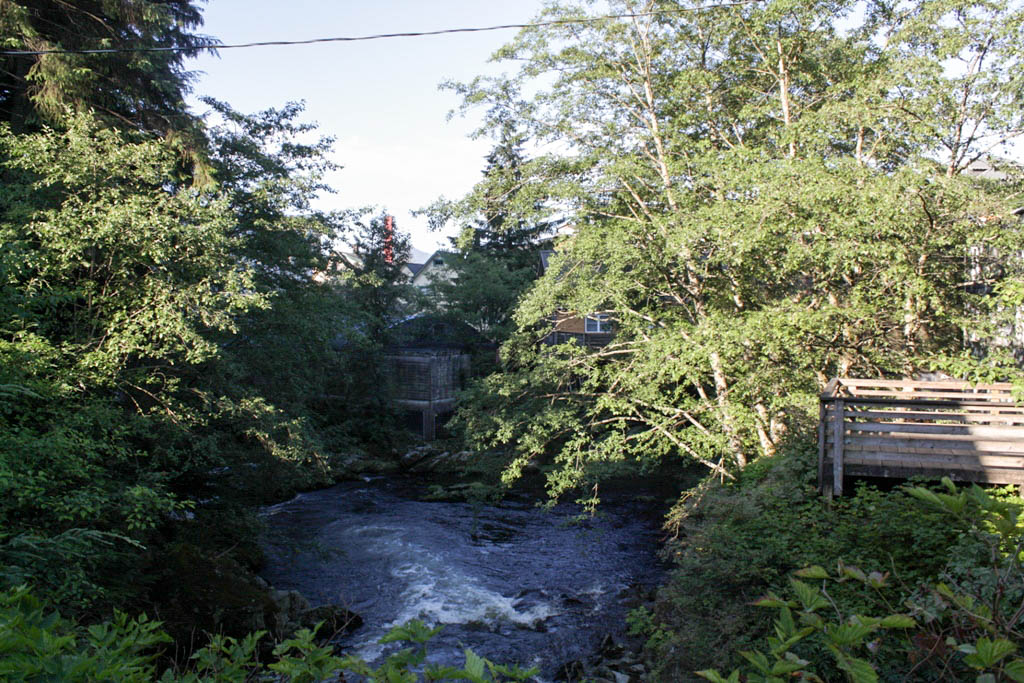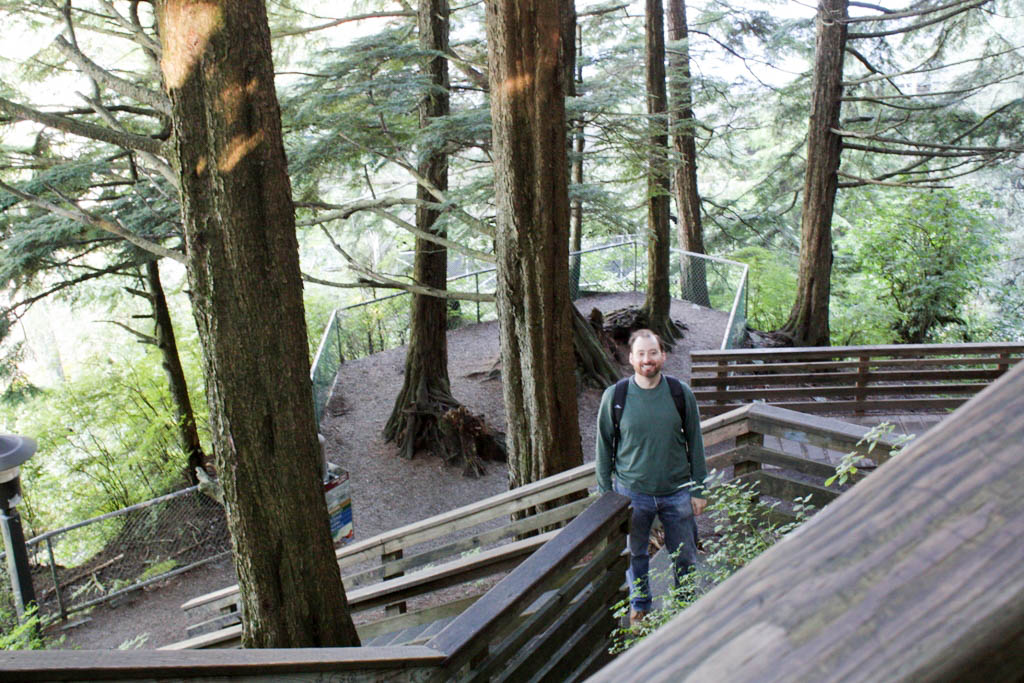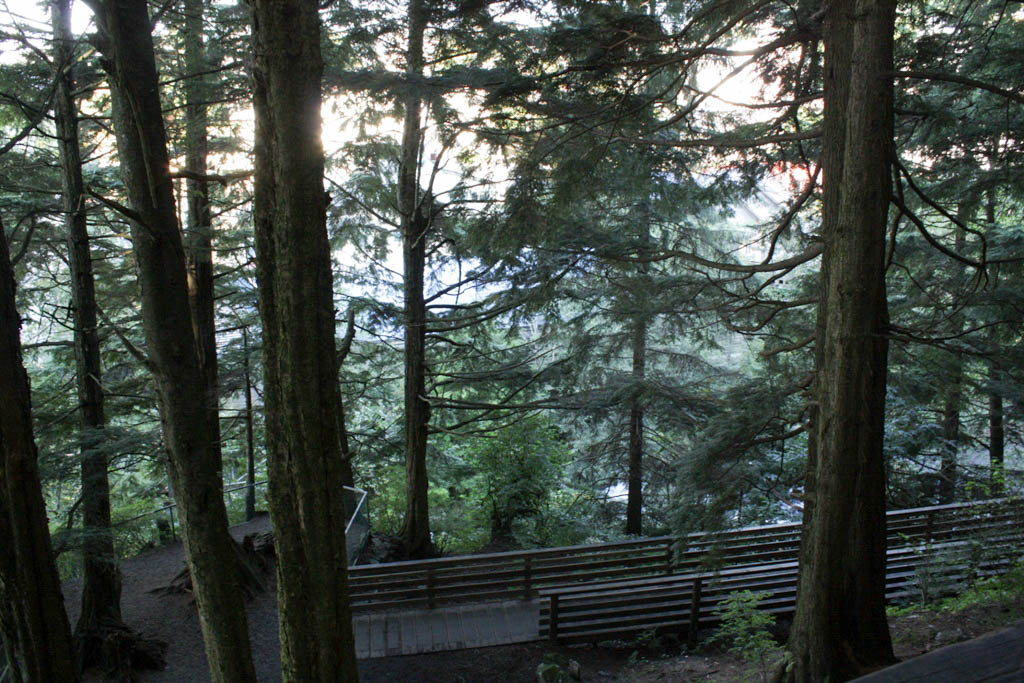 After walking back down the trail, we went back to Creek Street where all the shops were starting to open up. We decided to do a tour of Dolly's House, which was really fun. Our tour guide gave us a little history of Creek Street and Dolly herself, who seemed like a very spirited woman. We then got to walk around the house, where clothing and trinkets from the early 1900's were on display (behind glass) and we even saw some trap doors used during prohibition. The tour of Dolly's House only took about 30 minutes or so and it's well worth it.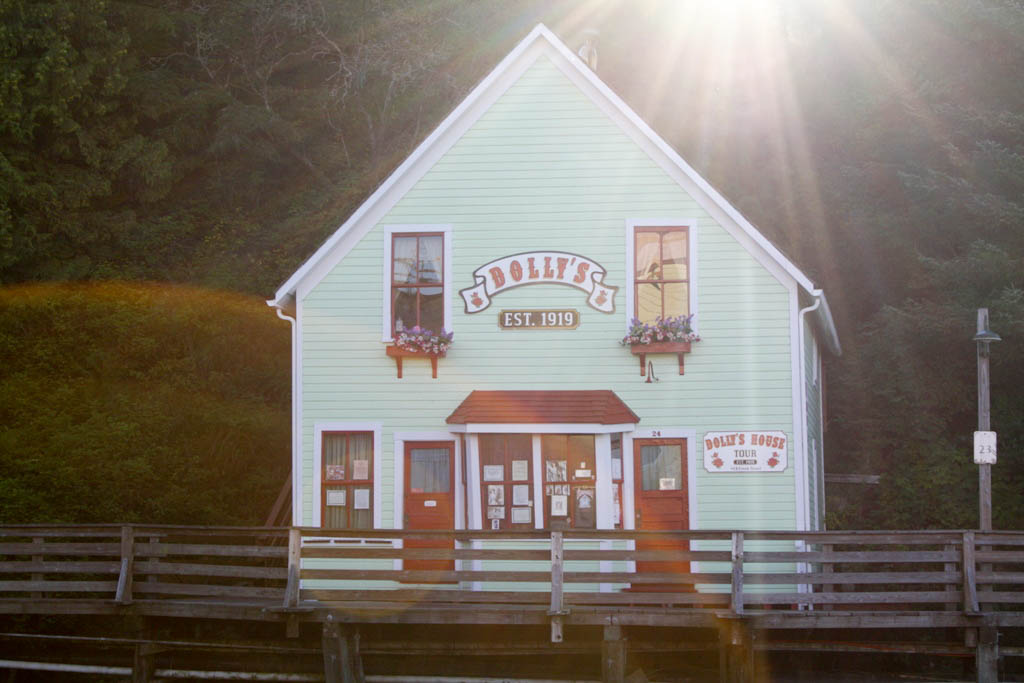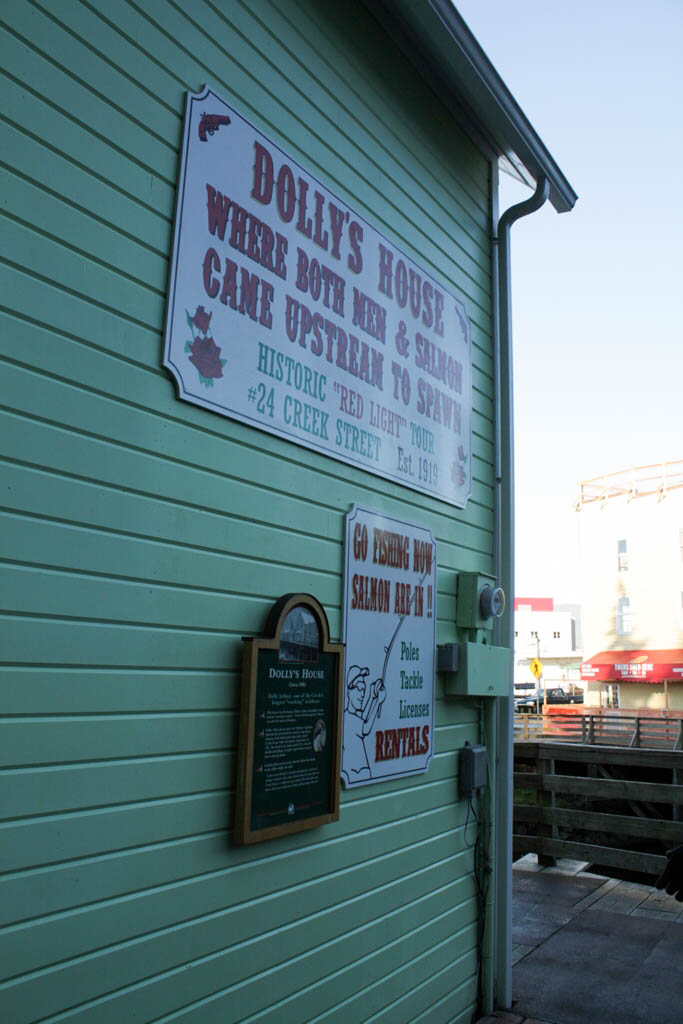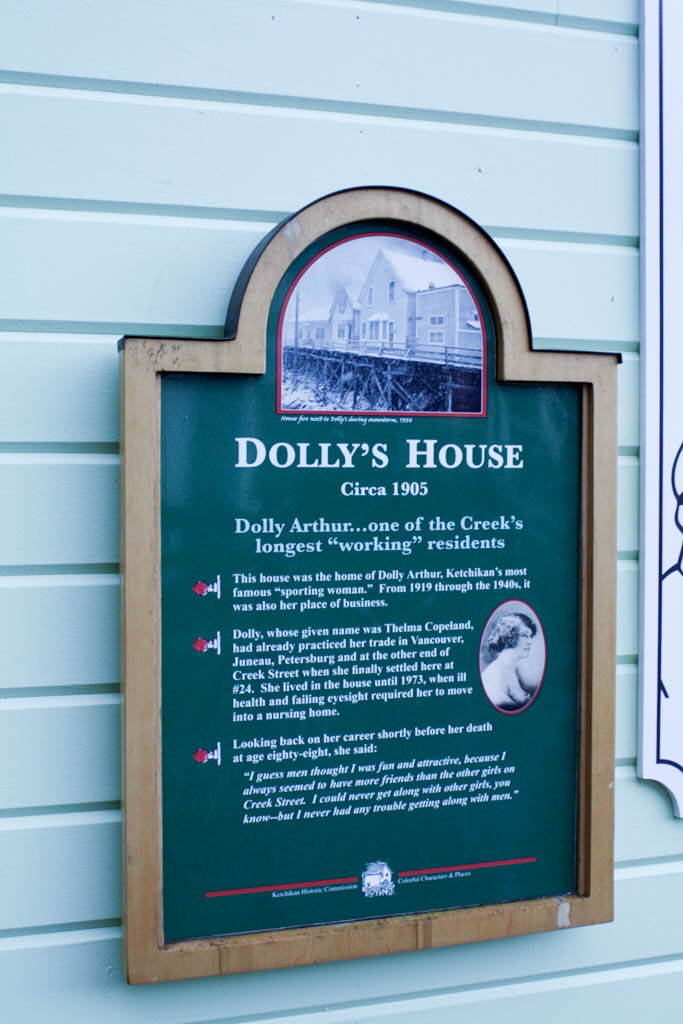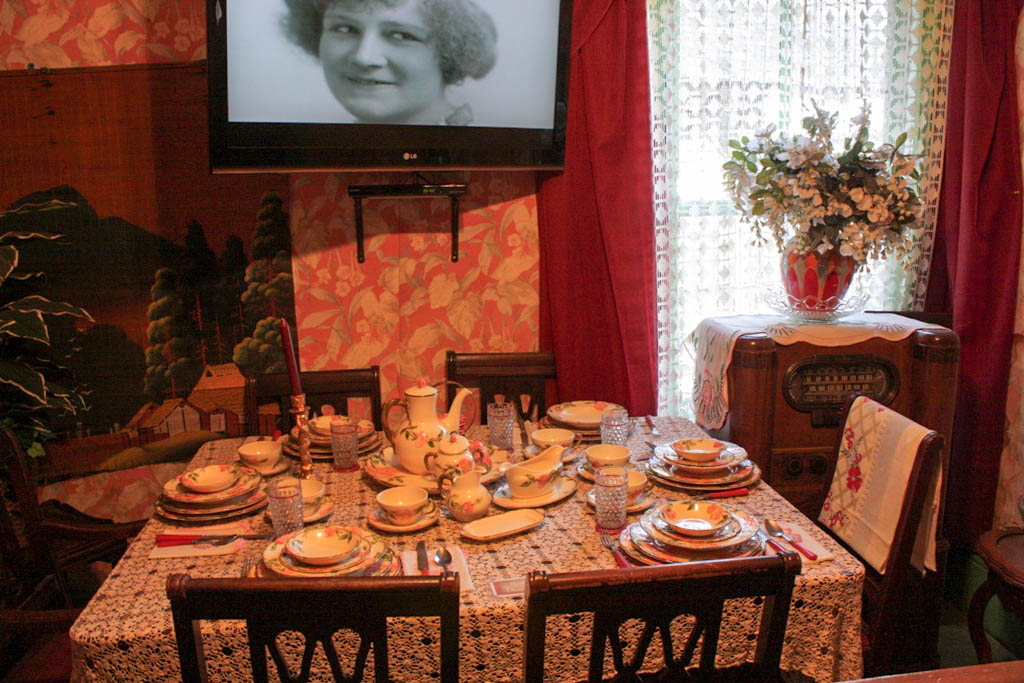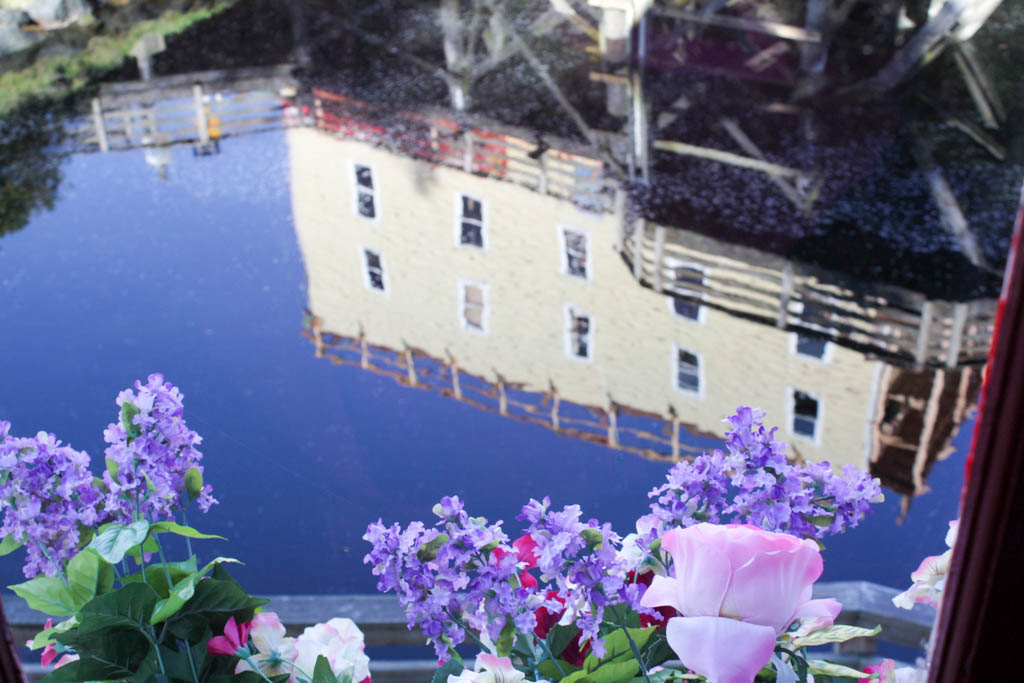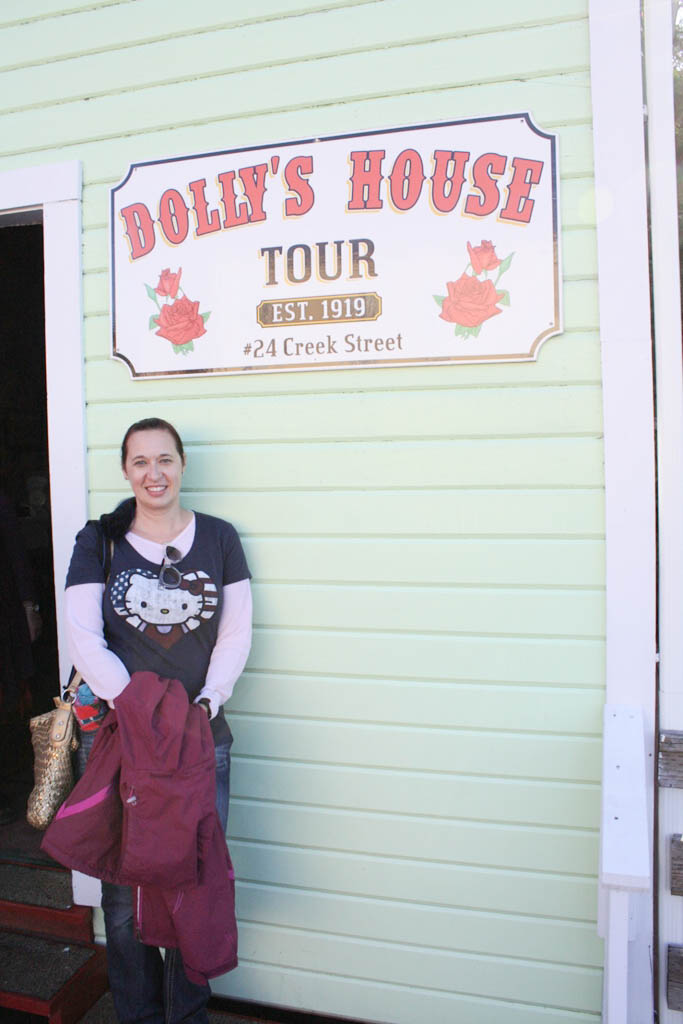 After leaving Creek Street we walked to Front Street, the main drag of downtown Ketchican. We did a little shopping including buying binoculars, an item I failed to purchase before our trip. At around 10:30am it was time to meet up with our tour guide and group from Wild Wolf Tours for their Rainforest and Totem Hike. Our tour guide was Tracy Wolf, the owner of the company. She was a great guide, very knowledgeable and a Ketchikan native. You can tell she really loves her town and the history of it.
Went to Totem Bight State Park first, where we saw lovely views and lots of totem poles. Then we were taken on a rainforest walk in the Tongass forest where we saw waterfalls and more salmon. It was very beautiful and peaceful, and watching those salmon try to go upstream was very entertaining. They go very fast so my pictures are not that great, but you can kind of see the little blobs flopping out of the water!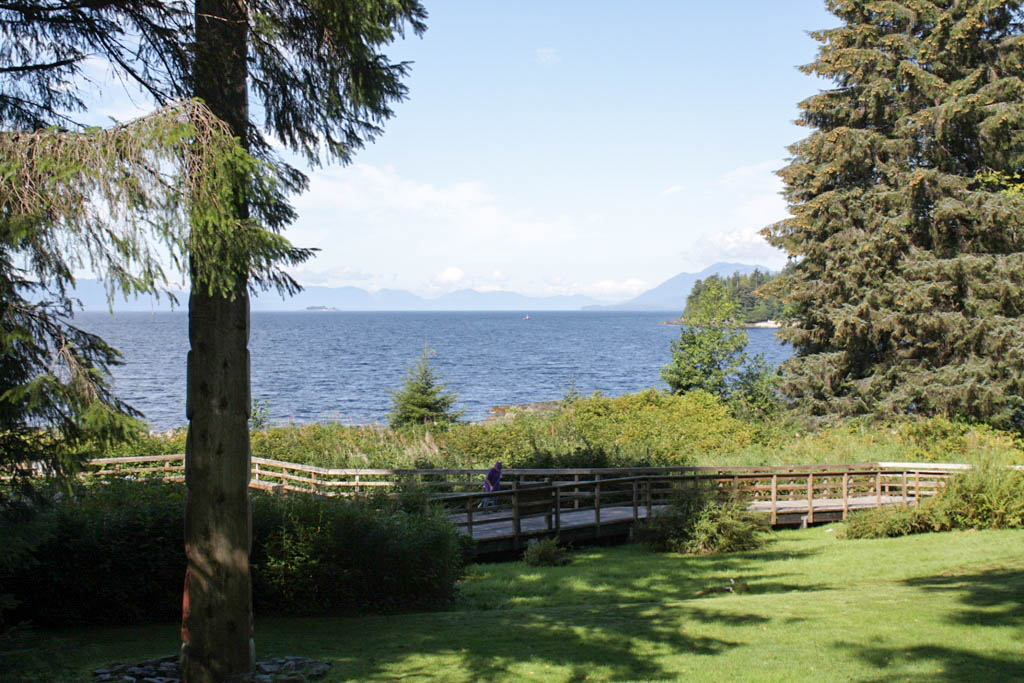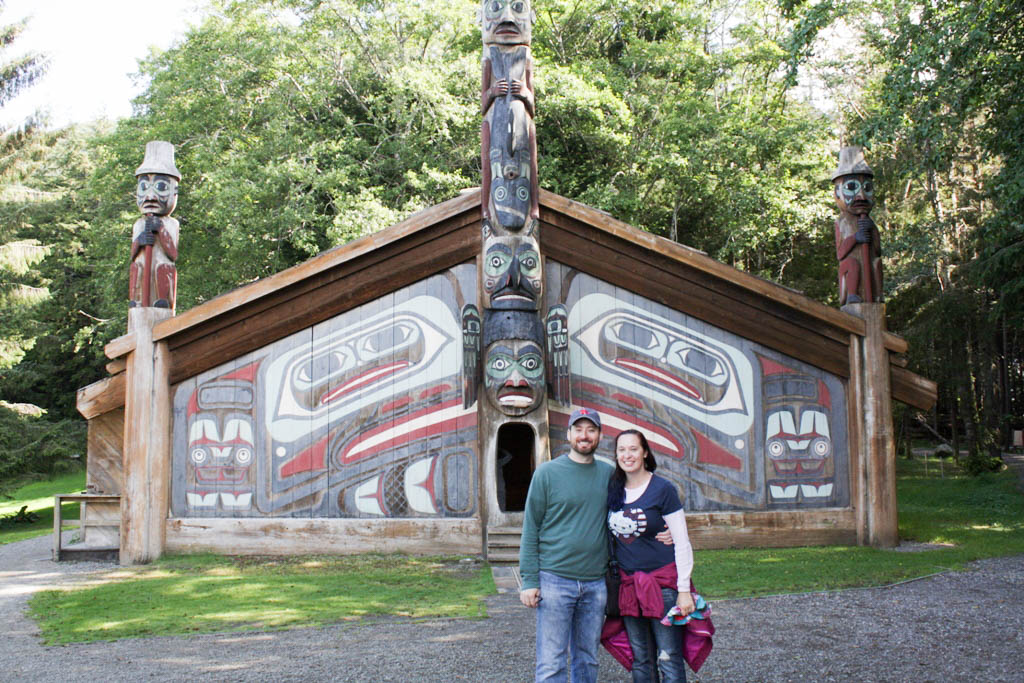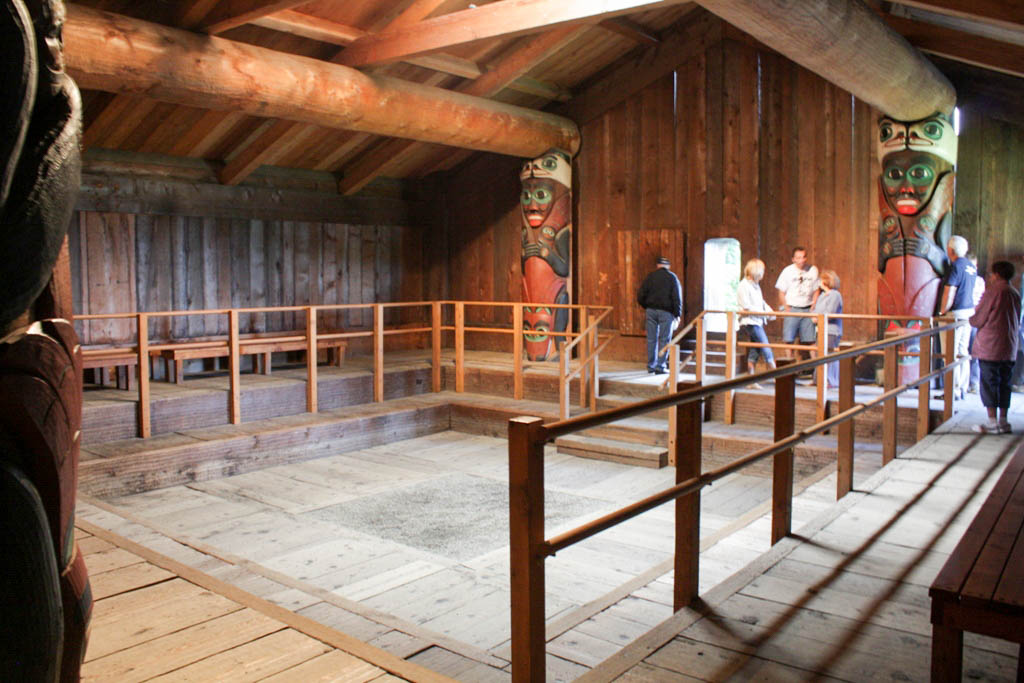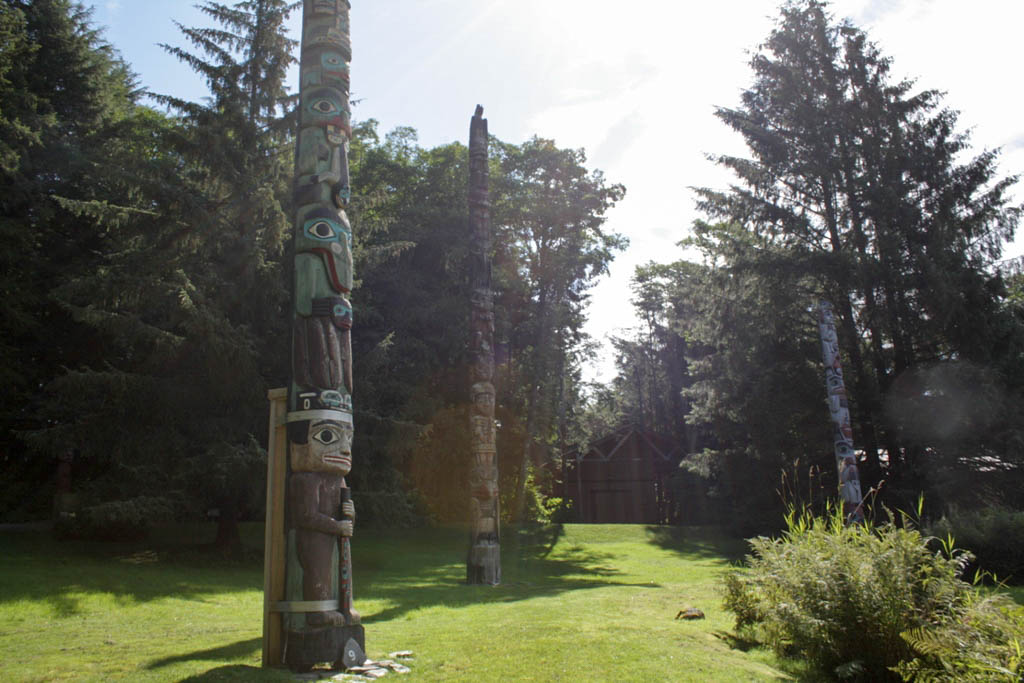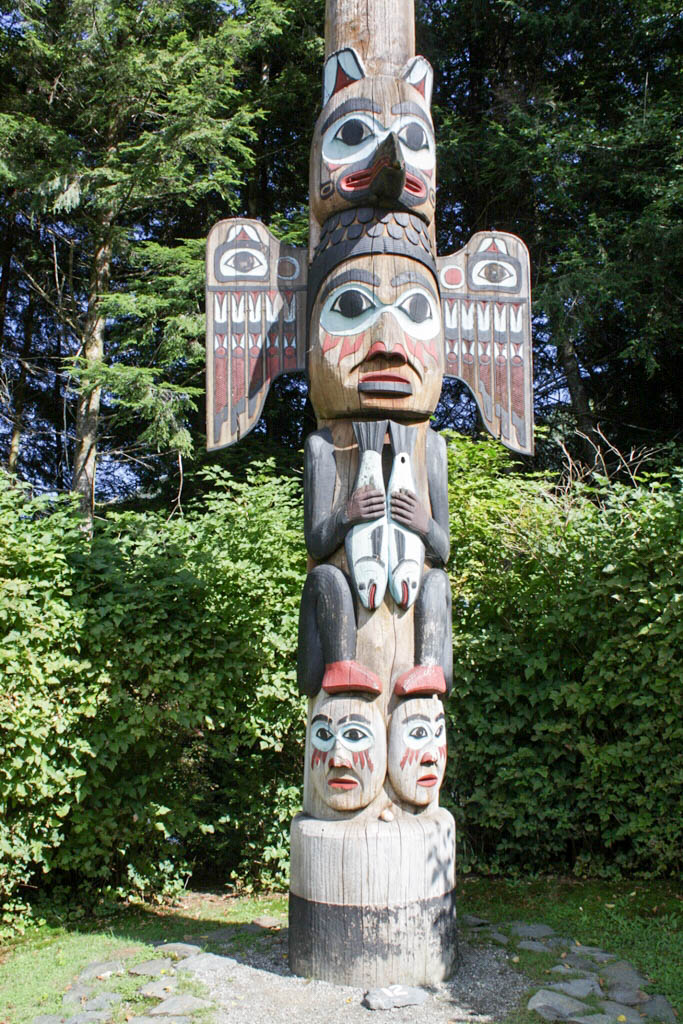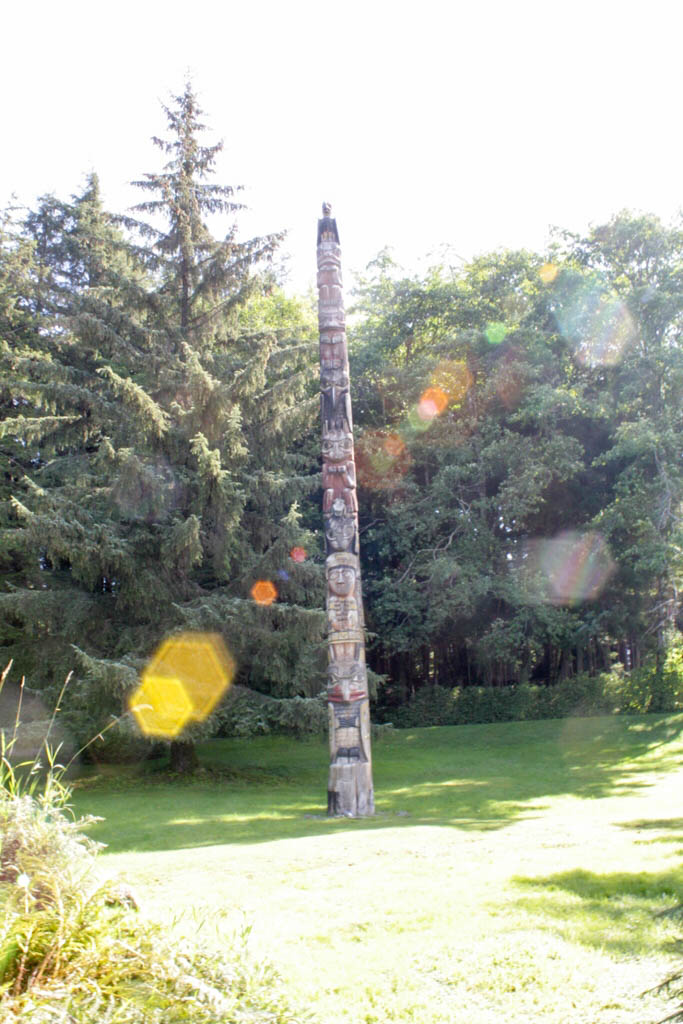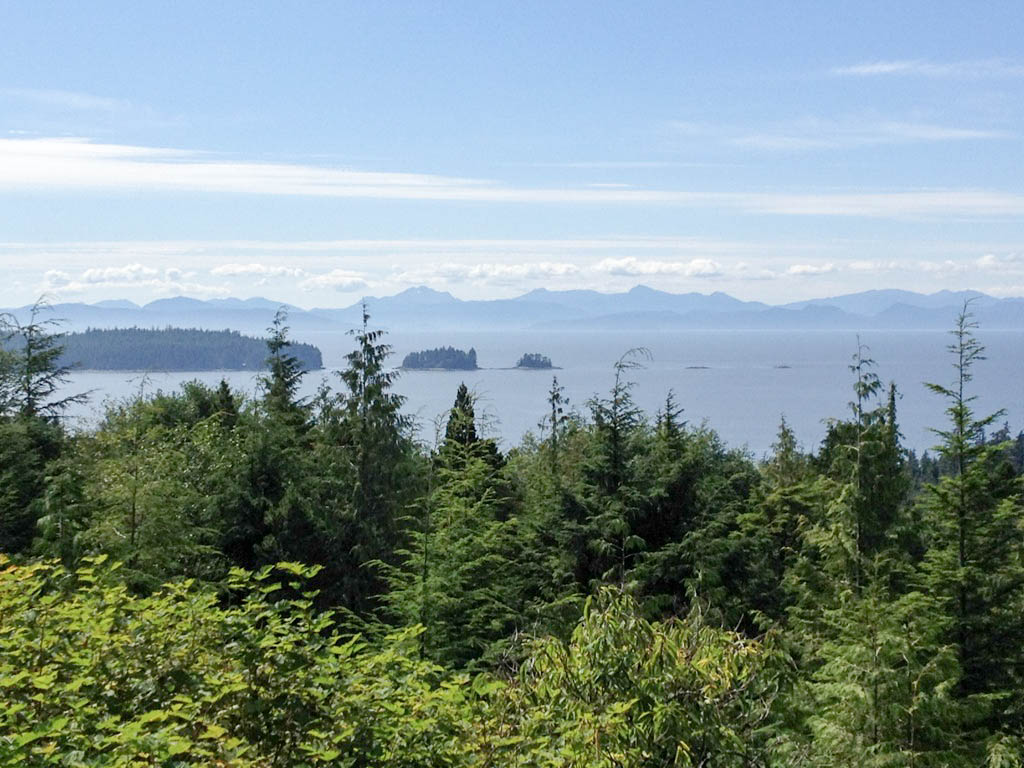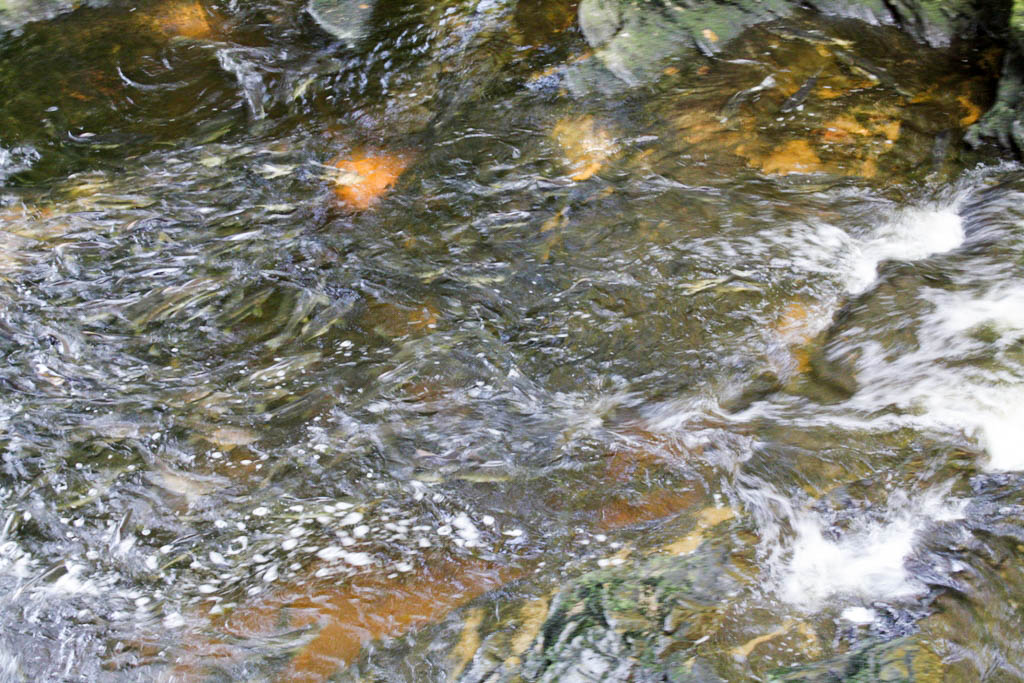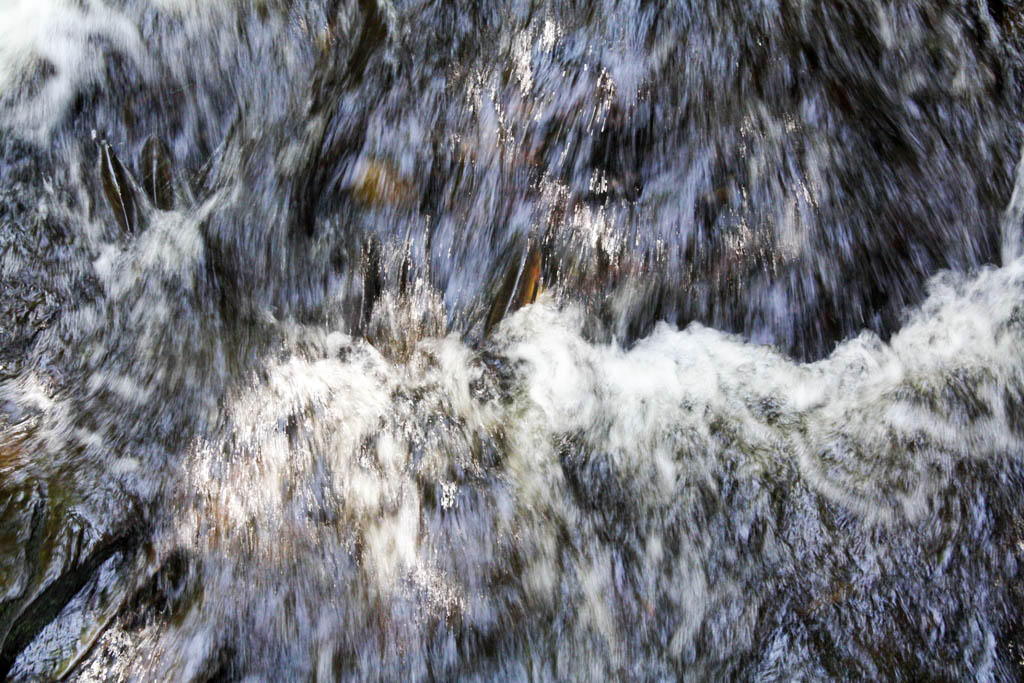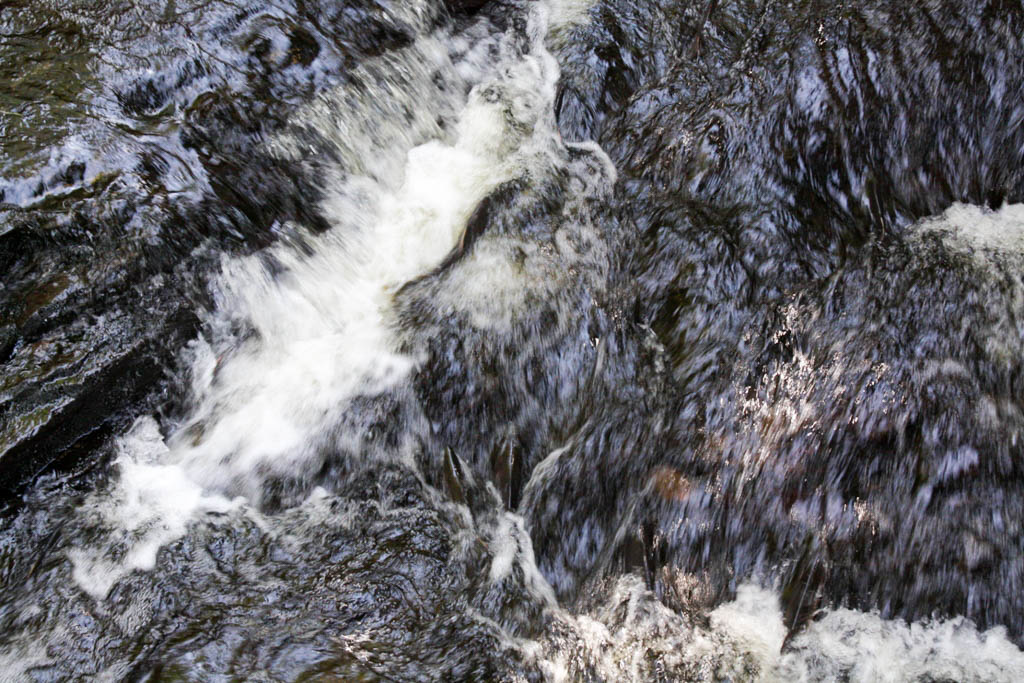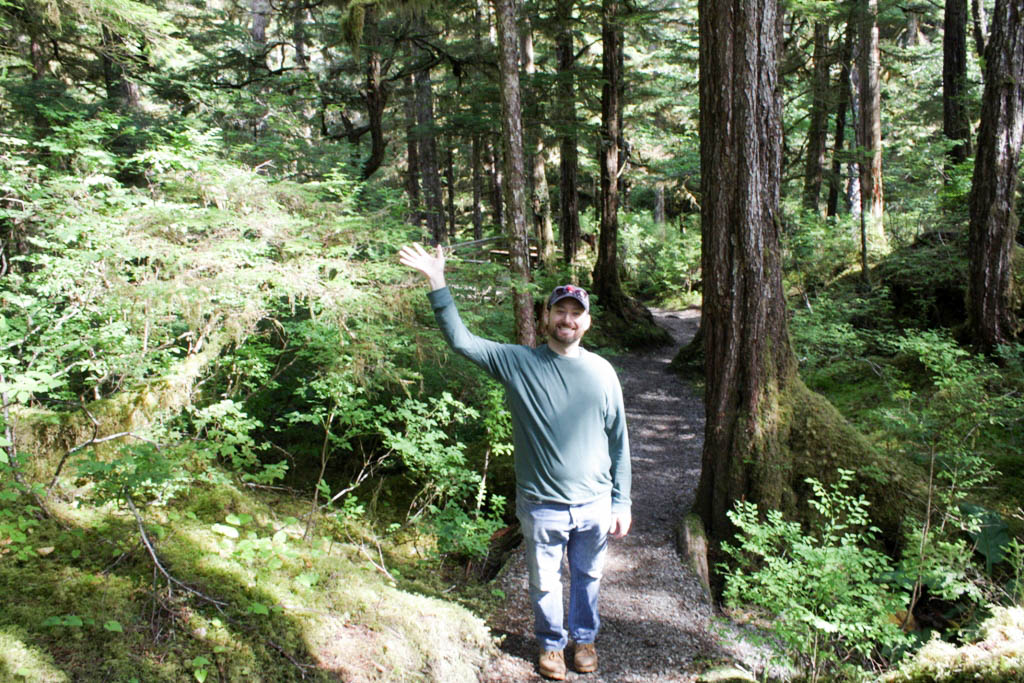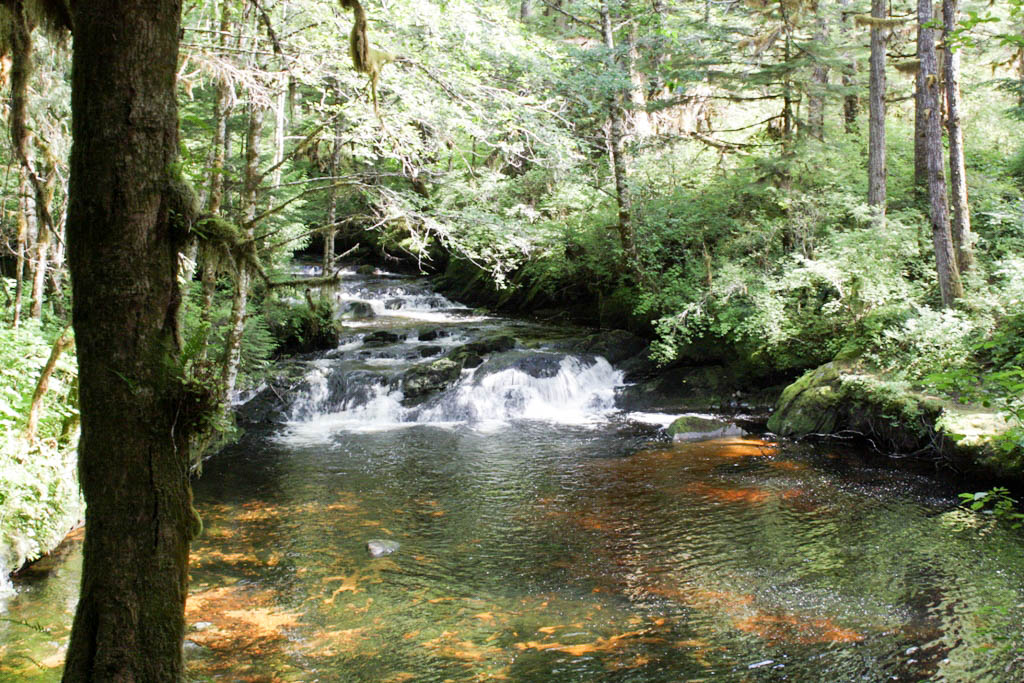 While driving back to port, our guide Tracy pointed out the proposed spot of the infamous "bridge to nowhere" made famous by Sarah Palin. The bridge (which has not been built) was actually a bridge to the Ketchikan airport which is on a different island from the main city of Ketchikan (aka where everyone lives). So residents and visitors must take a ferry to and from the airport. We learned a lot about Ketchikan and it was a pleasure to spent the afternoon with Tracy and the rest of our tour group. I highly recommend Wild Wolf Tours.
Once we were dropped off at port, Mr. BFT and I walked back to the main part of town and took the funicular to a restaurant at top of mountain. The restaurant was the Heen Kahidi Dining Room at the Cape Fox Lodge. We went because we thought the views would be great, and they were. I had the BBQ chicken sandwich and Mr. BFT had the salmon sandwich. The food was fine, but the service was horrible! It didn't even seem that busy but our waitress seemingly forgot about us several times. Still, in hindsight, it was a nice place to sit and have a drink and watch the float planes. But I would caution against coming here if you are tight on time!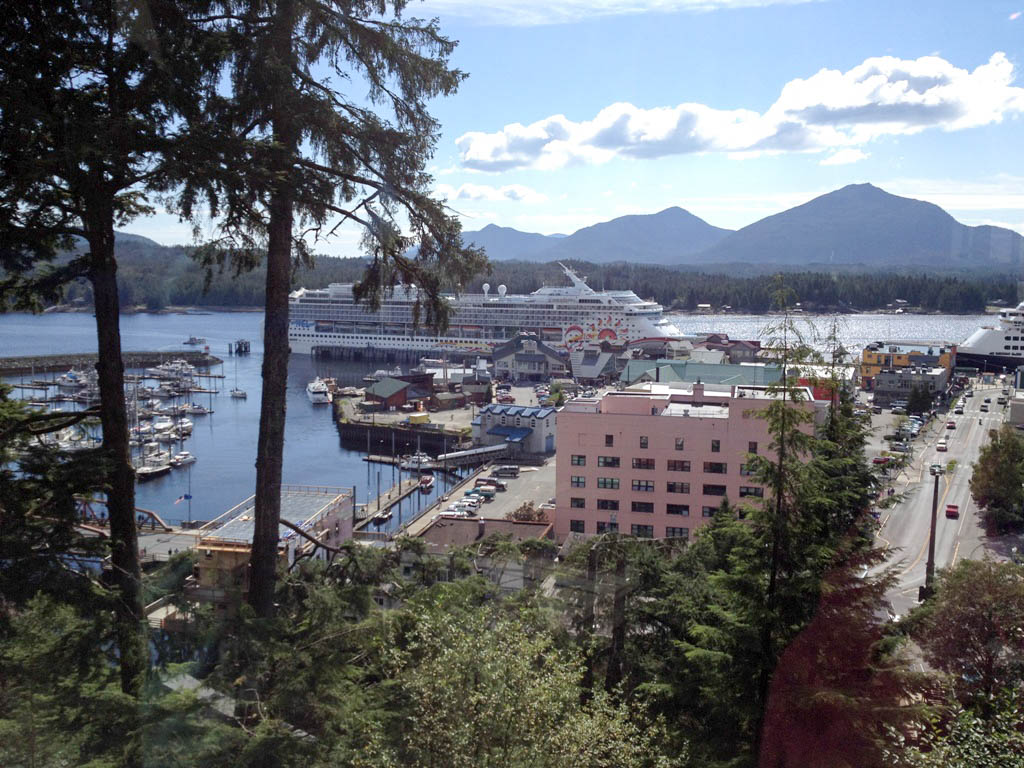 When we were done at the restaurant, we took funicular back down the mountain and got back on ship for sail away at 4pm. We stopped at the Great Outdoors bar on Deck 11 aft for drinks and then sat our on our balcony during sail away. It was very warm in the sun, and we were dressed like we were on a Bahamas cruise, not an Alaska cruise!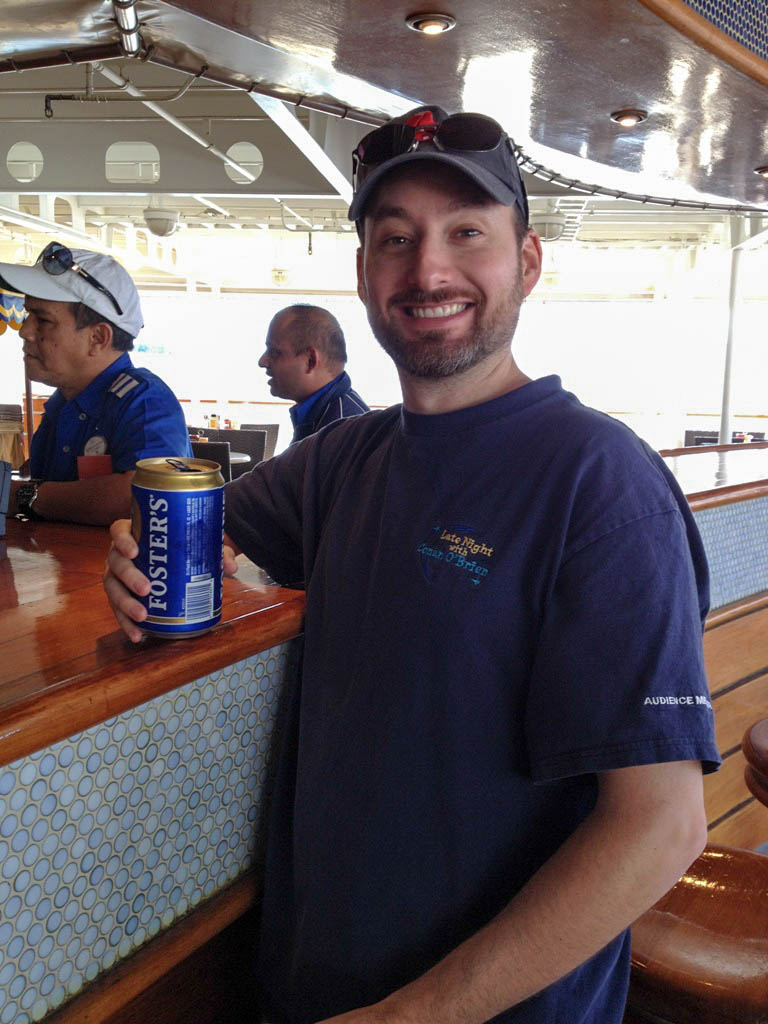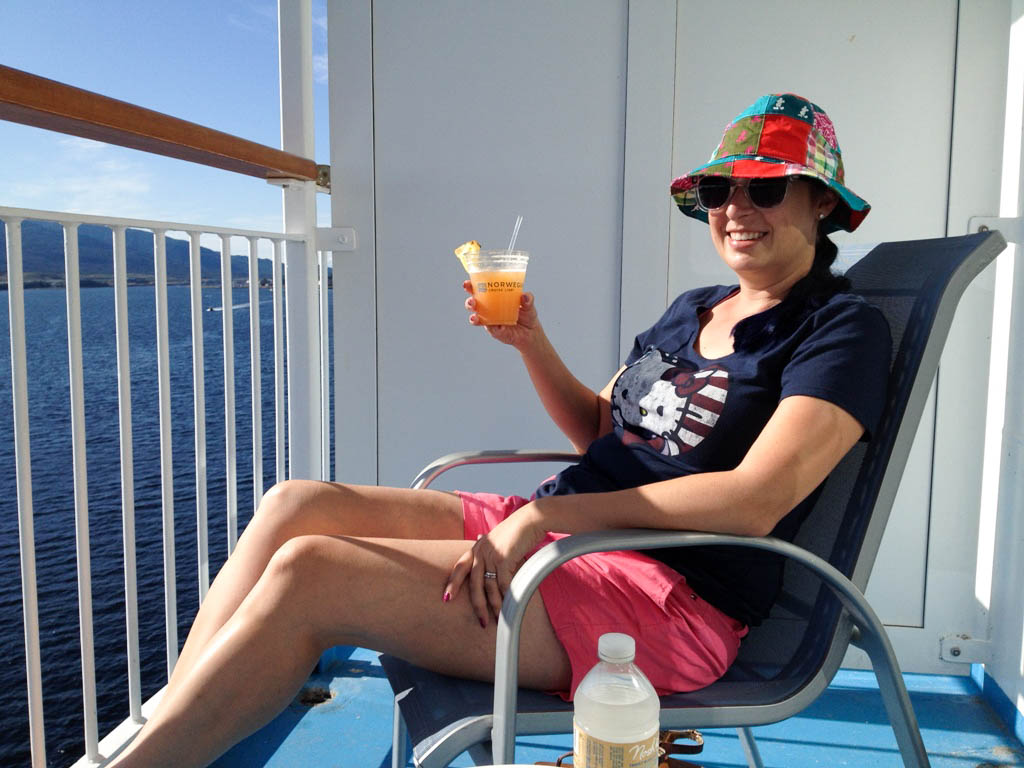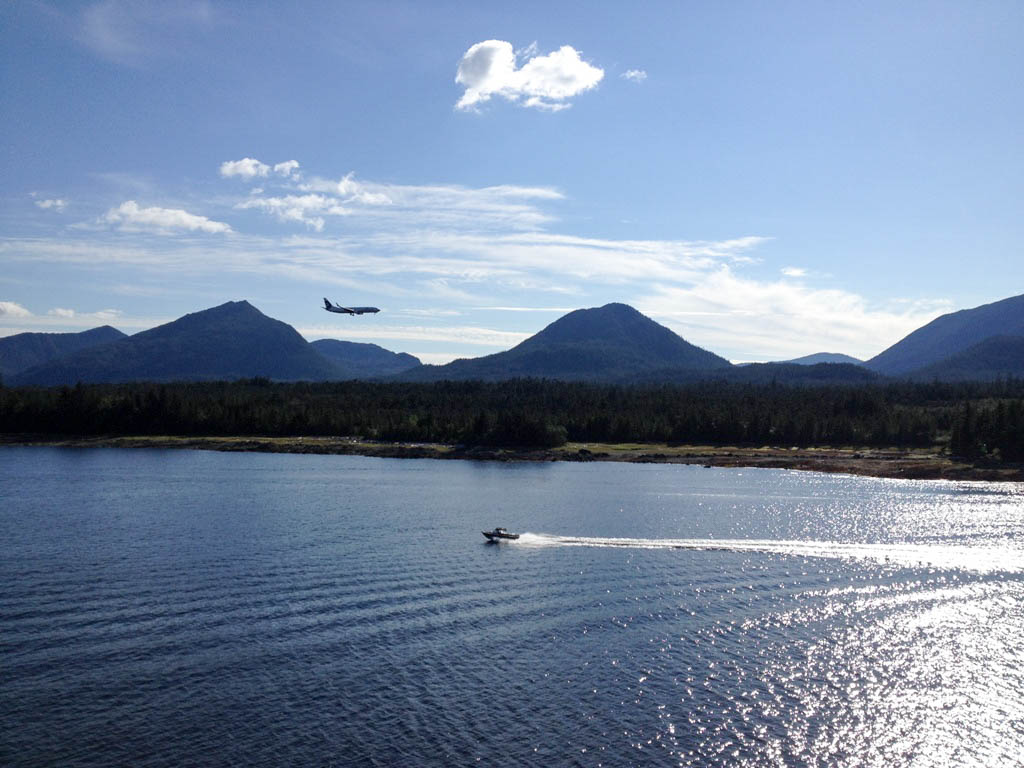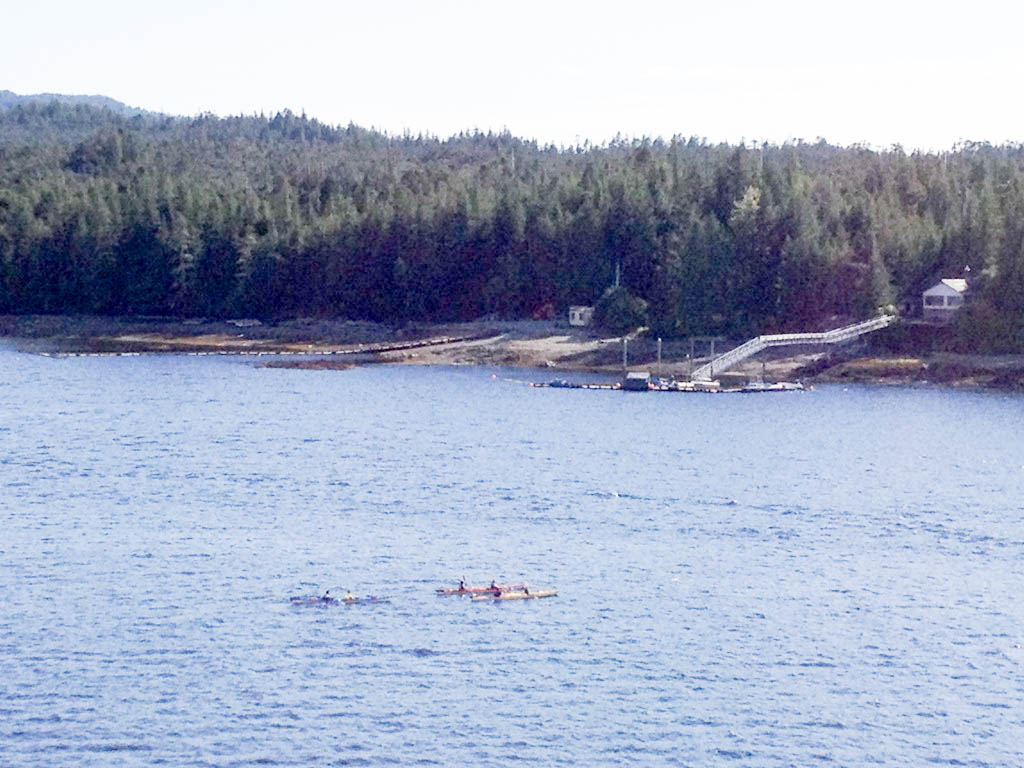 We had a fairly active day, and sitting in the sun made us sleepy, so we decided to take a nap before dinner. We had pre-dinner drinks at Champagne Bar (Jonas made me an off-menu martini called Lavender Patch which was aaaaah-mazing) before dinner in main dining room, Seven Seas. It's been so long now I can't remember what these are (obviously the desserts are chocolate cake and tiramisu), but I remember all the food we had in the main dining room was fairly good.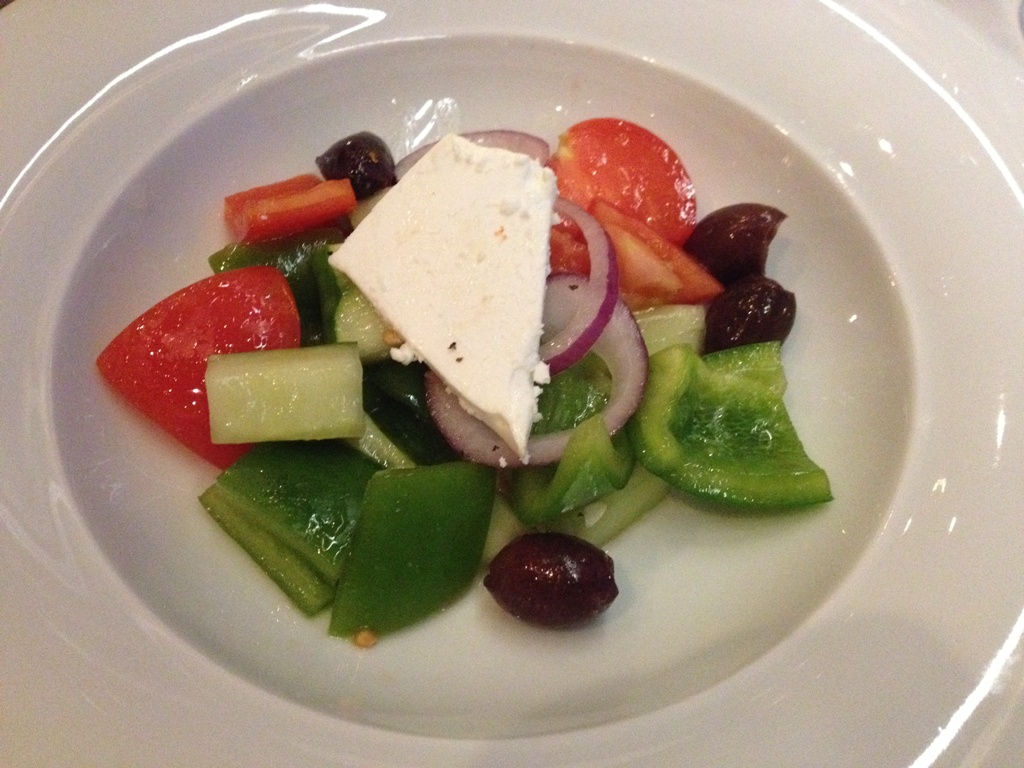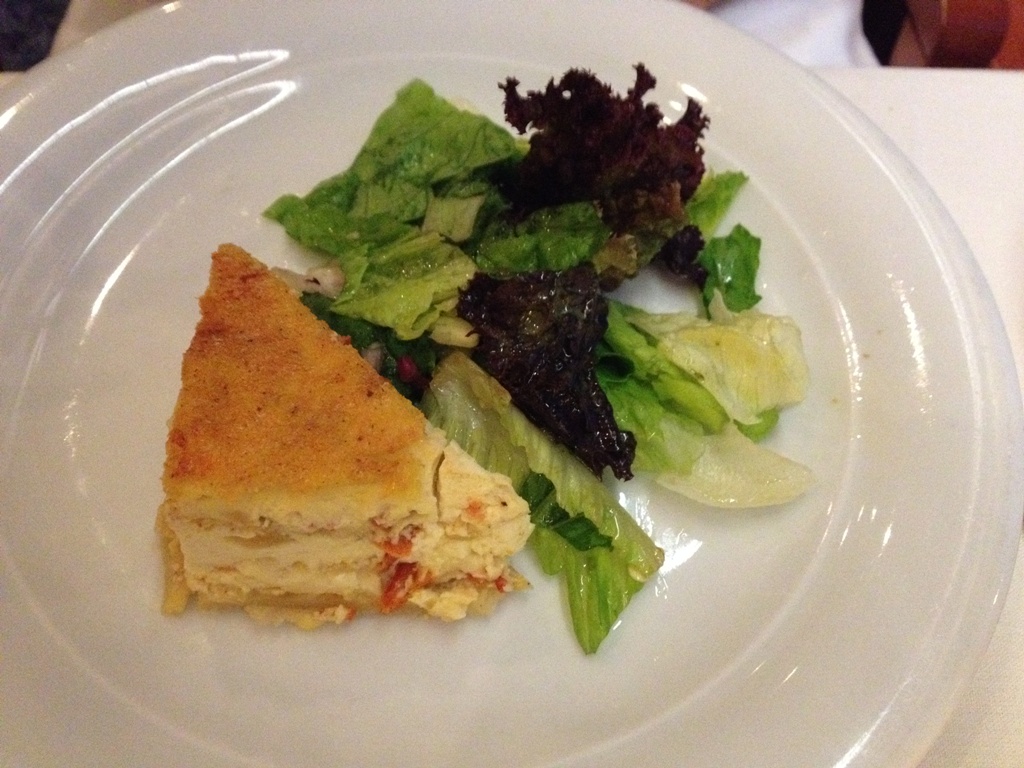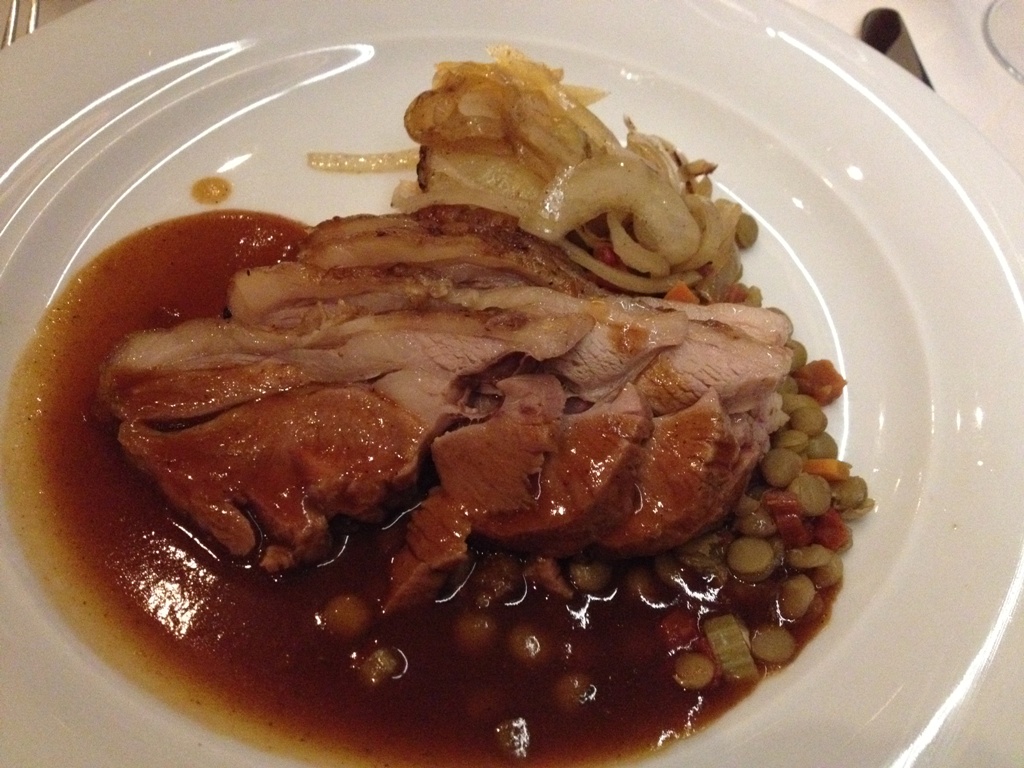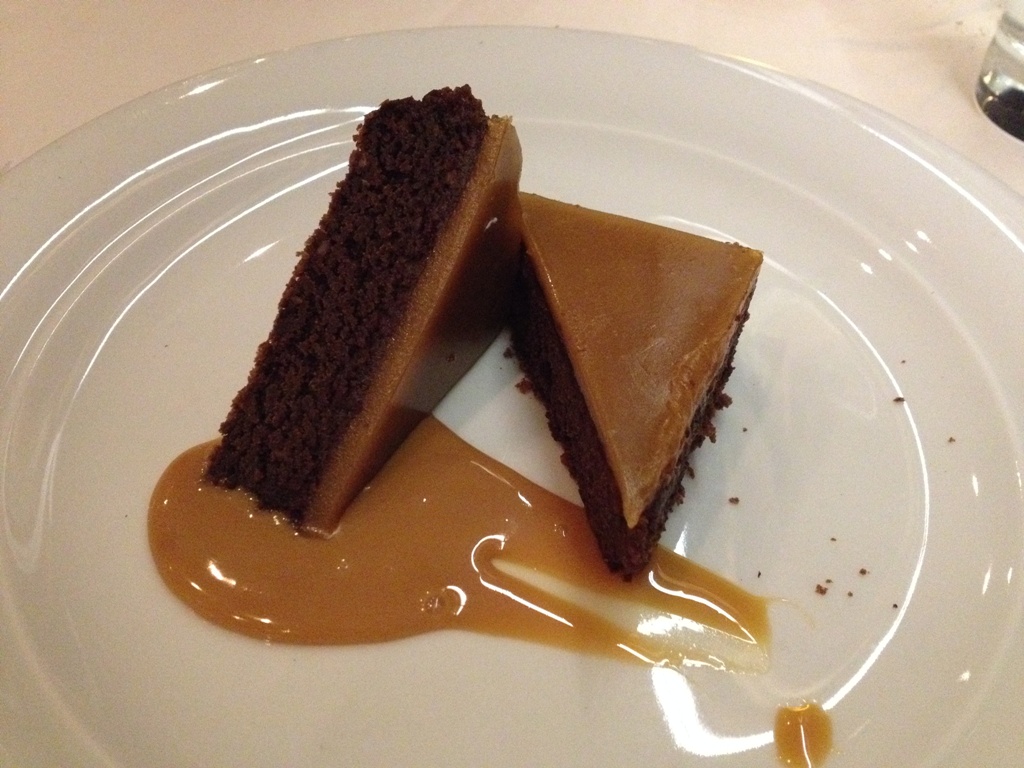 After dinner we went to check out the karaoke scene at Las Ramblas and discovered it was more hopping than night 1. We sang a few tunes and met some nice people. After karaoke we went straight to bed, ready for an exciting day in Juneau.
Alaska Cruise Past Chapters:
All Aboard the Norwegian Sun
Day 1 – Exploring Vancouver
Alaska Cruise – Day 2 – Vancouver and Embarkation
Alaska Cruise – Day 3 – Sea Day