This post contains affiliate links.
As you all are probably well aware, Friday July 17, 2015 was the 60th anniversary of Disneyland's opening day! I'm so happy I was able to go and witness the celebration. There was something special in the air that day. Everyone was definitely in a mood to celebrate! The Disney Parks Blog encouraged guests to dress in their best "1955" styles, so I wore my beloved Aurora Jenny skirt from Pinup Girl Clothing! The polo top is from Target and the "D" pin was a gift from my friend Hope via Match Accessories on Etsy! She can do any custom color! We got tons of compliments on them (and our entire ensembles) all day.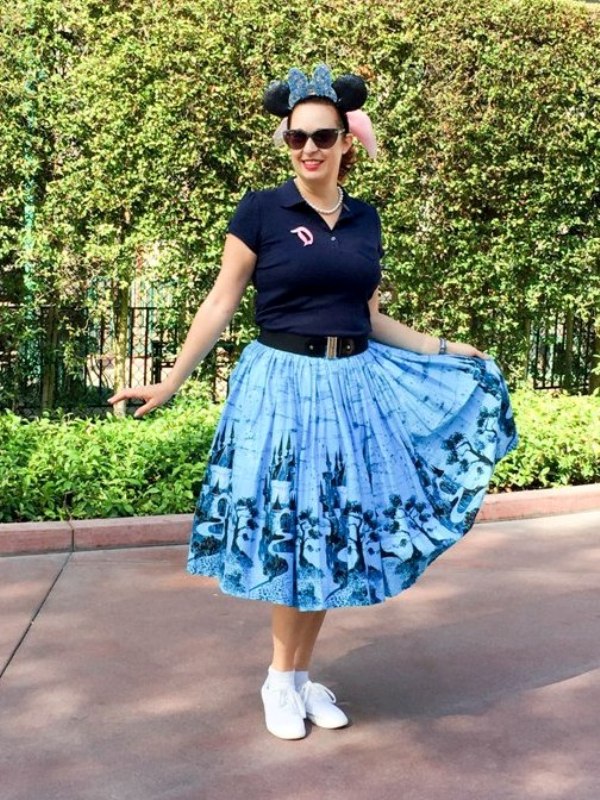 I was worried about the Park reaching capacity, so we arrived super early (well, for me). However, at 9am traffic was fine, parking was super easy, and there was no wait to enter through the gates! Right as you walked into the Park they were handing out these commemorative buttons, which will now join my 35th Anniversary button in my "Disneyland crap I keep saving for some reason" collection.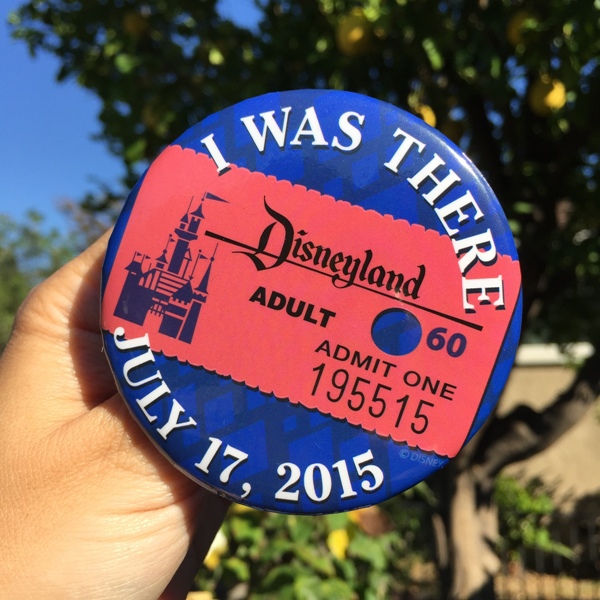 The day's park map was also a commemorative edition just for July 17. It folded out to reveal a replica of the original park map! Another perk of the day? FREE CUPCAKES! Wow, it's not every day Disneyland gives you something FOR FREE!!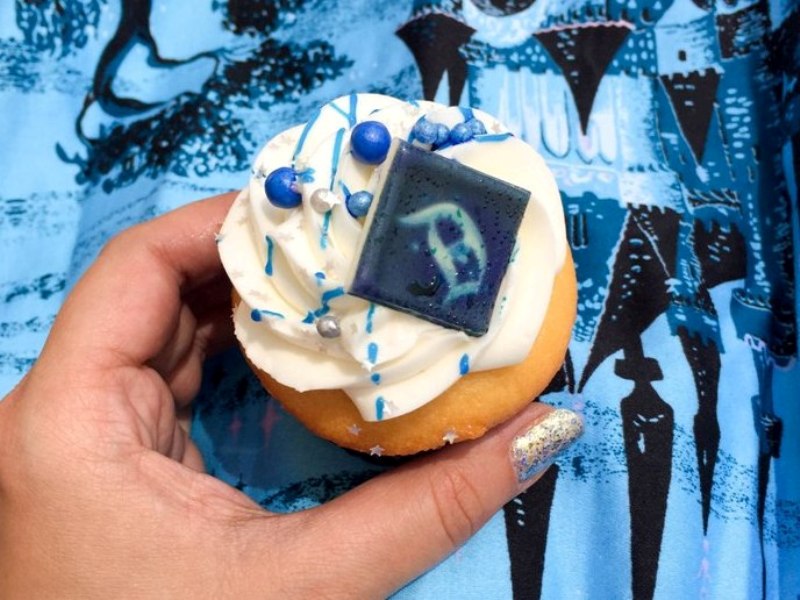 All throughout the Parks, they also had these photo op signs. I remember they also had signs like these for last year's 59th anniversary, and for the 24 hour day. I think it's a really smart idea!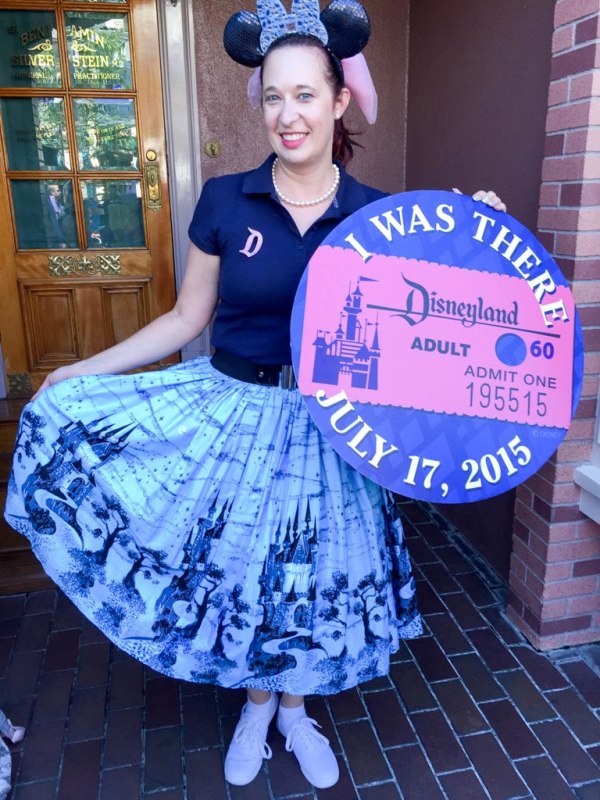 At 10am Disneyland held a quick ceremony in front of Sleeping Beauty's Castle, led by Resort President Michael Colglazier. He introduced some VIPs in the audience, and then brought out Richard Sherman and Ashley Brown (who played the title role of "Mary Poppins" on Broadway and sings the Disneyland Forever fireworks exit song) to play and sing Walt's favorite song, "Feed the Birds" from Mary Poppins. Disneyland set up large screens throughout the Parks and Downtown Disney, and I was able to watch the ceremony from one of the screens on Main Street USA. It was a very touching tribute and I got a little teary-eyed being in the presence of Richard Sherman!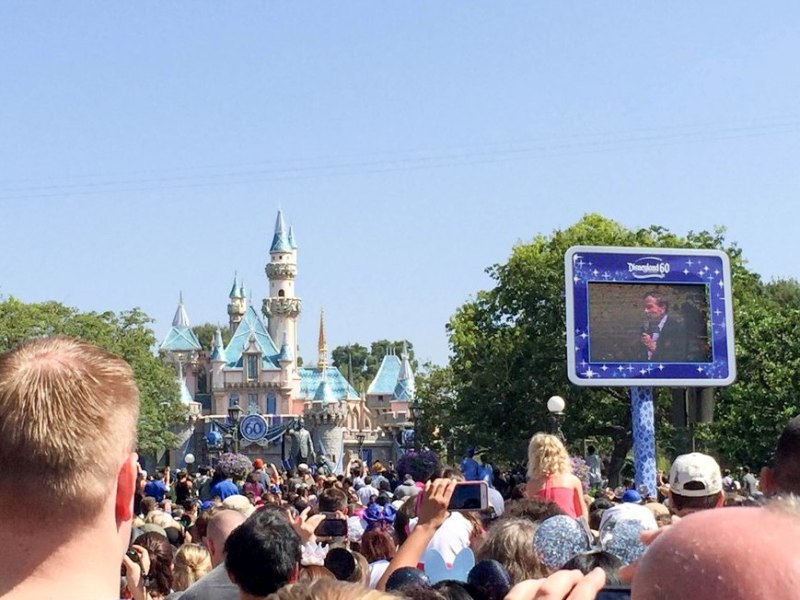 Shortly after the ceremony, we were walking down Main Street and noticed Oscar was out greeting guests in front of Carnation Cafe! Oscar started at Disneyland in 1956 and is the longest tenured Disneyland Cast Member! I've been trying to meet him for years, but he's never working when I'm dining at Carnation Cafe, so I waited patiently for my chance to shake Oscar's hand! He's super sweet and a flirt, too! He wouldn't let go of my hand and had me cracking up. Thanks, Oscar!
Aside from the "I was there" photo signs, there were several additional one-day-only photo spots set up to celebrate the 60th anniversary. Originally our plan was to try to ride all the "Opening Day" attractions, but when we saw all the photo spots, we altered our plan! We were able to get all the photo spots except for one – the elusive B Ticket! We heard rumblings and saw Instagram evidence that the B Ticket was near Dumbo, but every time we went looking they must have been on break. We managed to find the four retro backgrounds as well as the A and C Ticket (there were no D or E tickets back in 1955)!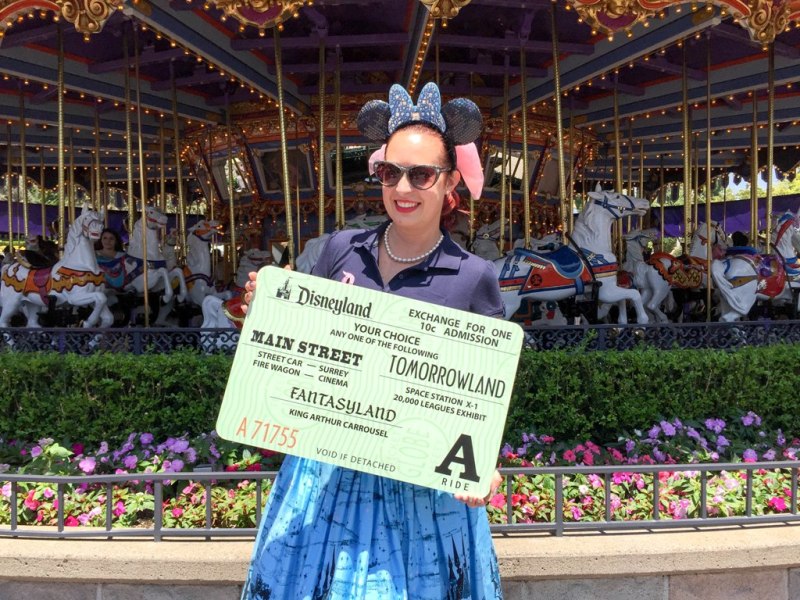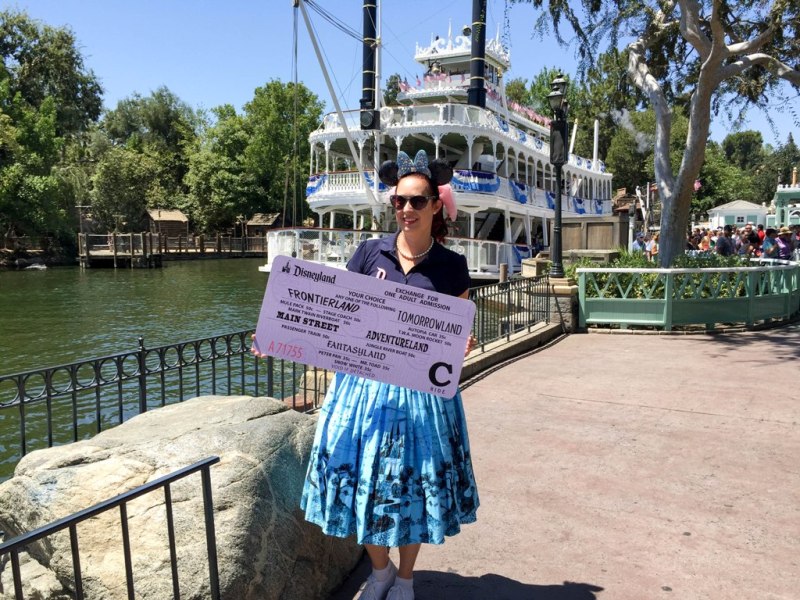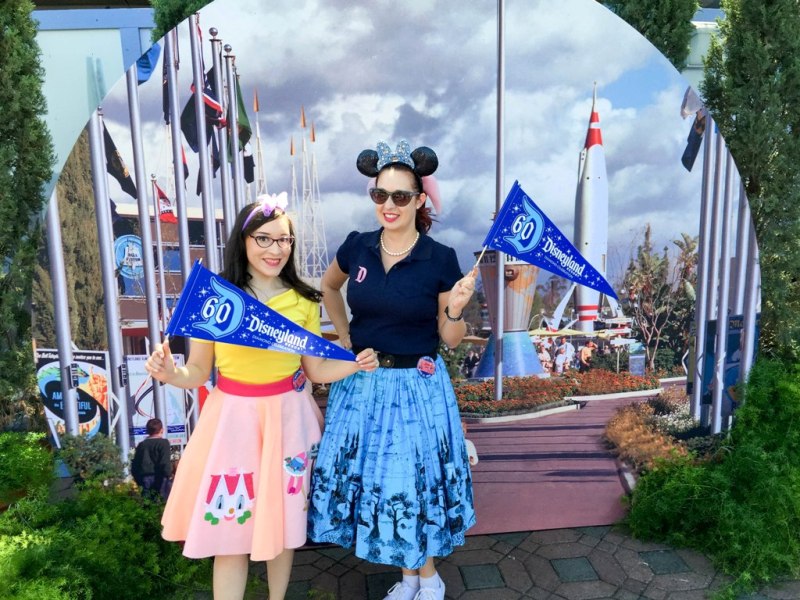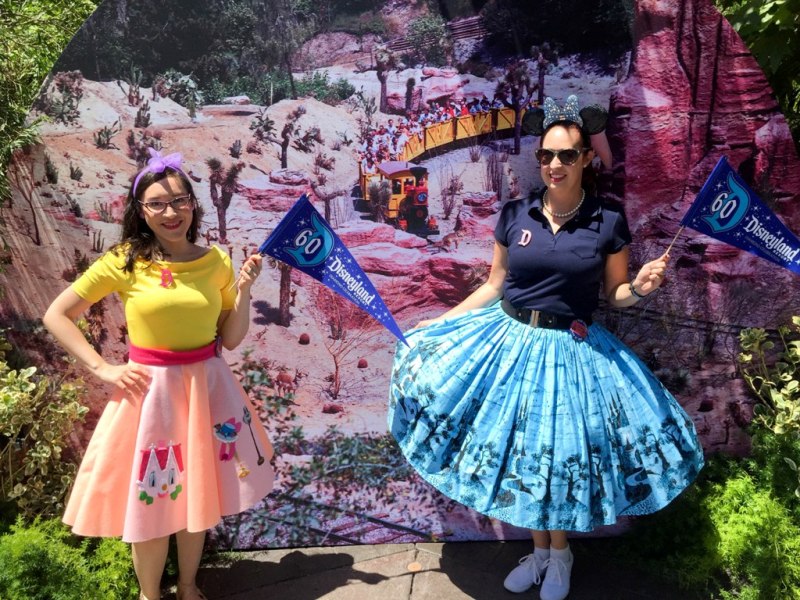 By early evening I had become a little irritated with my clothing (aka my skirt got too tight after lunch) so I went to my hotel room to change into my standard jeans and a tank top. Sure, I got less compliments from my fellow guests, but I could eat a churro without feeling guilty and isn't that worth it?
After a ride on the Mark Train (the ONE attraction we did the entire day!) and dinner, we headed over to Tomorrowland to watch a very cool Elvis tribute act! I wasn't able to get a fantastic picture (he was VERY mobile!) but this guy was spot on!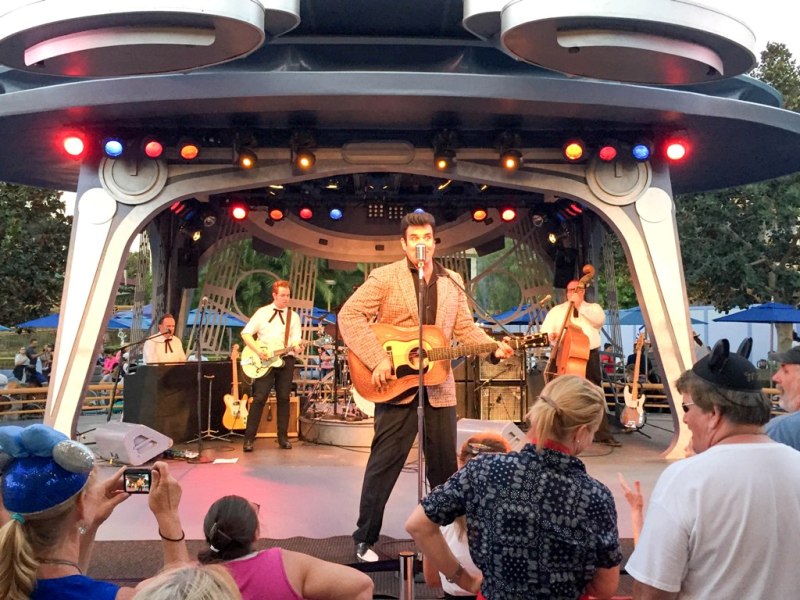 After watching Elvis' performance, we headed over to Disney California Adventure to see their two photo spots and finished by dancing the night away at Mad T Party.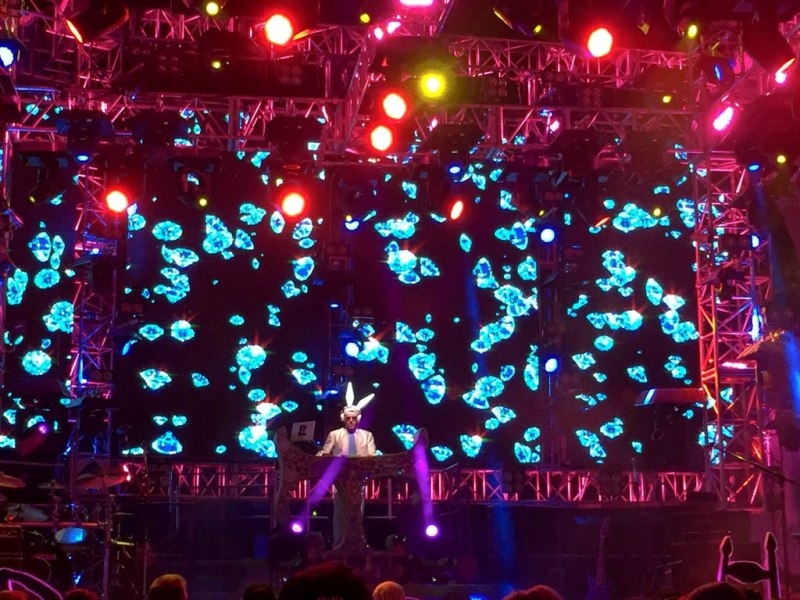 The best part of the day was meeting up with fellow Disneyland Brides and Grooms, who are the Greatest People on Earth! I'm so lucky I've made so many wonderful friends through this Disneyland wedding adventure.
Congrats, Disneyland! Thank you for everything. Here's to another 60 years and beyond.