If you've ever dreamed of a Disney fairy tale wedding, you're not alone. Thousands of weddings take place at a Disney property every year, and each one is beautiful and unique.
If you're looking to incorporate Disney into your wedding, whether it's a little or a lot, here are some ideas for you!
Photo by Root Photography
5 Simple Ways to Add Disney Magic to Your Wedding
This article contains affiliate links, which means we may earn a commission if you make a purchase.
1. Location
There is probably no better way to incorporate your love of Disney into your wedding than choosing a Disney Park as your venue. The Disneyland Resort and Walt Disney World host thousands of weddings a year and have a variety of locations and will work with practically any budget.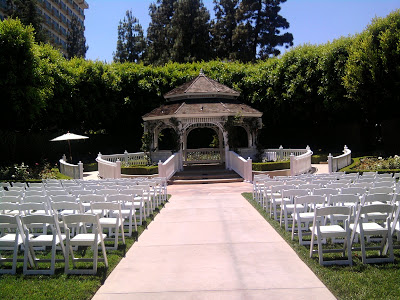 The beautiful Rose Court Garden at the Disneyland Hotel
2. Dress
There are several dresses out there that have that "princess" feel. Choose a big ballgown to feel like Cinderella or a mermaid gown that's inspired by Ariel. Or better yet, have your dress custom made! Disneyland bride Julie had a dress made based on Princess Aurora's dress from Sleeping Beauty.
Photo by Cali Creative Studio
3. Music
Disney songs are a popular choice for processionals or first dances. Even if you like a Disney song that isn't necessarily about love (for example, "Friend Like Me" from Aladdin), an instrumental version can be an elegant and beautiful choice to play while guests are being seated or during cocktail hour.
4. Colors
Perhaps there are certain colors that remind you of your favorite Disney movie. Disneyland couple Hope and Mike featured pink and blue lighting during their first dance, because it reminded them of
Sleeping Beauty
. Disney Bride Katelyn based their wedding theme around the movie
Up
and used bright, bold colors.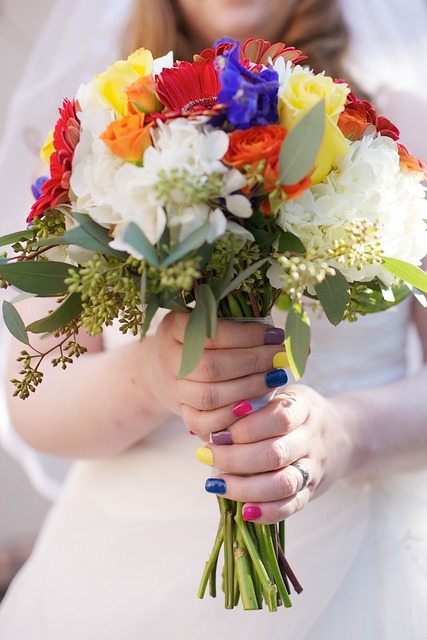 Katelyn's bright flowers and coordinating nails! Photo credit: Julianne Fishell
5. Shoes
Did you now they make glass slippers, just like Cinderella wore? They do! Well, maybe not glass … that could be dangerous. But
these shoes
sure do give the same effect!
How do you plan to incorporate Disney into your wedding day?
This article was originally published in January 2012 and has been updated.
(advertisement)
Shop Disney Wedding Favorites: