Disney Bride Nicole is planning a Walt Disney World wedding at the Wedding Pavilion and American Adventure Rotunda Ballroom for December 2016.
My fiancé, Michael and I have just returned from our Disney wedding planning session and menu tasting at Walt Disney World. Planning the entirety of our wedding in basically a day was a lot of fun, and has really eliminated so much stress now that the bulk of the planning is done. We arrived at Franck's Bridal Studio next to the Wedding Pavilion near Disney's Grand Floridian around 9am.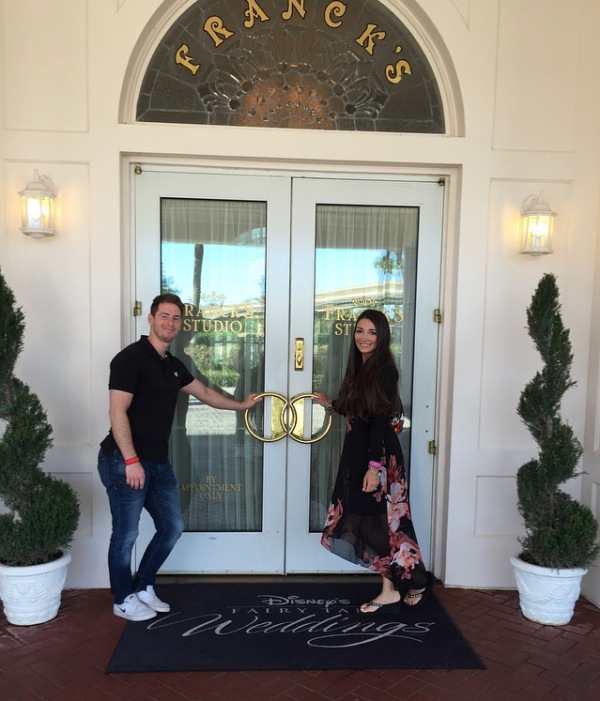 Here we met our amazing wedding planner Christy. I can't say enough great things about her; she is truly a gem to work with.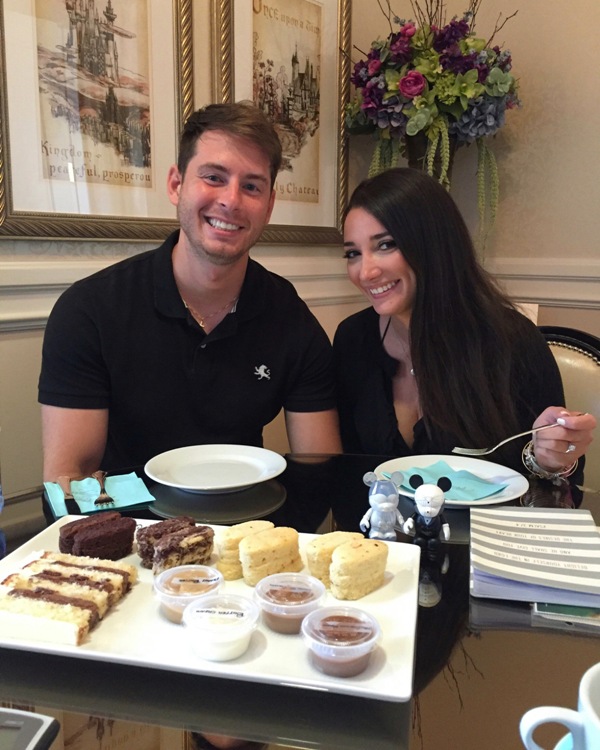 In the early morning hours we had our wedding cake taste testing. We sampled four different kinds of cakes and fillings of our choosing. We decided on the marble cake, which was a mix of chocolate and vanilla. We loved the buttercream frosting, the cookies and cream frosting, and the chocolate ganache frosting. Luckily for us, each cake tier can be a different flavor.
In between stuffing our faces with cake, we planned our ceremony details, reception décor, flower arrangements, centerpieces, bouquets, and other surprise elements of the day. I thought that this process might be overwhelming, but Christy walked us through each step, as did our beyond talented flower expert, Sarah. These women were upbeat, positive, and calming. They knew the vision we wanted to achieve for the big day, and they helped us make the right decisions based on our vision. Before we knew it the morning was over and part one of the planning session was complete.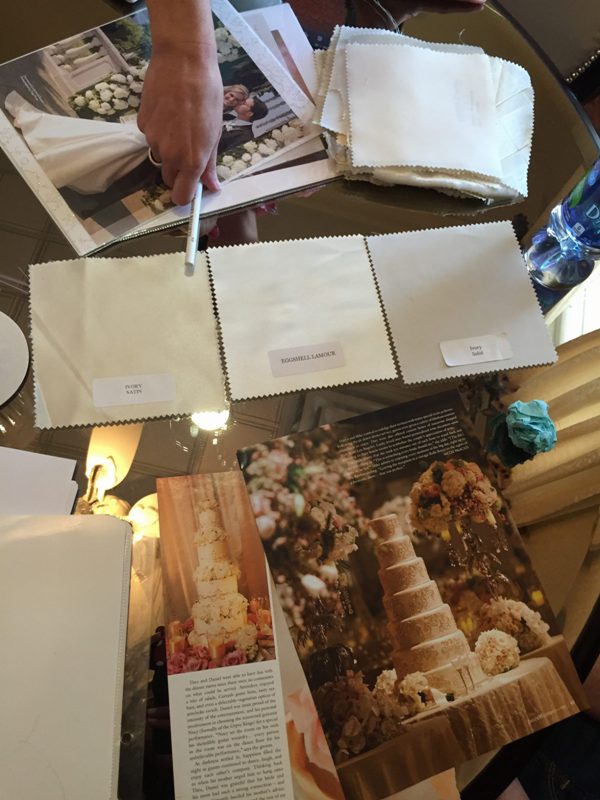 We were ready to move on to the most anticipated part of the planning session, the menu taste testing! We were so excited for this part of the day. Christy drove us over to Epcot, the park where our wedding reception and cocktail hour will take place. A bride and groom's wedding taste testing at Disney typically takes place at the location where your wedding reception will be, that way you get to sit down with the actual chefs who will be preparing your menu. Christy took us through the back stage entrance of the world showcase in Epcot. We drove right underneath Test Track and we were getting a rare view of what goes on behind the scenes in the park. We saw all of the props from this past year's international food and wine festival and food trucks unloading supplies to each country pavilion. Seeing all of this was a real treat. I figured that Christy was just taking us backstage because she was going to lead us through American Adventure, where our reception will be held, to taste test our menu in a public dining hall. Instead she led us through one of the largest kitchens in Epcot. The aroma in the room was to die for. Chefs passed us by and were actively baking and cooking delicious meals that park guests would soon get to enjoy. To our great surprise, in the middle of this kitchen was a beautifully set table for Christy, Michael, me, and my mom, to taste our menu selections. I realized at this moment that we would be able to watch our chef cook our food in front of us in the middle of all the action.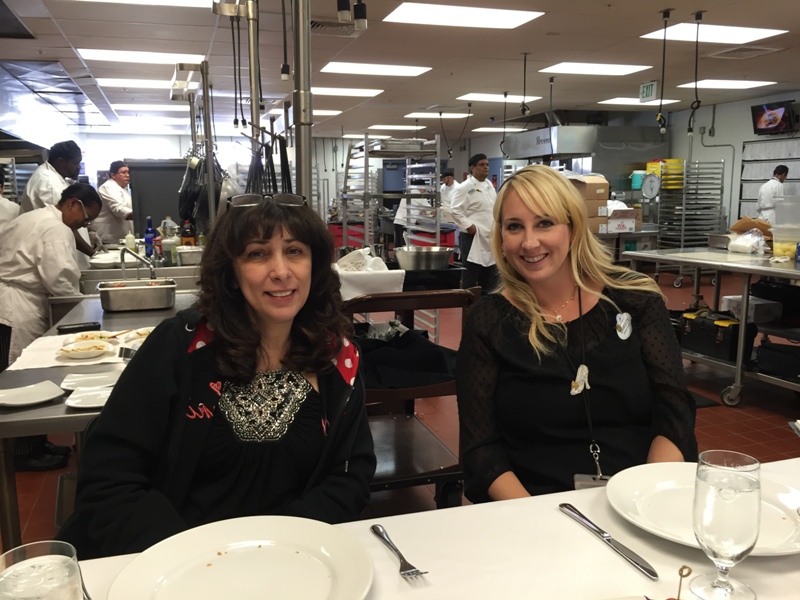 We were so thrilled! My mom, a huge Disney fan herself, was especially excited to be apart of this one of a kind experience. We met our wedding prep team, the two chefs, Jeffrey and James, and our host, Todd. Jeffrey already had items from our cocktail hour prepared for us. We had to narrow down 5 signature items for the cocktail hour. We tried lobster club sandwiches on brioche toast, bacon wrapped scallops, ahi tuna tartar, mini chicken and waffle bites, beef skewers and empanadas, just to name a few.
Everything was delicious of course and we were having a rough time narrowing down what we wanted. Jeffrey started talking to us to get to know what our favorite foods are. I asked him what the most popular appetizer was, and what his personal favorite was in the parks.
He went in the back with out hesitation and said, "I'm going to serve you something that you're going to love." He told us about a huge fan favorite, the cheeseburger spring roll, which was originally released a few years back during one of Animal Kingdom's special events, Harambe Nights. Both Jeffrey and Christy agreed, and said to this day, guests still ask about this menu item as is has become a famous fan favorite. When we finally took a bite, Michael looked at me with wide eyes and said, "yup! Add this to the menu!" The spring roll was so flaky, oozing with cheddar cheese and ground beef. It sounds really simple, but it was so good! Cheeseburgers have always been a favorite of ours, and this item is a nice spin on a typical burger slider that you can sometimes find at weddings. We finally narrowed down all the special items we wanted for the cocktail hour thanks to our team.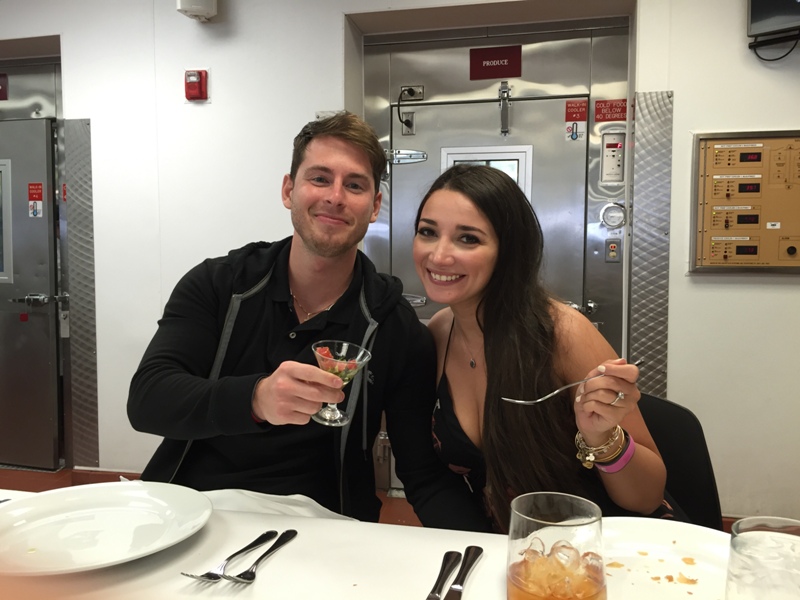 On to the reception! Once again Jeffrey prepared for us a decadent variety of items. The menu consisted of: a customized salad, penne ala vodka, herb-roasted chicken with creamy mushroom truffle risotto (a favorite of ours from Canada's Le Cellier Steakhouse in Epcot) filet minion and lobster tail accompanied by our favorite mixed vegetables.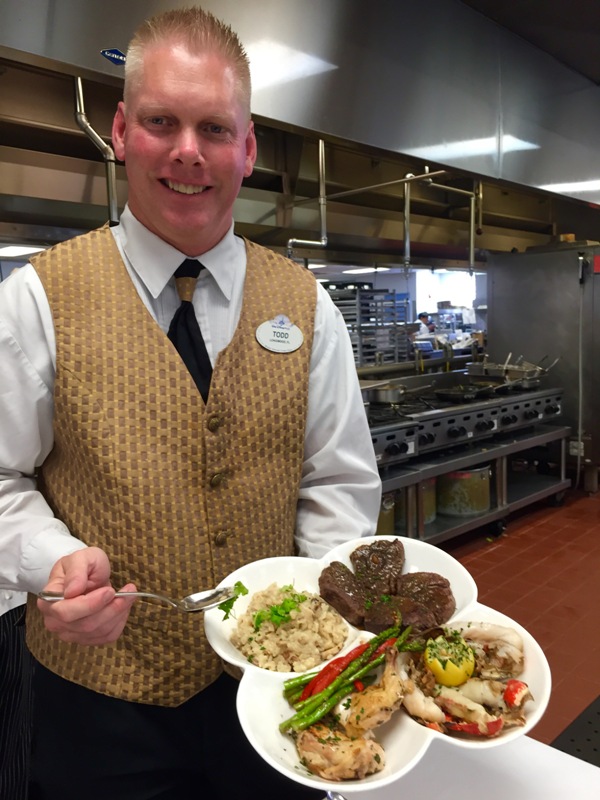 Selecting items for our reception menu wasn't as hard. Jeffrey and James came up with a beautiful salad that would look great for the Christmas season. They incorporated candied walnuts, strawberries and green leaves to get all those pretty Christmas colors in there. I swear, Disney thinks of everything! After the reception menu testing we were stuffed, but Christy had one last surprise for us. She had Jeffrey prepare us a special dessert option called donuts flambé.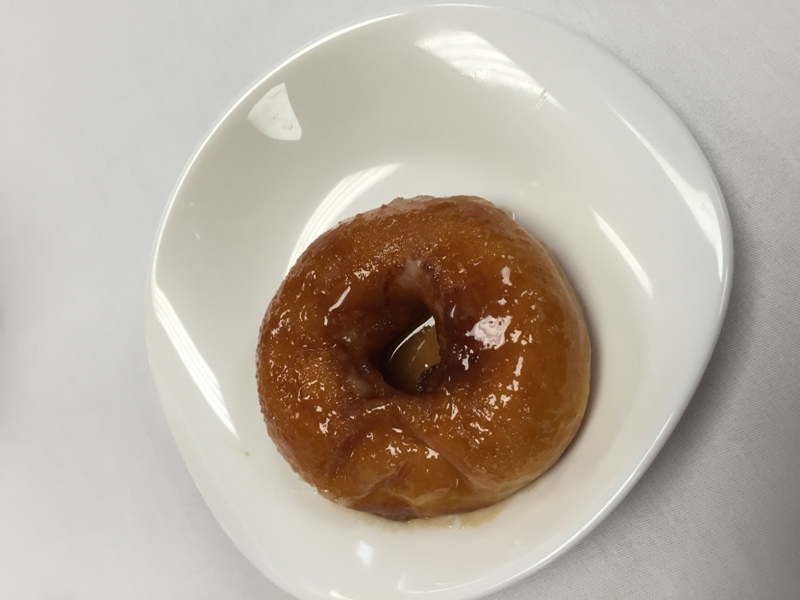 She knew that Michael's favorite dessert in Disney was the Cronuts from Epcot, and so she planned this ahead of time just for him. It was the perfect ending to a perfect day; and yes, we added the donuts flambé option on to our dessert party menu!
From start to end, the wedding planning session was everything I dreamed of and more. I couldn't believe the amount of details we were able to customize for our wedding day. The Disney planning team took the time to get to know us as a couple, and made sure that the details of the day, including the food on the menu, was unique and personalized to our exact specifications. They understood that we wanted to create a special and unforgettable day for our wedding guests and they helped us to achieve that, while calming our nerves every step of the way. The taste testing experience in particular was one that we will never forget. There was nothing like being in that kitchen, surrounded by all the Disney chefs, seeing the magic at work behind the scenes. I cant wait to see our wedding team again in December. I have no doubt that this wedding, thanks to them, is going to be everything we could've hoped for and more!