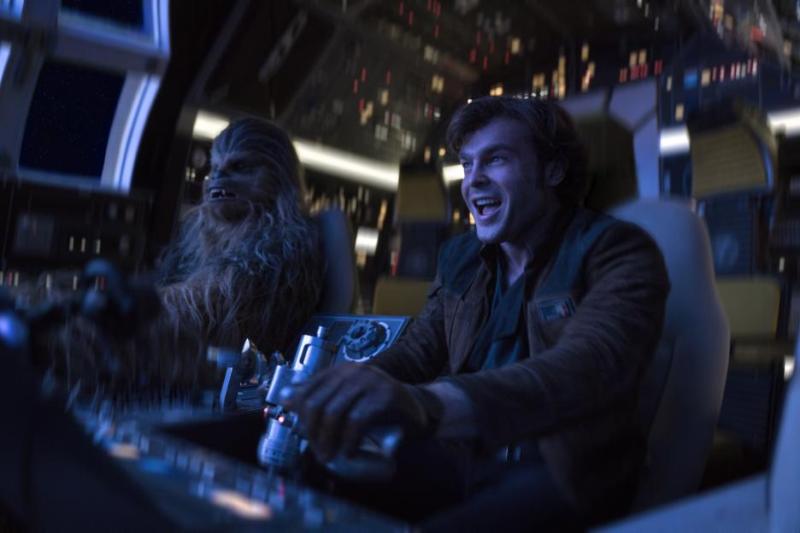 As a life long Star Wars fan who had to live nearly two decades without a new Star Wars movie before The Phantom Menace was released, I'm certainly getting spoiled.
A new Star Wars movie every year? Yep, I'm here for it.
I will be the first to admit, I was very publicly worried about Solo: A Star Wars Story. I didn't want them to screw this one up. I love the character of Han and he deserved a good origin story. The trailers made me nervous; they just weren't grabbing me.
Watch the trailer:

So, I went into Solo with low expectations. I assumed I'd enjoy it for what it was – a new chapter in the Star Wars universe. I'd try to remove myself from my attachment to Harrison Ford as Han and his post- A New Hope life I was used to.
But there was a point, about halfway through the movie, where I realized I was watching Han. The real Han. Yep, it's Han! There he is, chatting with Chewbacca and gambling against Lando and piloting the Falcon.
This movie got me FULLY on board and I enjoyed every moment of it.
SOLO: A STAR WARS STORY Movie Review
About the movie:
Board the Millennium Falcon and journey to a galaxy far, far away in SOLO: A STAR WARS STORY, an all-new adventure with the most beloved scoundrel in the galaxy. Through a series of daring escapades deep within a dark and dangerous criminal underworld, Han Solo befriends his mighty future copilot Chewbacca and meets the notorious gambler Lando Calrissian, in a journey that will set the course of one of the Star Wars saga's most unlikely heroes. The film stars Alden Ehrenreich, Woody Harrelson, Emilia Clarke, Donald Glover, Thandie Newton, Phoebe Waller-Bridge and Paul Bettany.
Solo gives us Star Wars fans a little bit of Han's backstory. How he first became a pilot, how he met (and was almost killed by) Chewbacca, the infamous Kessel Run, and even how he got his name. Many people are comparing the movie to a western; I haven't seen many (okay … any) westerns so I can't comment on that. But the whole plot moves along quickly and there are a lot of fun action scenes.
I was most nervous about Ehrenreich as Han, but he's got the mannerisms and gestures down. He certainly did his research.
I was less worried about Donald Glover as Lando, knowing Glover from his days on Community and his appearances in the trailer. He did a great job giving some more depth to this famous but not well-developed character.
Emilia Clarke plays Qi'ra, who we first see as Han's love interest, which … YES, is a little uncomfortable. I mean, I know Han had a life before meeting Leia but I just choose to ignore it. Anyway, the character of Qi'ra ends up being the most mysterious of all the new players, and I'm hoping we can see more of her story someday.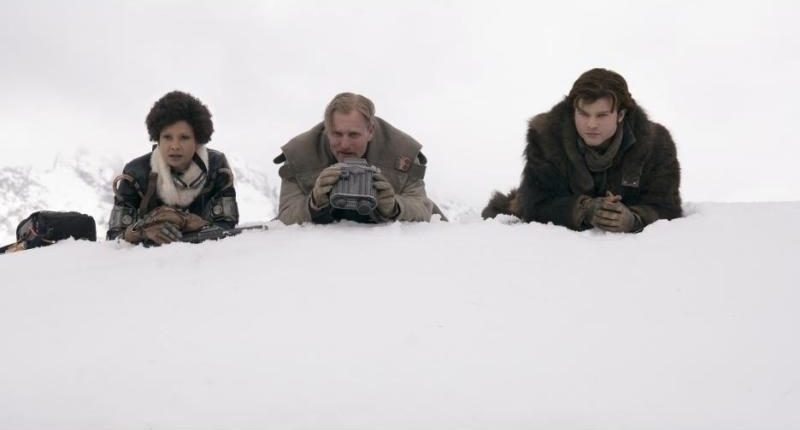 Han gets his first "big break" into the world of smuggling by Tobias Beckett, played by Woody Harrelson, and Val, played by Thandie Newton. It's interesting to see these characters who are morally ambiguous and you're not sure if you're cheering for good guys or bad guys.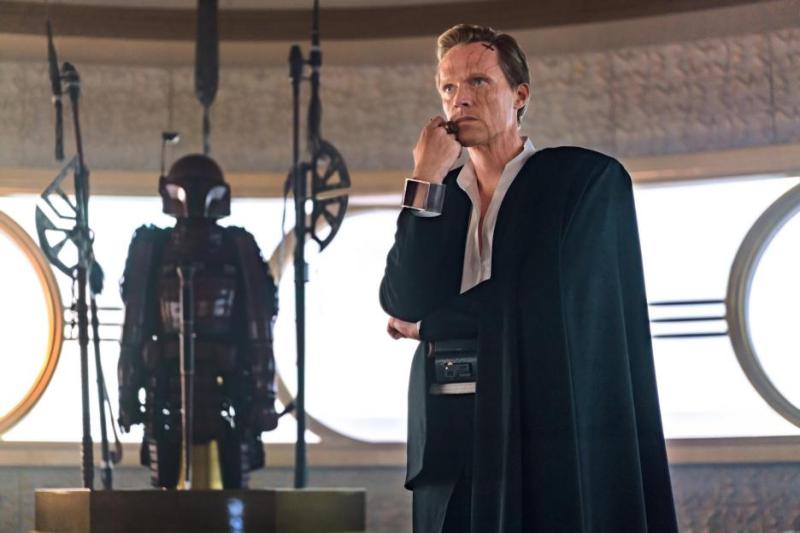 Speaking of bad guys …. Dryden, played by Paul Bettany (who landed his role by sending a text message to director Ron Howard), is a very mysterious dude who only cares about the usual things villains care about – power and wealth. All of his scenes are very interesting and compelling.
We also can't have a new Star Wars movie without a new droid! L3-37 is a scrappy droid (literally … she build herself out of parts) who accompanies Lando throughout the galaxy. She is smart, sassy, and independent … I loved her!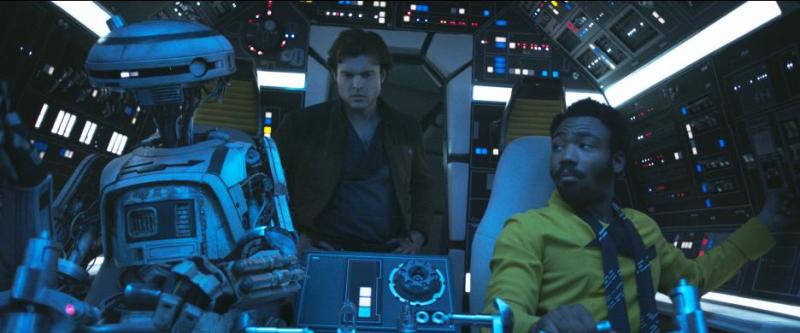 Ron Howard as the director does a great job of tying everyone's stories together. It must have been a hard task to take something as iconic as Han Solo piloting the Millennium Falcon through the Kessel Run and make it fun and new for audiences. I got the chills many times during this movie!
There are also a couple big surprises I won't mention here, but trust me, you will want to see this movie sooner than later so they aren't spoiled for you!
SOLO: A STAR WARS STORY is rated PG-13 and is in theaters May 25, 2018!