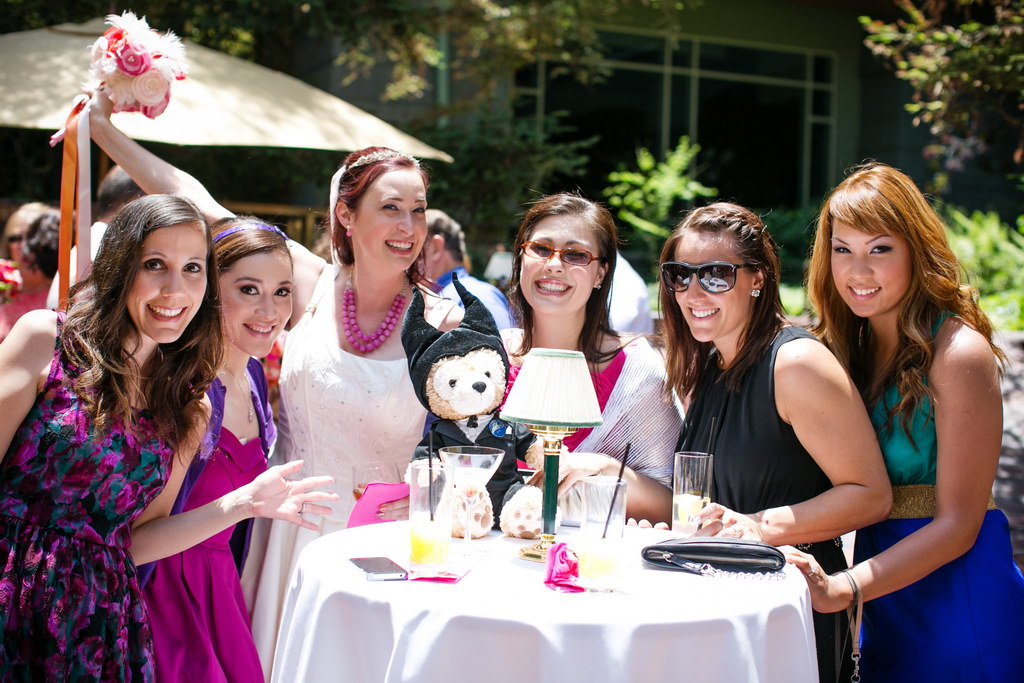 Photo by Root Photography
Today we have a guest post from Disney Bride Hope. Hope has been an active Disneyland weddings online community member for many years now, and she was actually the first person I "met" online who had a Disneyland wedding and was willing to share the details that went into planning. I'm so grateful for her! In this article, she is sharing several tips for guests who have been invited to a Disney wedding. Often guests are confused about attending a wedding "at a theme park" so this is a great article you can pass along to any of your guests who have questions. Thank you, Hope!
So you've been invited to a Disneyland wedding. Congratulations! You're in for a real treat. I have personally been to over 15 Disneyland weddings (including my own) and can tell you with absolute certainty that the food and service is incredible and you'll feel like you won a golden ticket when you receive that magical invitation. Aside from this article, I recorded a podcast with my friend Carrie over at Disney Wedding Podcast with tips, if you want to go more in depth about this topic.
Carrie's Podcast Program – Tips for Disney Wedding Guests Part 1
Carrie's Podcast Program – Tips for Disney Wedding Guests Part 2: FAQ's
FAQ for Disney Wedding Guests
What do I wear?
Always follow the dress code listed on the invitation or wedding website, but also consider the time of year. Most of the Disneyland ceremony and pre-reception locations are outdoors and we tend to have warm weather year round so make sure your outfit is both dress code and weather appropriate. Also make sure you wear comfortable shoes. There is a bit of walking from location to location (especially if the event is in-park) so I always tend to wear flats or carry an extra pair of shoes in my purse. My overall recommendation is to look nice but be comfortable as the events usually last around six hours from beginning to end and you don't want a wardrobe malfunction to cause you to leave early.
How much travel will be involved?
This depends on where you live. Most of my Disneyland Bride friends were local so there wasn't much travel involved for their guests. For those who made their weddings a destination event, their guests had to consider the flight, hotel stay and a car rental as Disneyland does not have an exclusive airport shuttle service. For locals, I always recommend you cushion for time. I once sat in traffic for two hours on route to a wedding that was mid week and mid day so you never know what to expect and you don't want to be that jerk trying to sneak down the aisle after the ceremony has already started. For non-locals, I recommend staying as close to The Disneyland Resort as possible. Disneyland couples are offered discounted rates for all on property hotels, but if those are out of your budget, consider staying at the hotels off of Katella Ave and Disneyland Drive (Hilton Anaheim Convention Center, Best Western Stovall's Inn, and Anabella Hotel are some of my recommendations) to be closer to the wedding locations. The wedding venues are a short walk away from these hotels but you should still cushion for time since the resort does tend to get busy and perimeter traffic can be as bad as an hour to go around Disneyland on busy days via car. Once you're at the wedding venue, rest assured Disney staff will escort you from the ceremony to the reception so if you have no idea where to go, just look for a cast member and they will guide you. There are also clear paths marked along the resort so it's nearly impossible to get lost. Free self parking is provided for all Disneyland wedding guests so if you prefer to drive to the ceremony locations, feel free to park at the hotel where the reception is being held. The helpful parking attendants will direct you to where to park and can provide a resort map to guide you to the ceremony location once you have parked your vehicle.
Do I need a park ticket to attend a Disneyland wedding?
No you do not need a park ticket to attend weddings at Disneyland. Most of the popular wedding venues are located in the hotel portion of the resort and those are open to the public so they do not require a ticket. Since in-park events are held before or after normal park operating hours, you also do not need admission to attend these weddings.
If I'm paying so much for travel, do I still have to buy the couple a gift?
You do not "have to" buy a gift generally speaking, but it is polite to offer a small token of appreciation since you'll be treated to so much awesome stuff at this Disneyland event. My go-to is always Disney gift cards, but if the couple is registered somewhere make sure you order their gift and have it sent directly to their home so that you or the couple doesn't fuss with lugging it around the resort, especially if you or the couple are traveling by plane.
Does Mickey Mouse officiate the wedding?
The dreaded question all Disneyland couples "love" to hear. No, Mickey will not be officiating. You may be lucky enough to see him at the reception but all Disneyland wedding ceremonies are just as legal/solemn as the couple wants. While the reception is a party with a fun atmosphere, Disney takes the ceremony seriously just like any ceremony anywhere else.
I know there is no alcohol available at Disneyland park. Will there be alcohol served?
Disneyland weddings do offer bar packages that include beer, wine and premium liquor but it is up to the couple to decide whether to host or offer a cash bar. It's very rare to have a dry Disney wedding, but on the off chance you're invited to one, there are several bars in Downtown Disney to wet your whistle if you need the libation. I've been lucky enough to have been treated to many signature wedding drinks and hosted bars in my time as a guest, but I always come prepared just in case of a cash bar. The Disneyland wedding bartenders take credit cards if you don't want to bother with cash as well. Don't forget to bring your ID as the bartenders are required to card wedding guests whether it's a hosted or cash bar.
How do I get from the ceremony to reception?
As noted above, there are signs everywhere and Cast Members will be on hand to escort guests from location to location. For those with ceremonies on The Disneyland Hotel side and receptions at Disney's Grand Californian, please make your guests aware they *may* be subject to security bag screening and metal detectors. A Cast Member will escort your guests through security but you never know if someone will be subjected to a "random" search.
I have mobility issues; do I have to walk from the wedding ceremony to the reception?
Bring this up to the couple or someone closely involved with planning the wedding so they can inquire with their wedding coordinator. Wheelchairs are usually available for rent at the front desk of The Disneyland Hotel and some guests with disabilities have been taken by golf cart to the reception, but this is not guaranteed.
Why is the wedding so early/during the week?
Because that's the day and time the couple chose and the one that was available to them. If this does not work for you, then decline the invitation. Sometimes these type of weddings require you to miss work or leave work early so if that is too much, then just don't go. It's never polite to complain about the inconvenience of the time or date to the couple.
What do I do with the newsletter/wedding website/Facebook group updates?
Please read them. The couple took the time to answer all of the questions they could think of relating to their event so they wouldn't have to repeat the answers individually to each guest. Take the time to understand all of the event details before you ask the couple your question. Most of the travel and cost considerations are discussed in these so make sure you stay up to date.
Do I need to reply to the Save the Date?
No, but it's always nice to acknowledge that you received it and share your excitement about the event with the couple.
Do I really need to RSVP if I'm in the wedding or if I've already verbally said I'm going?
Yes you do. Couples have pre-stamped the RSVP or provided the link via their wedding websites so take a second to let them know you are attending so that they know to leave a seat open for you. These also serve as a way to let them know what meals to order, so if you have any dietary considerations this is the best way to communicate that before the big day.
The invitation is addressed to just me. Can I bring someone with me?
No. The couple has carefully combed through their invitee list and would not appreciate surprise guests. I've been to many weddings without a plus one and it just encourages me to make new friends. I know this may sound untraditional and some might consider it rude, but Disneyland weddings are expensive so rather than forcing the plus one issue, consider declining the invite if going solo is a real concern for you.
Will childcare be provided?
Probably not. There are nanny services in the area but if the invitation reads "Adult only," leave your little ones with a sitter at home. As with any other wedding at any other location, don't expect the couple to provide childcare during their event.
What am I supposed to do with the welcome bag?
Sometimes couples leave welcome bags for guests with what they think are essential trip necessities. There may be snacks, park maps, toiletries or souvenirs in them so enjoy these gifts. Be sure to read any notes/instructions the couple provides about the event(s)!
There's a wedding weekend itinerary. Am I required to hang out with the couple all weekend long?
Most couples want to enjoy time in the parks with their guests but they also want their guests to enjoy their mini vacation. Unless your presence is specifically requested to something (for example, the rehearsal or a group photo) then you do not have to attend everything on the itinerary. It's a good idea to run this by the couple though so that they don't expect to see you and not find you.
***
Above all else, remember to enjoy the wedding. The couple has spent months or years planning their celebration and has taken everything they could into consideration to make it fun for you so make sure you explore all the offerings. If they have a photo booth, go take pictures! If they have a caricature artist, have your caricature drawn. If they have Mickey ear hats with your name on it, then wear them proudly. If nothing else, then definitely enjoy the cake. Disneyland wedding cake is my favorite and I look forward to having a slice or two when I'm lucky enough to get invited so please do yourself a favor and devour it. You will not regret it. Have a wonderful time at the Disneyland wedding and enjoy the celebration!