This is a partnered post with CK Mondavi and Family. All opinions are 100% mine. Search #PairnPost on Instagram and Twitter for more recipes and wine inspiration! This post also contains affiliate links.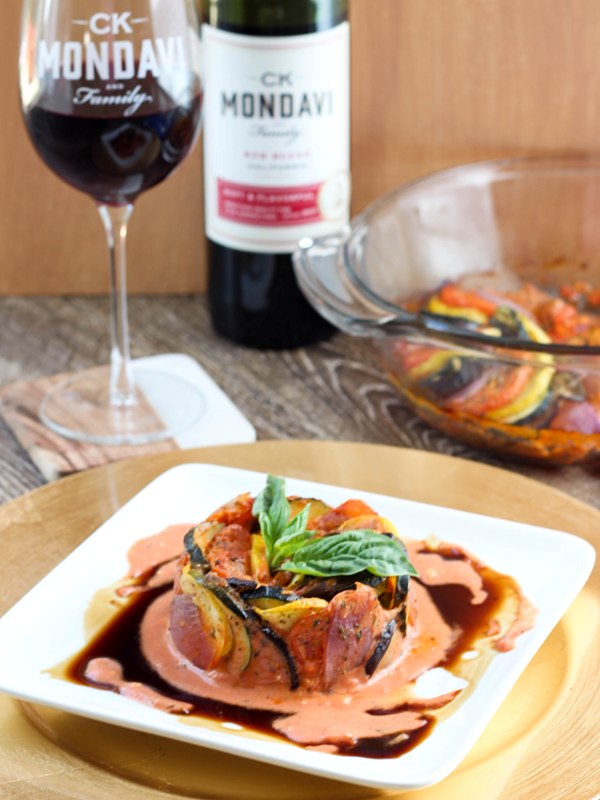 Obviously every Disney fan is familiar with the food dish ratatouille due to the movie of the same name. But have you actually tried it? It's SO GOOD. I first had ratatouille at a Disneyland wedding, actually. It was one of the vegetarian meal options and I was curious to try it.
Recently, Cafe Orleans restaurant at Disneyland started offering a three-course prix-fare meal for Pixar Fest inspired by Ratatouille. The main dish is a ratatouille with shrimp. It looks so good, I wanted to recreate it! I skipped the shrimp, though, since I don't enjoy seafood. But if you want to make this at home, you could certainly add shrimp, chicken, or any kind of protein you want! Or keep it as-is for a vegetarian dish that's full of flavor.
As I was looking over ratatouille recipes (searching for the absolute easiest version) I kept seeing this one ingredient over and over – Herbes de Provence. It's a blend of herbs that includes lavender. I searched for it at my local chain grocery store and they had it in stock! I'm so glad I picked it up because it smells soooooooo good (and tastes even better)!
I also am a fan of making cooking as easy as possible so I took some short cuts. My creamy tomato sauce? Yeah, it's just canned pasta sauce with cream cheese. Did you know cream cheese makes literally everything taste better? It's true! So that's my secret ingredient here – cream cheese. Of course, if you want to make this dish vegan, skip the cheese. It tastes just as good with regular tomato sauce and lots of spices!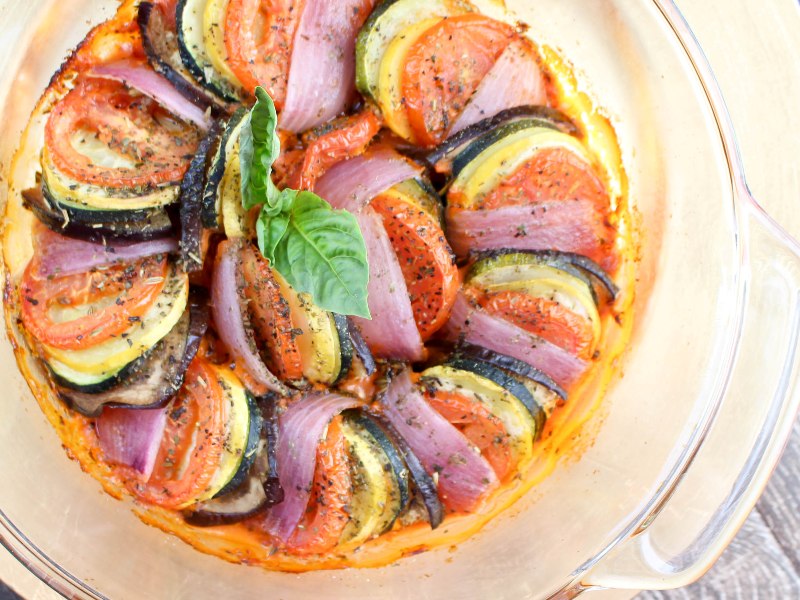 Easy Ratatouille with Creamy Tomato Sauce Recipe
Inspired by this recipe from Chef de Home
Ingredients
2 cups Tomato Sauce
4 ounces Cream Cheese (half a standard package)
1 Eggplant
1 Yellow squash
1 Zucchini
2 Roma Tomatoes
1 Red Onion
Olive Oil
Balsamic Vinaigrette
Salt & Pepper
Herbes de Provence
Biscuit cutter (optional, for presentation)
Fresh Basil (optional, for presentation)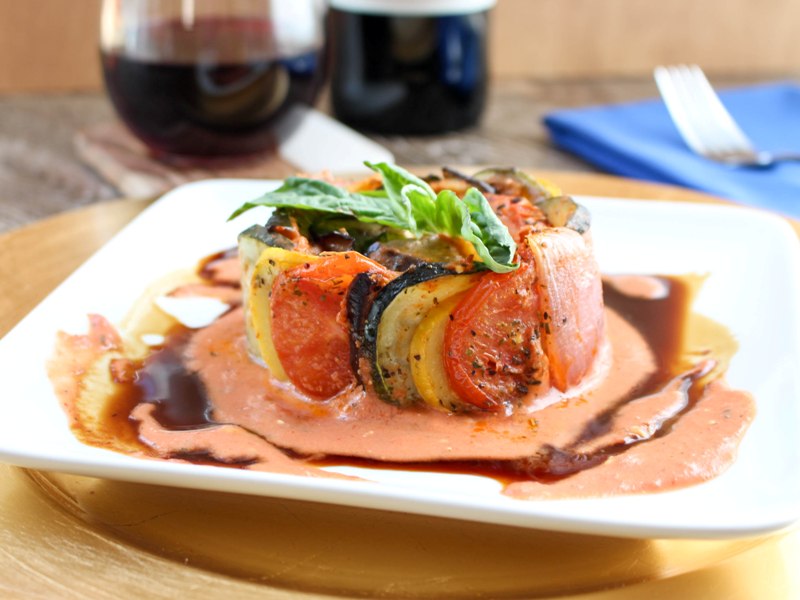 Directions
1. Preheat oven to 375 degrees.
2. Thinly slice the veggies. You want all veggies to be around the same size. The eggplants available at my store were huge so I ended up slicing them thin then cutting each round into quarters. (Pro tip – most big chain grocery stores sell pre-sliced veggies. It's a little pricier but saves so much time. I found sliced zucchini and squash at my store.)
3. Make your creamy tomato sauce. Put two cups of canned (or homemade) tomato sauce in a sauce pan and add half a block of cream cheese (approx 4 ounces). Heat over medium heat and stir until the cheese has melted.
4. Spray a round baking dish with cooking spray. Spread layer of the creamy tomato sauce on the bottom. Sprinkle generously with the Herbes de Provence. Start layering your sliced veggies around the edges in a spiral. Keep layering until the dish is completely covered with veggies. Drizzle with olive oil and sprinkle salt, pepper, and more Herbes de Provence on top.
5. Cover with parchment paper. Bake for 55-60 minutes or until the veggies are tender and sauce is bubbling on the sides.
6. Remove from oven and let cool for 5-10 minutes.
7. Plate your meal. Spread a thin layer of sauce on your plate. I used a biscuit cutter as a mold to hold the veggies in place. It worked like a charm! Top with a drizzle of balsamic vinaigrette and a sprig of basil. So fancy!
Optional – You can serve shrimp alongside your ratatouille, like Cafe Orleans does, or serve your ratatouille over pasta or rice. Or just consume as-is! There are a lot of possibilities here!
Don't forget to pair your ratatouille with a glass of Red Blend wine by CK Mondavi and Family. The Red Blend wine pairs wonderfully with all kinds of foods, and will really bring out the robust flavor of the creamy tomato sauce. If you need help pairing wines to food, CK Mondavi and Family has this great infographic! Be sure to save it to your phone so you always have it handy while you're cooking!
Have you ever tried ratatouille? Or made it yourself? I'd love to hear if you like it!