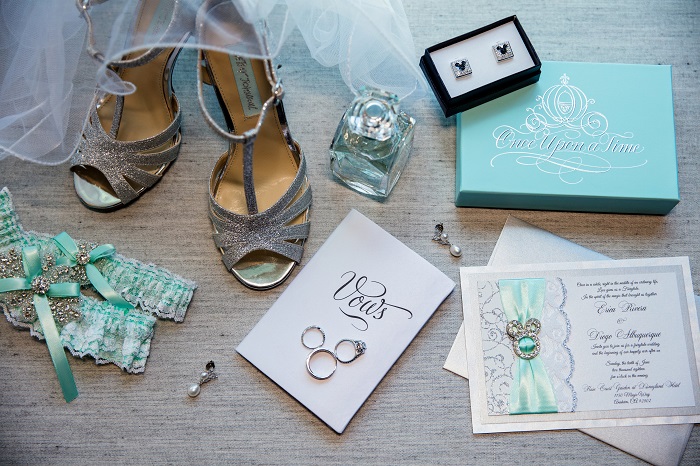 Dreaming of a Disney wedding? Getting married at Disneyland was one of the best life choices I've made, and I love helping other couples plan their magical days!
I created this page to share shopping resources for planning a Disney wedding, from invitations to guest books to celebration buttons and everything in between!
Congrats on this happy time in your lives! I sincerely hope this page helps you with your planning.
This Fairy Tale Life is reader supported. When you buy through links on our site, we may earn a monetary commission. Learn more.
Note – Etsy items are handmade and not authorized by Disney.
Wedding Accessories
Bouquets
One of the best things about getting married is incorporating personal touches into your wedding day! One way to do that is by getting a Disney-inspired bouquet for your wedding. There are many different Disney-inspired bouquets, so you'll be sure to find one that fits your personality and style. If you're looking for ideas, here are a few examples to get you started:
Buttons
Buttons are a great way to get guests excited for your event! The Disney Parks famously has celebration buttons, but why not make your own branded buttons for your wedding day? They also double as fun wedding favors!
Cake Toppers
One of the many traditions that are often associated with a wedding is the cutting of the cake. For many couples, this tradition includes the use of a wedding cake topper. There are a variety of different types of Disney wedding cake toppers that are available, and couples have the opportunity to choose the one that best represents them!
Dress Hangers
A personalized wedding dress hanger is a great detail to add to your wedding day accessories. Not only does it add a special touch to your wedding photos, but it can also be used as a keepsake for years to come. There are some really cute Disney themed wedding dress hangers on Etsy, and most can be personalized with your name and/or date. They even make dress hangers for bridesmaids, too!
Favors
Wedding favors are a tradition that began in the 12th century. At the time, wedding guests would receive small gifts from the wedding couple as a thank you for attending the event. These days, wedding favors can be anything from small trinkets to edible treats. They're often given out as a way to show appreciation to guests for traveling to the wedding, celebrating with the couple, and supporting them on their big day. For a Disney wedding, there are so many options for favors, but I think the best ones are Disney treats, which you can ask your Disney's Fairy Tale Weddings planner about! However, if you are having a Disney themed wedding "at home," there are lots of Disney themed favors on Etsy!
Gifts for Dads
It's always nice to show appreciation for the dads! They do so much for their children over the years, so why not say "thank you" with a fun shirt!
[lasso ref="disney-mickey-friends-father-of-the-bride-t-shirt" id="44945″ link_id="29646″]
Gifts for Moms
And you can't get a shirt for dad without getting a matching shirt for mom! These Disney shirts are officially licensed and easy to purchase on Amazon.
[lasso ref="disney-mickey-friends-minnie-mouse-mother-of-the-groom-t-shirt" id="44944″ link_id="29647″]
[lasso ref="disney-mickey-friends-mother-of-the-bride-t-shirt" id="44942″ link_id="29648″]
[lasso ref="disney-mickey-friends-minnie-mouse-mother-of-the-bride-t-shirt" id="44943″ link_id="29649″]
Guest Books
A guest book is a fun option for any wedding. Guests use it to sign in and leave messages for the newlyweds. It's a great way to capture memories from the big day. For a Disney wedding you can really have fun with your guest book and get something that really represents you as a couple!
Hair Accessories
Hair accessories are a great way to add a touch of personality to your bridal look. Whether you choose to wear a tiara, a headband, or flowers in your hair, there are plenty of fun Disney-inspired options to choose from!
Masculine Accessories
If you prefer a more masculine look for your wedding day, there's plenty for you too! Like fun Mickey cufflinks or stylish tie clips; it's the easiest way to show your Disney love on your wedding day.
Stationery
From invitations to thank you cards, don't forget the stationery! It's the first taste your guests will have of your Disney wedding, so be sure it represents the theme of the day!
T-Shirts
Fun Disney wedding themed t-shirts are great for your honeymoon, wedding rehearsal, getting ready photos, or even bridal/bachelorette parties. And you can even wear them again on your anniversary! These are all officially licensed shirts from Disney and if you have Amazon Prime they will arrive really quick!
[lasso type="grid" category="disney-wedding-shirts" columns="3″ link_id="29650″]
Tiaras
There's no more perfect Disney wedding accessory than a tiara! For anyone who wants to feel just like a princess on their wedding day, a tiara is a must-have, and there are so many pretty options available.
Themes
Alice in Wonderland
Beauty and the Beast / Belle
Cinderella
Marvel
Mickey & Minnie
Nightmare Before Christmas
Sleeping Beauty / Aurora
Star Wars
Tangled
The Little Mermaid / Ariel
The Princess and the Frog / Tiana
Up
Villains
Vintage/Dapper