Last week I had a really fun opportunity to attend the VIP grand opening party of Crumbs & Whiskers, LA's first permanent cat café! My friend Hope was chosen to attend via an Instagram contest and she brought me along as her +1. I guess my reputation for being a crazy cat lady is well known … thank you, Hope!
Crumbs & Whiskers, a popular cat café already established in Washington DC, is opening their second location right here in Los Angeles! The café is on Melrose in the Fairfax district. There is no parking lot but there is tons of metered parking and neighborhood parking around the area. I went two days in a row and had no problems finding a parking spot a couple blocks away.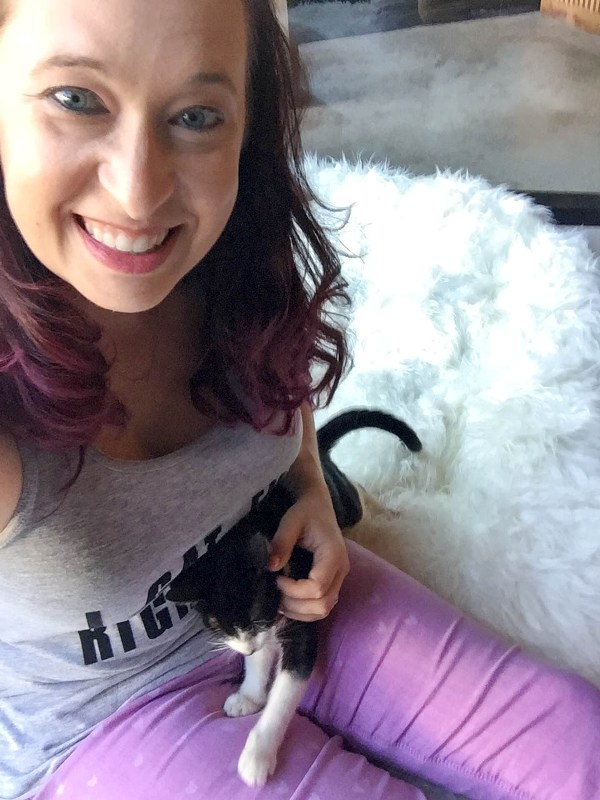 The concept of a cat café is pretty simple: You go to the café, you order a cup of coffee or tea, and you hang out with cats. All of the cats roaming around the café are adoptable; the café partners with Karma Rescue. The cats pretty much run the place, roaming free or curling up for a nap wherever they want. There is also a private area towards the back of the café where the cats can escape the grabby hands of humans if they choose to. (This is also where the litter boxes are located, in case that thought crossed your mind.)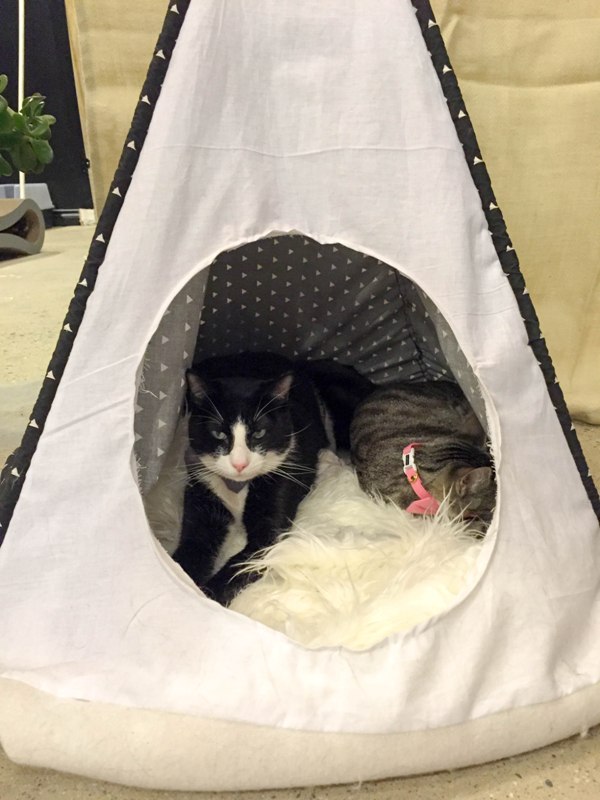 The shop itself is SUPER cute, with plenty of tables, benches, floor pillows for relaxing, although you will hardly want to sit down. Cats have plenty of places to sleep, climb, and hide, but expect these curious creatures to jump all over the tables and perhaps even up your back (speaking from experience).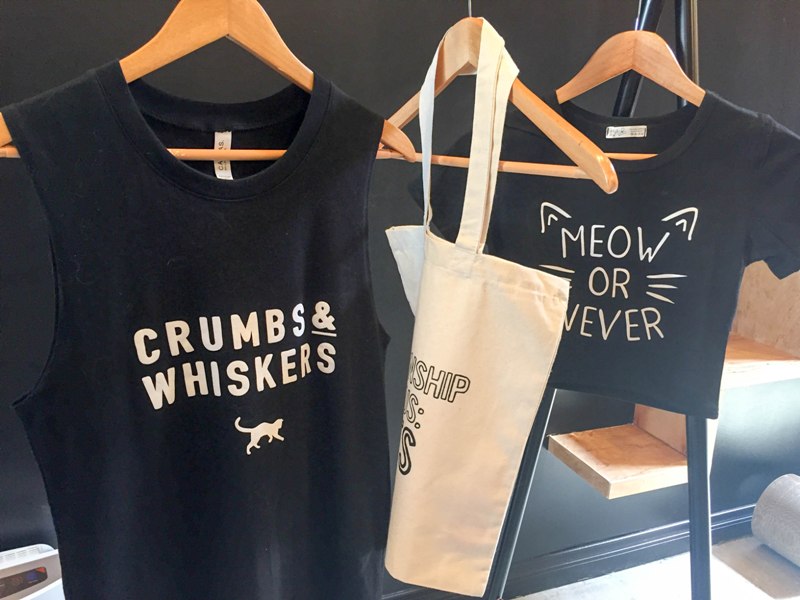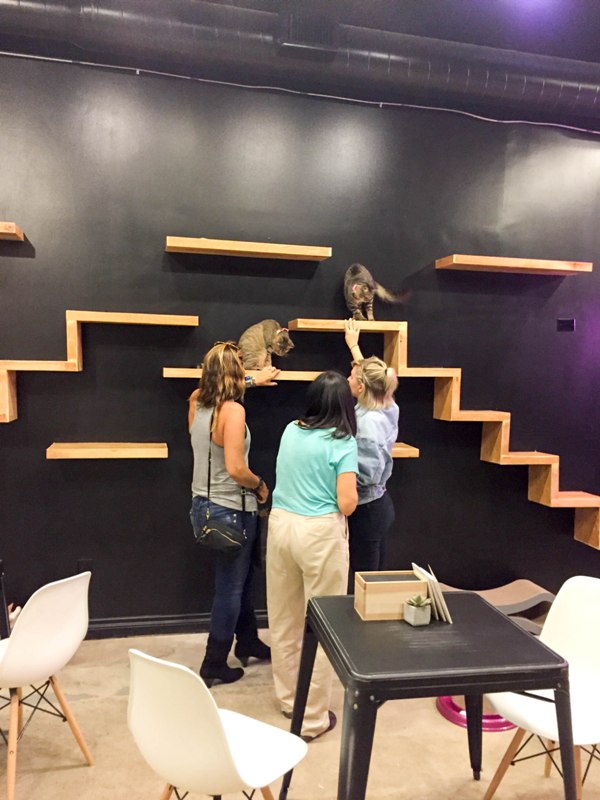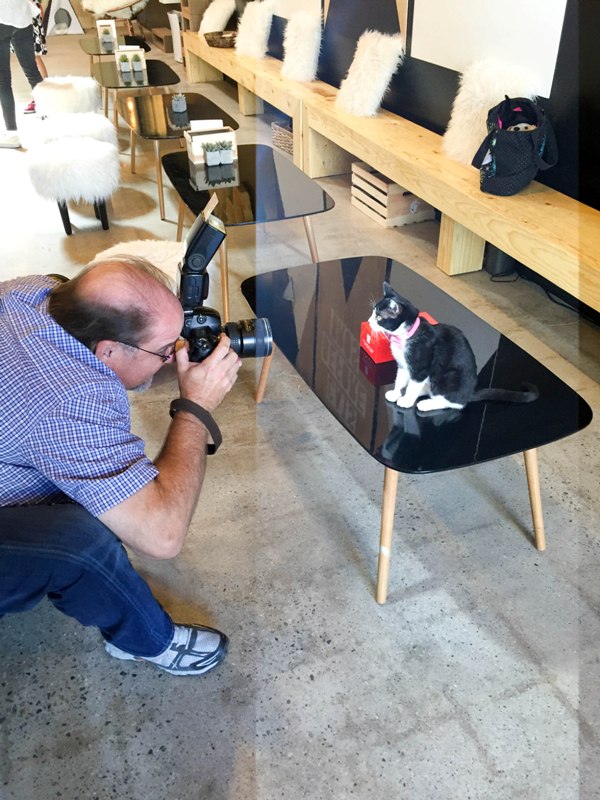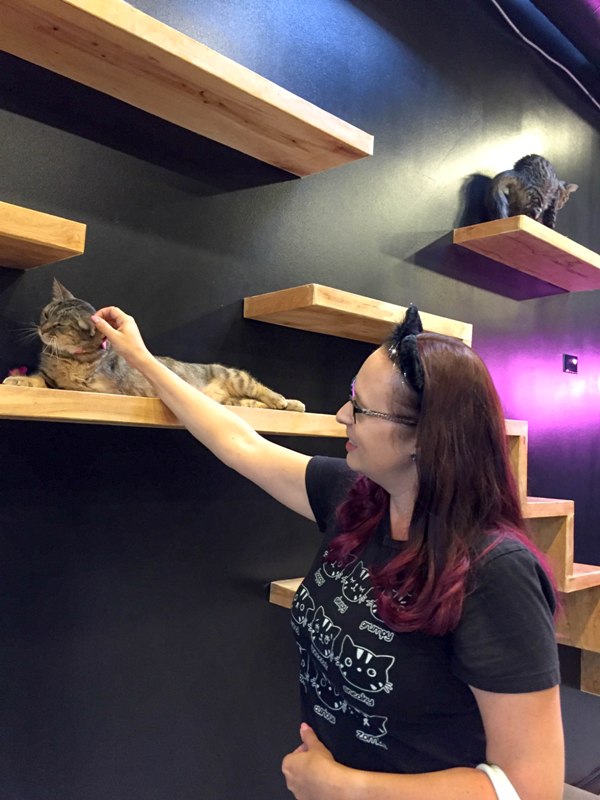 Even the restroom offers you this positive affirmation: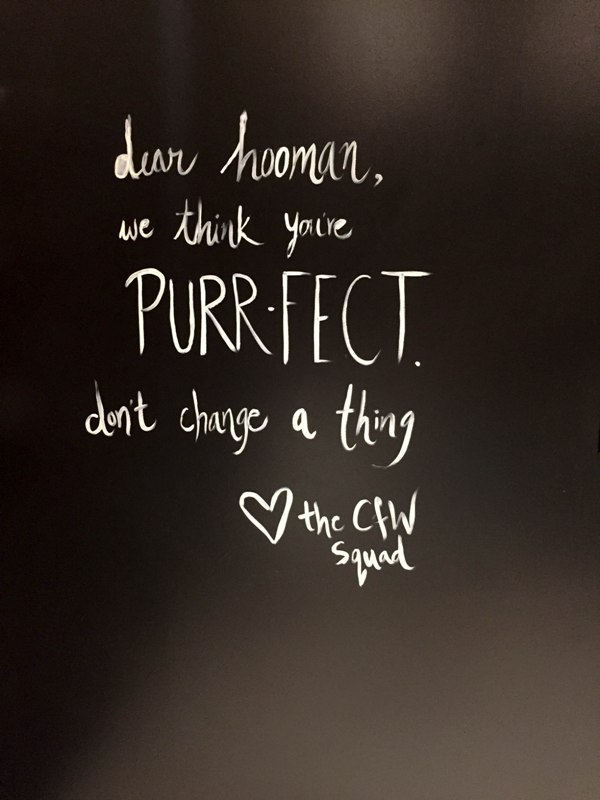 The cafe does have a few rules, including "be gentle" and "Don't wake cats" or basically force the cats to do anything they don't want to do. Remember, cats have claws.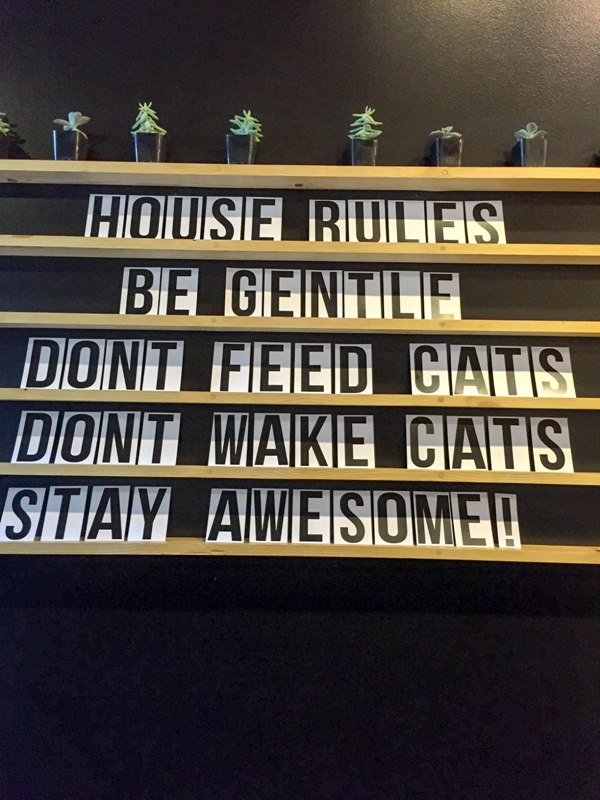 On that note, be advised you do have to electronically sign a waiver when making your reservation online. However, if a cat chooses to climb onto your lap … enjoy that magic while it lasts.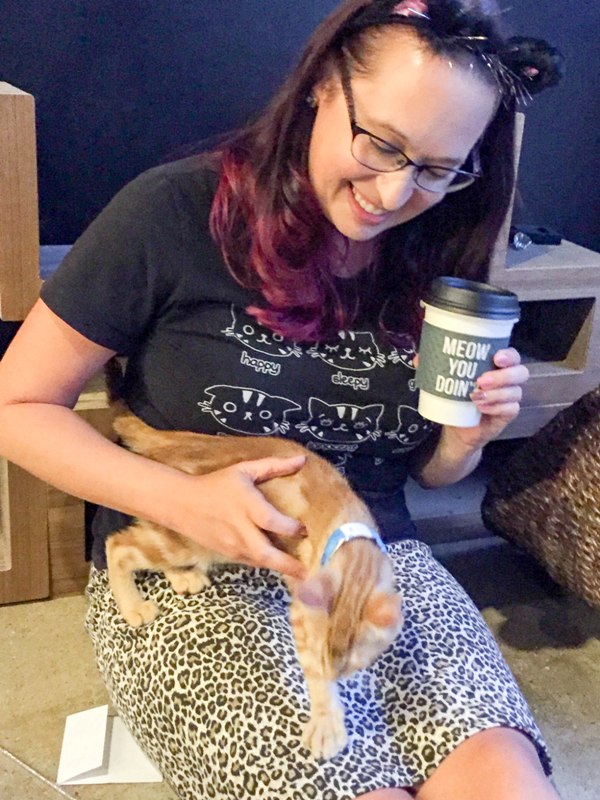 I was lucky enough to attend two grand opening VIP events. The first night was described as a Kitten Party, and boy, they delivered. Typically the cat café will not have very many kittens running around, but there were some tiny, fuzzy kittens brought in special for this event. They sectioned off one part of the café to keep the kittens separate from the other resident cats, and we were encouraged to sit on the pillows and entertain the kittens (and ourselves) with the dangle toys. The kittens were so adorable. I wish I could have taken all of them home!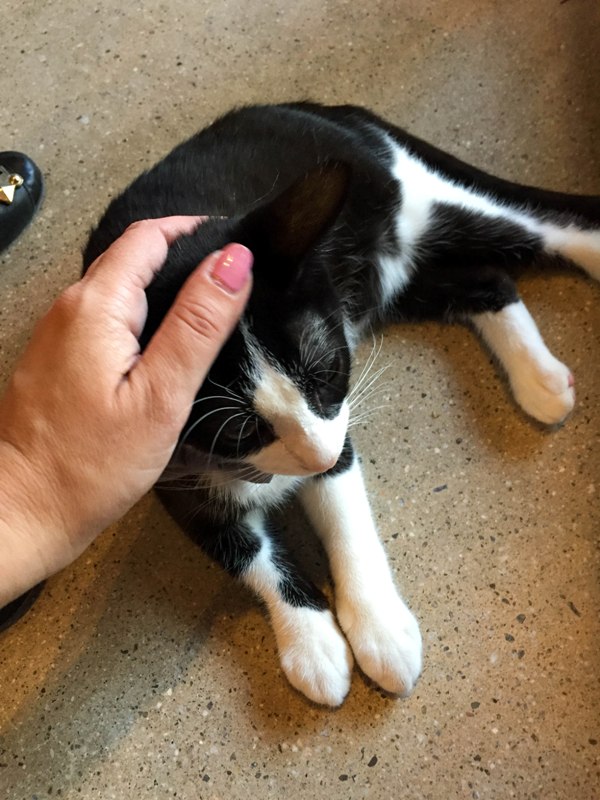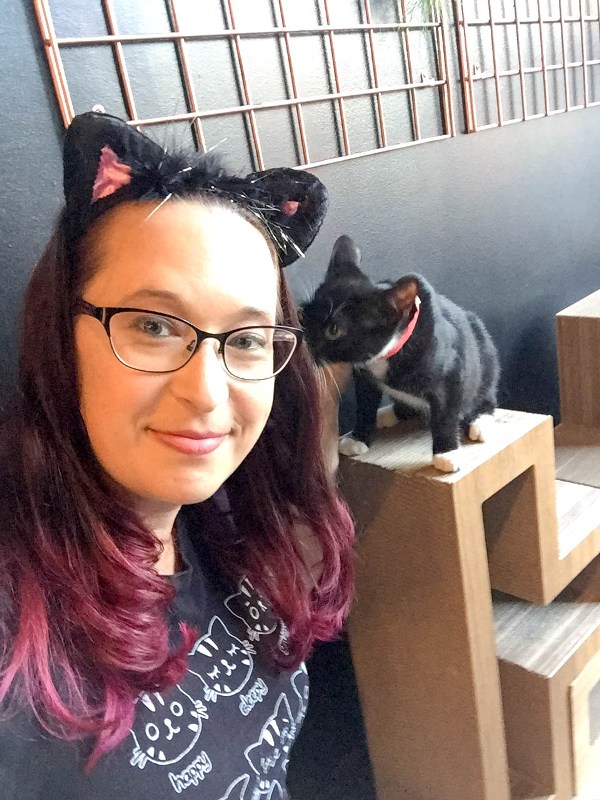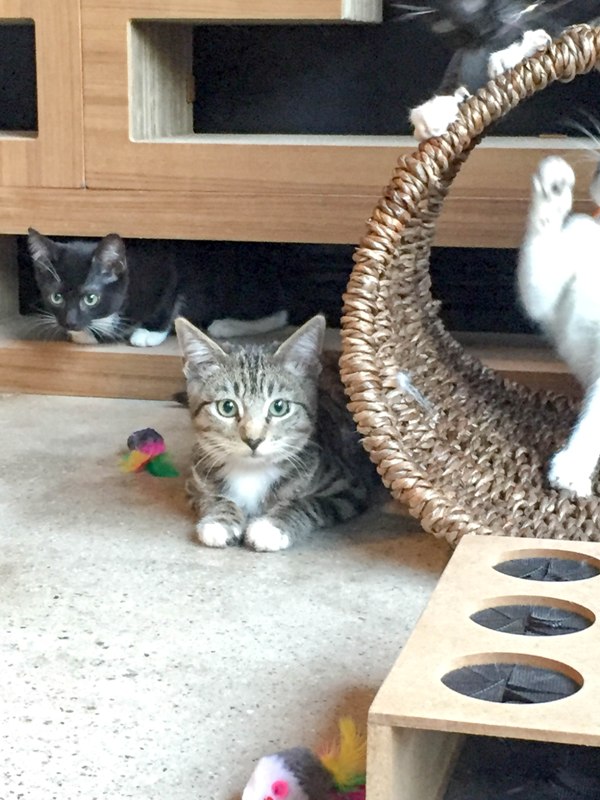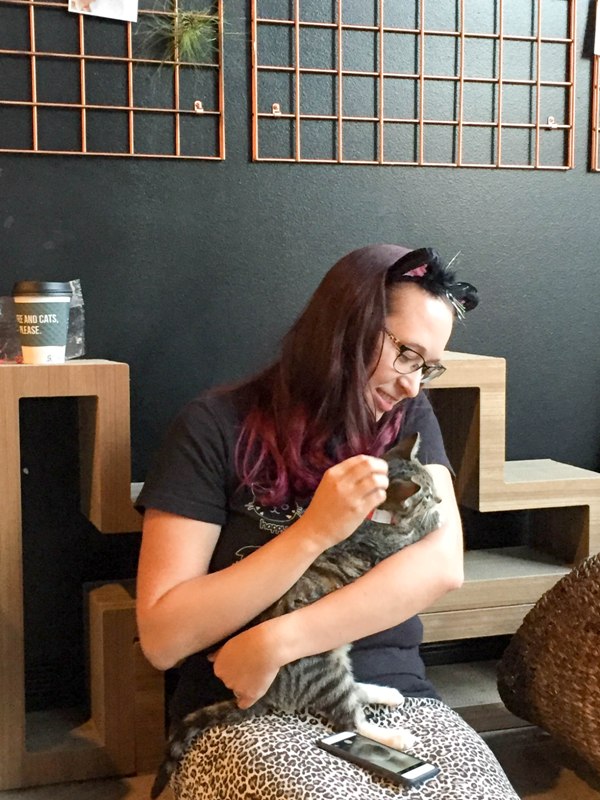 We were given a gift as we left – these adorable kitty macarons!
The next day we returned to experience the cat café as it would be on a normal day. We ordered a drink as soon as we walked in and it was brought to us about 10 minutes later. We roamed around the café and engaged with the many resident cats.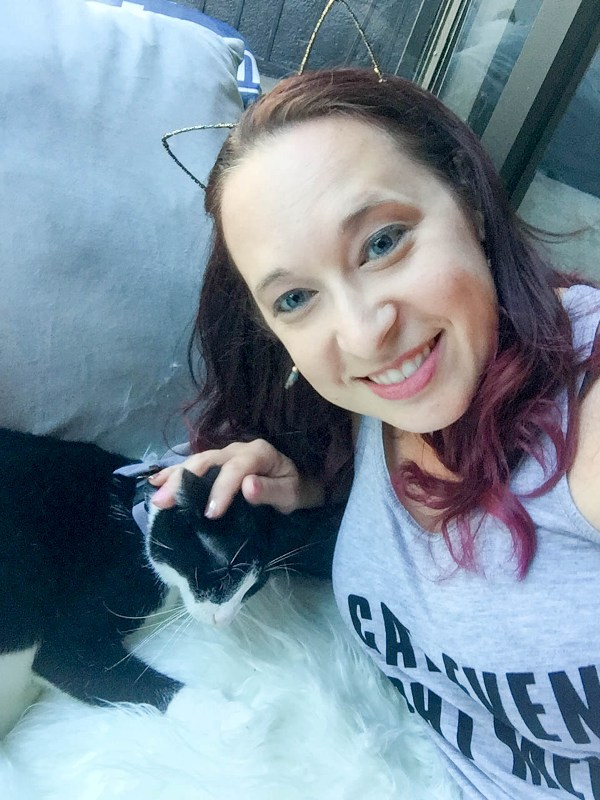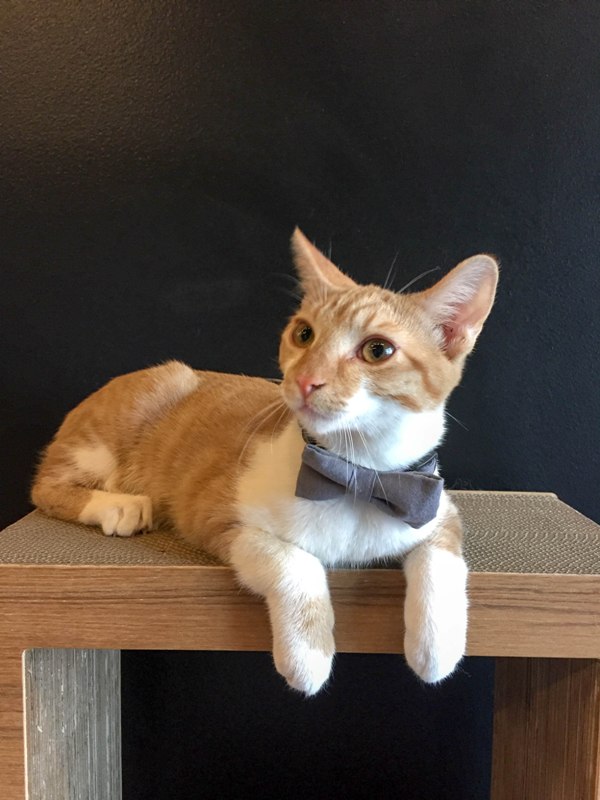 All the cats wear bowties to identify their gender – grey is for boy and pink is for girl. This little girl is Tigress, who is missing one of her front legs, and she is a TOTAL LOVE. I have a feeling she is going to find her furrever home very quickly.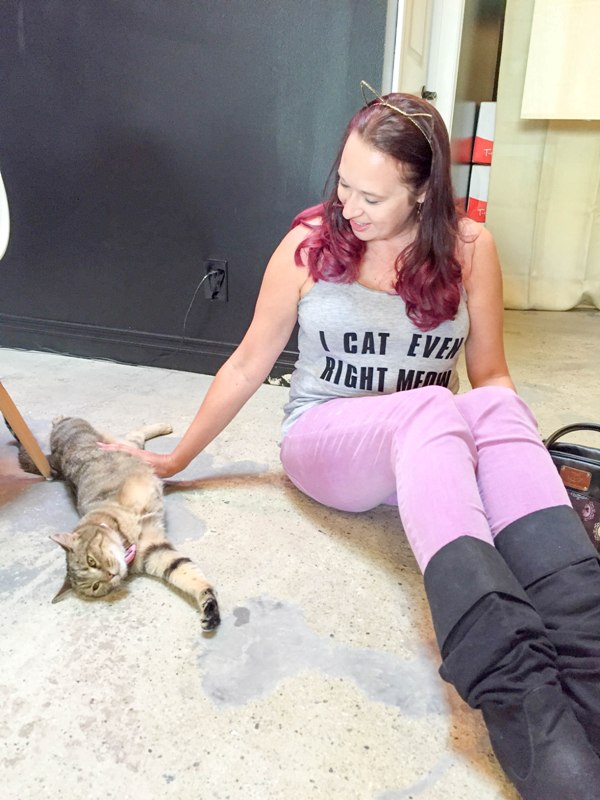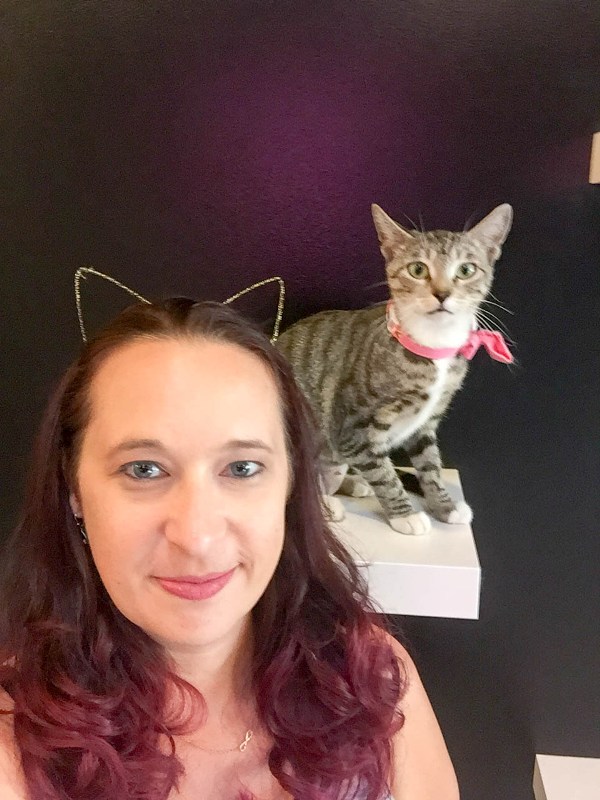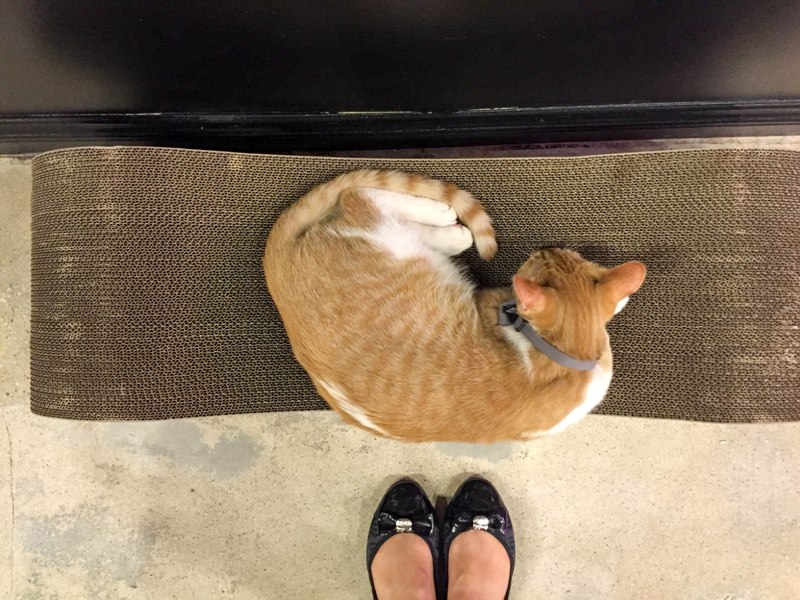 Crumbs & Whiskers opens to the public on September 30 (that's today!), and you can make reservations on their website. Weekday reservations are $22, and weekend reservations are $25 per person. Children under 7 are not allowed, and minors must be accompanied by an adult. You reserve a 75 minute window, and a drink (coffee and tea) purchase is required. Take a look at the Crumbs & Whiskers website for complete information!