This post uses affiliate links.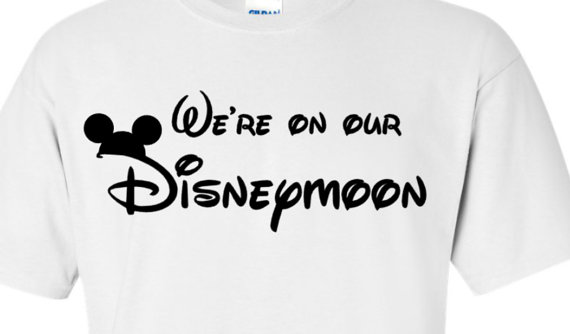 Disneymoon Tshirt from BrandysBits on Etsy
Hello!  I hope everyone is having a magical week!  I'm starting to get SWAMPED with wedding to-dos (three weeks to go!) and I'm trying my best to stay current with the ole bloggero – Thank you to everyone for your support!  All of your kind comments make my day!
Today we are back with another installment of:
Ask a Disney Bride
I see today's question come up a lot on various groups and forums so I'm hoping I can provide a little insight and assistance in this department.
Dear DWI,
We are having a wedding at home but are going on a Disneymoon, and we really want to set up a honeymoon registry on the internet.  But something feels wrong about it.  Will our guests think we are just asking for money?  We don't want to come across as greedy.
Signed,
Conflicted in Colorado
Dear Conflicted,
Honeymoon registries have become increasingly popular over the years and there is nothing wrong with them!  Most of your guests probably have at least some kind of vague knowledge of them, and the ones who are confused by them will get you a normal gift – no big deal.
Here's a little tip for all you brides who feel conflicted about asking for "money" – your guests really do want to get you a gift you can use.  Back in the day, wedding gifts were meant to help the young couple stock their  new shared home with goods, mainly of the kitchen variety.  Times have changed.  People are getting married later and there's a good change they are even *gasp* living together before marriage.  Which means they already own all they basics they need to toast bread and chop veggies.  Setting up a honeymoon fund allows guests to get you something that they know you want and will use, and provides them an alternative to simply stuffing some cash in an envelope.
There are a lot of honeymoon fund websites out there, such as Blueprint Registry and MyRegistry and of course the Disney Honeymoon Registry, and all of them take some sort of percentage out of your total.  If you're going on a Disneymoon, why not request Disney gift cards?  You can recruit your parents or other family members to spread the word for you, or make the request on your wedding website.
The bottom line when it comes to any wedding registry is you don't want it to seem like you are asking for gifts.  A honeymoon registry is a nice way for your guests to contribute to something you really want and they know their gift money will be put to good use.
I know this can be a polarizing issue so I would love to hear your thoughts in the comments!