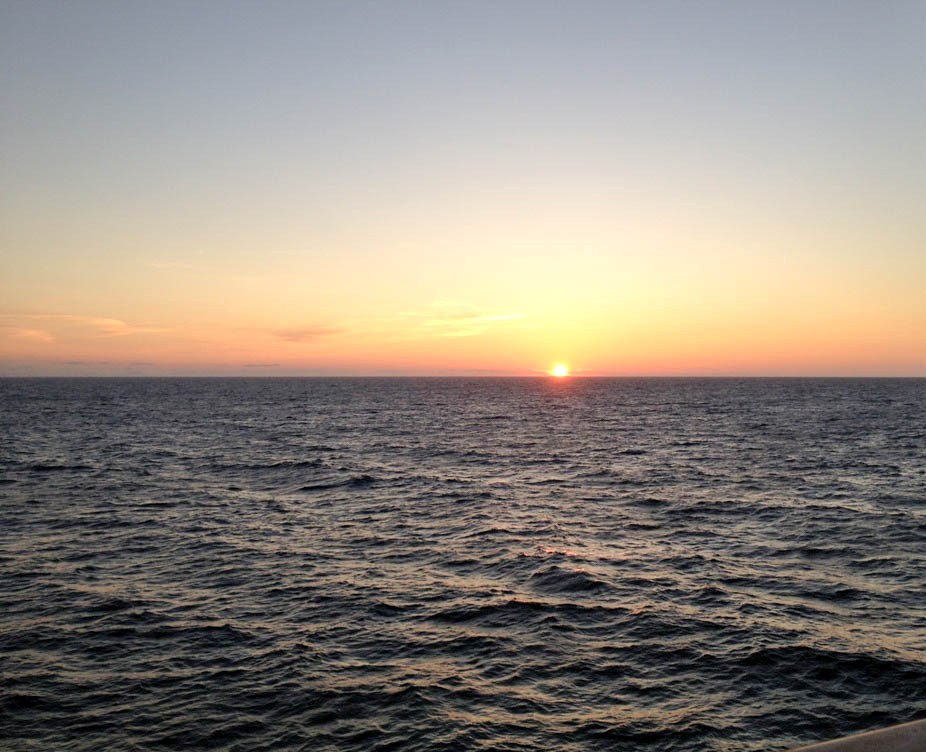 Hey everyone! Seeing as how it has been almost a full year since my vacation in Alaska, I thought I'd dust off the ole Alaska Cruise Trip Report and maybe get it done, maybe? It's good to have dreams and goals.
Day 3 of our trip was a Sea Day, meaning our ship didn't stop in any ports that day. I love Sea Days because they are generally very relaxing. They tend to involve lots of eating and naps and more eating. And not a lot of picture taking, so there won't be many pictures here but I will more than make up for it on port days.
For our one and only true Sea Day for this cruise, we woke up on the early side since we went to bed kind of early. I headed to the gym while Mr. BFT went for a run. I tested out the spa's showers, because generally the showers in the spa are roomier than the in-cabin showers. The spa showers on the Sun were fine, but could benefit from a bit of a refurbishment. It was not nice enough to haul all my clothes and toiletries to the spa every morning.
Once we were cleaned up, we had breakfast at buffet, which we found out was pretty good for breakfast. Lots of options from eggs, sausage, fruit, and pastries. After breakfast we went back to room until it was time for the to Cruise Critic meet up at 11am. We didn't have a very active roll call this time, but it was nice to put some faces to forum names.
After the meetup, we had a small lunch at Moderno and went to the Latitudes members reception, which included some raffle prizes and a spiel about Norwegians newest sailings. But the real reason we were there was the free drinks! After we commandeered two glasses of wine each, we headed back to our room. Mr BFT had to do a little work while I wandered around and explored the ship a little. I saw some new Cruise Critic friends Paty and Ed in the Observation Lounge and sat with them for a while. Then I hit up the buffet for desserts, because, desserts. Then back to the room for a nap. I told you. Eating and napping.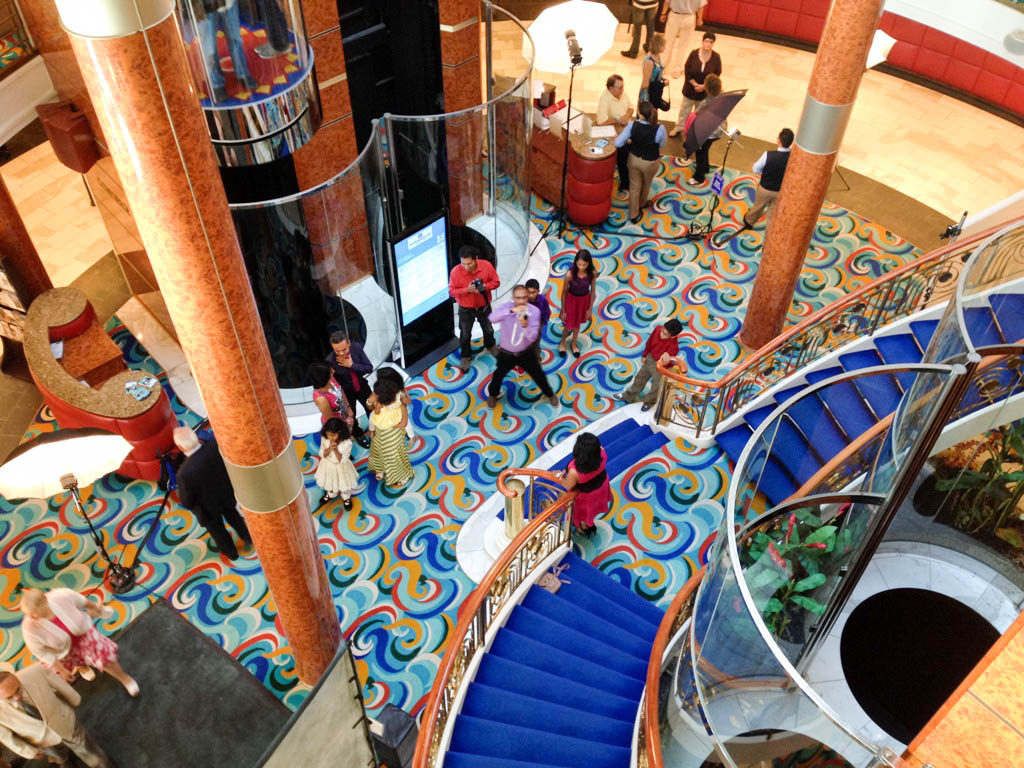 That evening was formal night and the Captain's Reception (more free drinks)! We picked that night to have dinner at Cagney's, the steakhouse. We loved Cagney's on the Norwegian Spirit during our Mediterranean cruise, but dinner here was really disappointing. The service and food did not seem worth it for a premium restaurant, plus we endured some children running around the restaurant and yelling while their parents seemed to blissfully enjoy their meal without any regard for their children. A few days later I ended up complaining to the restaurant manager. I felt bad but I also felt like they should be aware the experience did not live up to the standard set on another ship. They were very nice, and sent us a bottle of wine and a complimentary reservation at any of their other premium restaurants. That dinner ended up being super wonderful, but more on that later.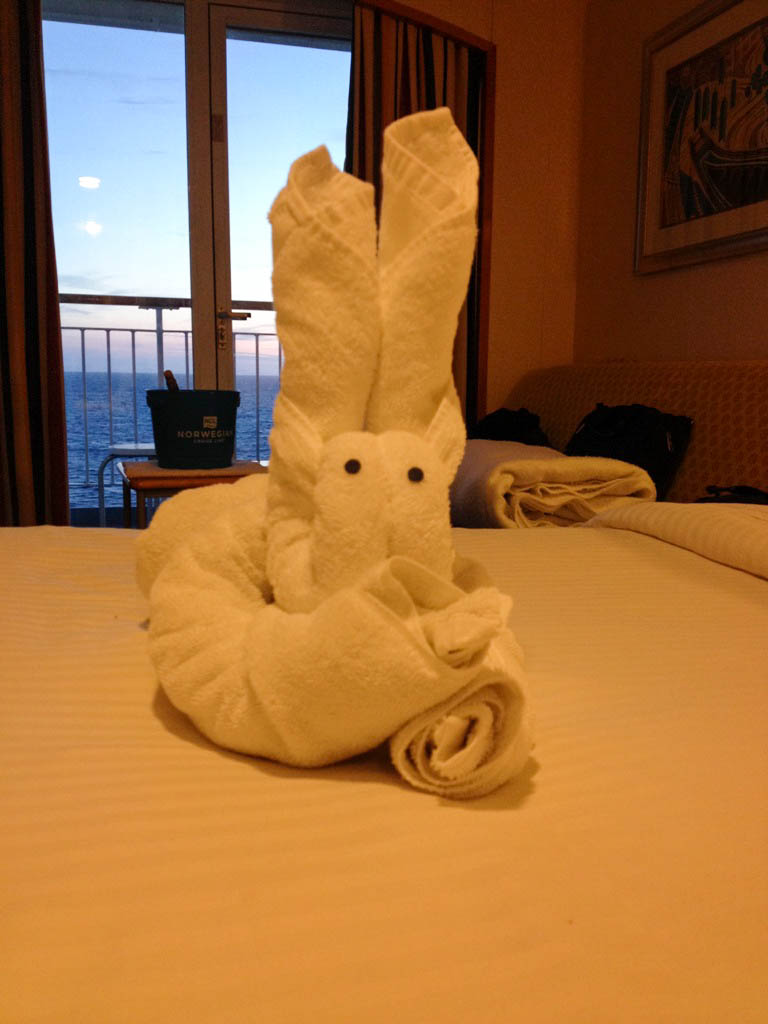 After dinner we changed out of our formal wear and into more casual clothes and walked around Deck 6 during sunset (which was at 9pm!) We then stopped by the "Night Out" party but the scene was not very happening. It seemed a little strange to throw their big party on Night 2 of the cruise. Anyway, we decided to go back to room; Mr. BFT got some more work done while I wrote my notes for the day and reviewed tomorrow's daily. We had a towel animal waiting for us – a bunny rabbit. We watched a little news on the room TV and went to bed. We had an early port arrival in Ketchikan the next day!
Alaska Cruise Past Chapters:
All Aboard the Norwegian Sun
Day 1 – Exploring Vancouver
Alaska Cruise – Day 2 – Vancouver and Embarkation