Now that I've visited Walt Disney World a couple times I have a better appreciation of the lovely weddings that take place there. I've always thought their weddings are beautiful, but now I can actually visualize the locations and it makes looking at these beautiful wedding submissions even more exciting for me!
Jennifer and Robert were married at one of my favorite places in the Walt Disney World resort, the Boardwalk area! It's located right next to my favorite WDW Park, Epcot, and all the hotels in the area are just so beautiful. They had an Escape wedding ceremony at Sea Breeze Point, a little outdoor covered venue right on the boardwalk. For their reception it was just a walk across the boardwalk to The Attic, a cozy indoor/outdoor event space with views of the lake. The more I see wedding receptions here, the more I want it for a vow renewal. It sounds like they had the perfect day, and I'm so honored they chose to share it with us! Congrats on the beginning of your happily ever after, Jennifer and Robert!
Jennifer and Robert's Walt Disney World Boardwalk Escape Wedding
Disney Bride: Jennifer, 29, Ohio
Disney Groom: Robert, 34, Ohio
Wedding Date: May 3, 2017
Ceremony Venue: Sea Breeze Point
Reception Venue: The Attic
Total Budget: $9,675
Guest Count: 17
Why did you choose a Disney wedding?
It honestly started off as a joke! I said I wanted to do the super expensive Magic Kingdom wedding after I saw it online, and everyone laughed. But then I started researching other options at Walt Disney World and realized it was totally doable. My husband and I did not want a big wedding and we love going to Disney together. The ease of planning, the beauty of the venues, and the fact that we could have a friends/family vacation as well made it perfect for us.
How did your family/friends react to your Disney wedding?
Everyone was very excited. We got a lot of questions about it, mainly, "Will you get married in front of the castle?" Once we explained what we were actually doing, they all thought it was great. And since we've been back everyone has been floored by the pictures!
What was your theme?
We didn't have one. We had an Escape wedding and kept it very simple. We did not add much decor outside of the package. However, we did try to work with the light, airy New England feel of Sea Breeze Point and The Attic in our color scheme and the menu of our catered lunch event. Our colors were mint green, silver, and pink.
What was your biggest challenge in planning your Disney wedding?
It was definitely odd not being able to travel there and see the venues, taste the food, or visualize the distances from everything. I trusted Disney to deliver on the venue and the food, and I was right to do so, but I struggled with the timeline for the day. I didn't know how long the drive would be from any of the resorts to The Boardwalk, for example. I definitely would have worn different shoes if I had realized how long the walk from Sea Breeze Point to The Attic was, as well.
Tell us about your ceremony. Did you include any Disney touches?
Our ceremony was light and fun. My brother officiated for us and really brought a personal element to everything. It felt incredibly intimate and we laughed SO much. We mostly incorporated Disney in the music and the cake. My husband walked up to the Imperial March from Star Wars, the bridal party to A Dream is a Wish Your Heart Makes, and I came in to Kiss the Girl. We exited to the Throne Room music from Star Wars. Our first dance was to I See the Light from Tangled. We loved our violinist. We had the silver Mickey motif cake with the white chocolate castle topper. It was just enough Disney for us!
Describe your reception. Was it completely traditional or did you do anything unique?
We did not have a traditional reception. Since we went with the Escape package, we added on a 2 hour catered event experience at The Attic afterwards. Since we only had 17 people and a limited time, we didn't add anything on. We brought a Bluetooth speaker and played a medley of my favorite Disney songs. We all sat outside on the covered balcony and enjoyed the perfect weather, beautiful view, and amazing food. It was so relaxing and I really could have stayed there all day, going back to the buffet and then vegging out on that super comfy Attic seating …
What did you splurge on? Where did you save money?
We focused pretty closely on the main elements of the package. For me, a Magic Kingdom photo session was an absolute must so that was our biggest splurge. We added an hour of extra photography to the ceremony but I wish we had added more. We did add some floral elements that were stunning, and then the lunch was extra. We were able to have a ton of food and just hit the minimum with our small guest count. We found Disney generally very affordable, especially for what we got.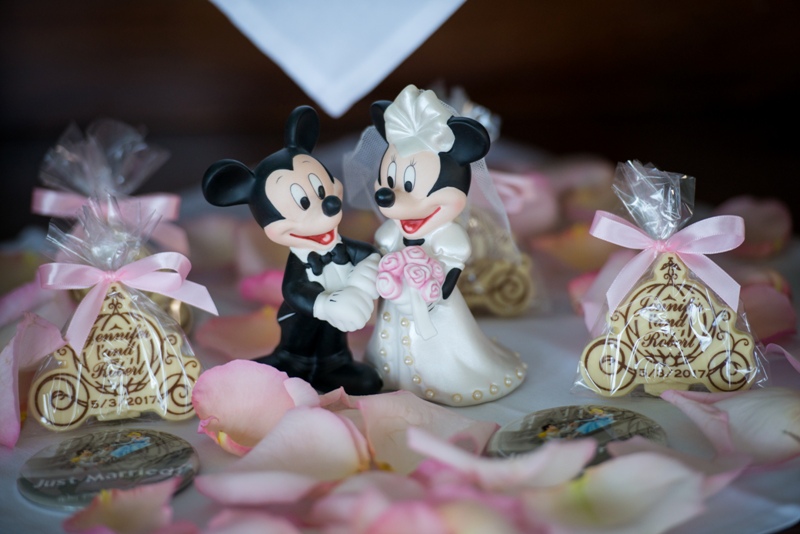 What was your favorite moment of the day?
It's really hard for me to separate individual moments. I loved doing a first look and then walking down to the ceremony site with my husband and our amazing photographer, Ali. My nerves totally melted away and from that point on I was in pure bliss mode (apart from how much my feet hurt!). We spent the whole day laughing. We didn't worry about anything at all and it was perfect.
What would you change if you had to do it all over again?
I wish I had added more photography and thought a bit more about specific shots I wanted. Our photographer asked multiple times but I was a bit overwhelmed. I ended up without any pictures of just my mom and I. I also would have liked to do more photos down The Boardwalk and get a few at The Attic. It's hard with the tight time frame of an Escape ceremony, especially with a lunch directly following but no cocktail hour. I love my pictures so much, I just want more! If you work with Disney photography, we highly recommend Ali! He's the best!
What advice would you give to couples that have just started planning their Disney wedding?
Relax! It's so easy to get overwhelmed by all the options and to feel like you have to compete with other brides who have had the most elaborate, over the top weddings. But Disney executes events beautifully and all their options are great. Just focus on what's important to you and enjoy the fact that you are going to be completely taken care of on your big day. We had a very casual at-home reception, basically just a BBQ in an outdoor pavilion, and it was about 1000 times more stressful than our Disney wedding. Take the time to appreciate it and savor the experience. You will miss it when it's over!
Budget breakdown
Venue: Included in the $5000 Escape package
Food/Drink: $1200
Floral: $375
Other Decor: $100
Favors: $125
Photography: $2200 beyond the Escape package price
Bride's/Groom's attire: $500
Hair/Makeup: $175
Vendors
Wedding coordinator: Chrissy Owen-Walsh, Disney's Fairy Tale Weddings
Photography: Ali, Disney Fine Art Photography
Hair/Makeup: Beaute Speciale