Let's get real – all Disneyland wedding venues are my favorite, but some get more love than others. There's a reason why the vast majority of Disneyland couples choose the Rose Court Garden and Sleeping Beauty Pavilion for their wedding … they are stunning! But these less popular venues each have their own lovely qualities and deserve their moment in the Anaheim sun. So here are my 5 favorite underutilized Disneyland wedding venues (for both ceremonies and receptions).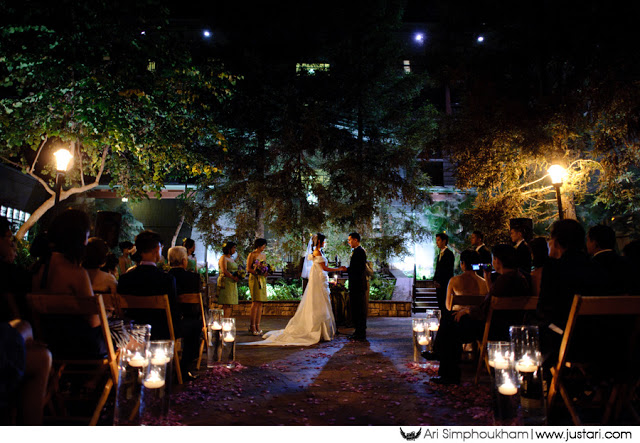 Brisa Courtyard – Photo by Ari Simphoukham from Jennifer and Peter's Disneyland Wedding
1. Brisa Courtyard – If I live to be a million years old, I'll never understand why more couples don't get married at the Brisa Courtyard. It was my favorite secluded spot at Disney's Grand Californian Hotel even before I knew they could hold wedding events there. If you can get past the prying eyes of people looking through the windows and (possibly) standing on their balconies, it's nearly perfection. The monorail passing overhead is a distinctively Disney bonus. And Brisa can accommodate guest counts from 1 to 100, making it very versatile.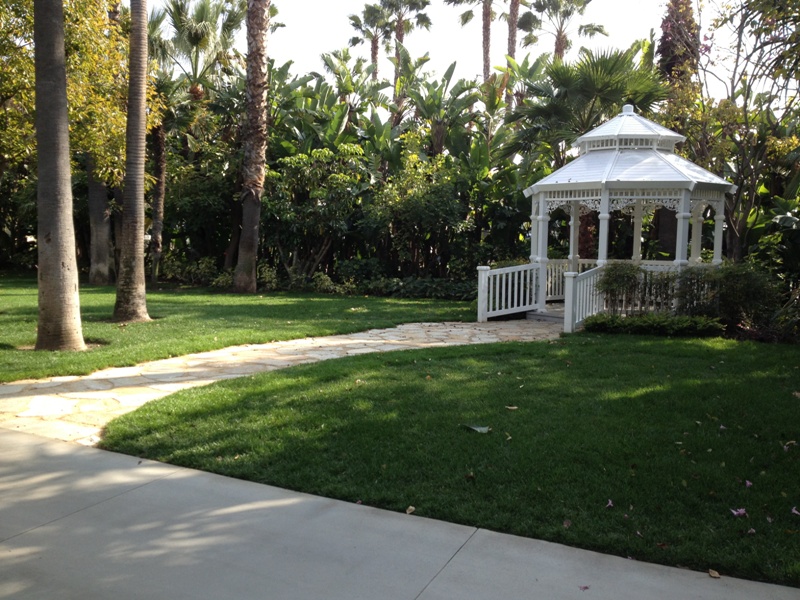 2. Adventure Lawn Gazebo – Look past the unromantic name (it used to the Dreams Lawn Gazebo, which was a lot more appealing), and you'll see this secluded corner of The Disneyland Hotel truly is a secret gem. It's commonly used for Escape weddings but could also accommodate a Wishes wedding with under 40 guests. It has recently undergone some upgrades, including a new paved stone aisle and a sound system. It's nice to see Disney is putting money into this little venue. If nothing else, it's a cute spot to take photos.
Related – Beth and Stephen's Disneyland Hotel Escape Wedding

Grand Ballroom – Photo from Disney Weddings
3. Grand Ballroom – Okay, okay, I know why there aren't a lot of wedding receptions at the Grand Ballroom at The Disneyland Hotel – it's HUGE! It is meant for a high guest count so it comes with a hefty price tag. But isn't it so pretty? I love the stage and the sunken dance floor. I really want to be a guest at a Grand Ballroom wedding – someone help me out!

Wisteria Room – Photo by Julianne Fishell from Katelyn and Geoff's Up Themed Escape Wedding
4. Wisteria Room – Small, but mighty. The Wisteria Room is the most charming ballroom at Disney's Grand Californian Hotel, with its pitched ceilings and attached patio. I immediately fell in love with this ballroom when we were touring potential venues, and had to give it up when our guest count ballooned. I wish more couples would use it, and then send me their wedding pictures so I can swoon over the Wisteria's loveliness. By the way, this will totally be our reception spot when I get my Escape Sleeping Beauty Castle vow renewal in a few years … IT COULD HAPPEN.
Related – Haily and Jason's Princess and the Frog Escape Wedding

Paradise Pier Hotel Ballroom – Photo from Disney Weddings
5. Ballrooms at Disney's Paradise Pier Hotel – When it comes to weddings, Disney's Paradise Pier Hotel get no respect. It's true they don't have a viable ceremony location, which means your guests would have to walk over from a different hotel. And it's true their ballrooms are themed like a Hawaiian vacation, so hopefully that's your thing. But receptions at PPH currently come with a nice discount for certain days of the year (subject to change at any time), so it's worth looking into.
By the way, if you do have your heart set on Rose Court Garden and Sleeping Beauty Pavilion for your wedding, you can consider some of these other venues for additional events, such as a rehearsal dinner, welcome party, dessert party, or farewell brunch. Be sure to ask your assigned event planner about these options!
Which wedding venue at The Disneyland Resort is your favorite?