This post contains affiliate links.
It has been a while since my last Stitch Fix and I thought our upcoming Hawaii vacation would be the perfect excuse to order another one! I told my stylist I was going on vacation and needed some appropriate tropical clothing. Take a look below and see what she picked out for me!
If you're not familiar with Stitch Fix, it is a subscription-based service where five items of clothing or accessories are delivered to your door for $20. You can either set a regular delivery schedule or you can request your Fixes one-by-one, like I do. You try everything on and decide what you want to keep. If you want to keep anything, the $20 is applied to your purchase total. If you don't want to buy anything, you are out the $20 (think of it as shipping and handling fees). Once you've decided on what you're keeping, you send back the rest in the pre-paid envelope (USPS). If you're interested in trying Stitch Fix, you can complete your style profile for free, and request your first Fix whenever you're ready!
Here's my unboxing video:
And here's a closer look at the items.
Renee C – Porsha Knit Swing Dress – $58.00
My stylist did a great job of picking out comfortable, loose clothing that would be great for walking around in warm weather. I didn't think this dress was anything special when I was pulling it out of the box but I liked it much more than expected once I put it on.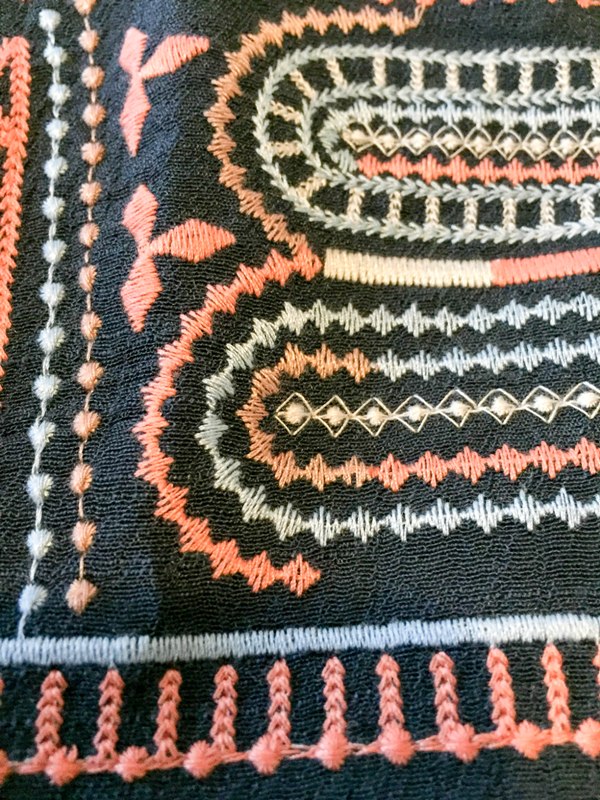 THML – Ranee Embroidered V-neck Dress – $78.00
I've never been drawn to embroidery in my clothing but I admit this is a lovely piece and I do have a penchant for dark blue clothing. When I put this one on it was a little tight in the bust and thought it did nothing for my figure. A little disappointing – I wanted this one to work.
Gilli – Arthur Maxi Dress – $74.00
Loved this one out of the box and loved it even more after I put it on! I know chevron is so a few years ago but I still like the pattern, and it has a bit of a drippy effect which makes it a bit more interesting. And I also love the coral color; it's perfect for a tropical vacation! The material is polyester and spandex so it's lightweight and stretchy. I really just loved everything about this dress.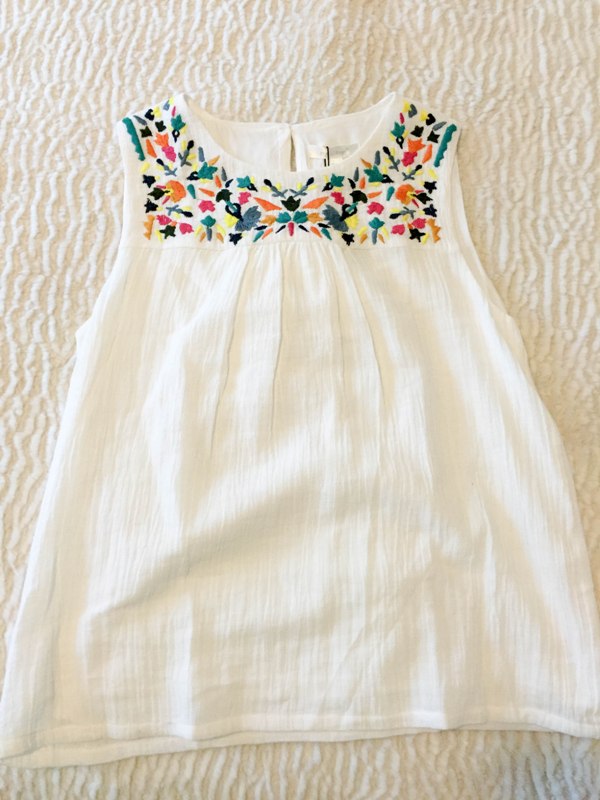 See U Soon – Augustin Embroidered Bib Top – $64.00
Level 99 – Cindie Linen Short – $78.00
I loved the colorful embroidery on this white top but was skeptical it would fit well – and I was correct. Also, the back has the teeniest button that I couldn't manage on my own, which means I'd have to have my husband help me whenever I wanted to wear this top. Major con against it. The coral shorts were cute but didn't fit well enough to justify paying almost $80 for a pair of shorts. (!!!)
So which item(s) did I keep?
.
.
.
.
.
.
.
.
.
.
.
.
.
.
I kept the maxi dress! It fit so well and I love the color and pattern. How could I send this one back? It's going to be perfect on the beach in Hawaii!
I also was going to keep the black and white striped dress, but after a careful inspection I noticed that one of the seams along the arm hole is coming apart. More than that, it seems poorly made, like there's an extra piece of fabric hanging off. You can even see it in the pictures above. I can't figure out what exactly happened here.
I'm really bummed about it because I actually really liked the dress, but I actually did a search on Amazon and found what looks to be a similar style dress from ROMWE for much less money! I ordered it and it's on its way … I hope it works out! In seven Stitch Fix boxes, this is the first time I've seen anything like this. I'm happy I noticed it before I agreed to keep it. A good reminder for everyone to always look over your items very carefully before deciding to keep something!
I'm still searching for that elusive keep-the-entire-box Fix. I'm waiting for a stylist to really nail it so I can have a permanent stylist I can rely on who really "gets" me.
What did you think of this Stitch Fix selection? What items would you have kept for yourself?