I'm so pleased to have another Real Disney Wedding feature to share with you today! I love when couples are willing to take the time to share the real nitty gritty about their Disney weddings, because I think it can only help and inspire future Disney couples. Mandi and Steve were married in 2013 at The Disneyland Resort, specifically The Disneyland Hotel at their beautiful Rose Court Garden. I love Mandi's comments about what's REALLY important on your wedding day, and how she has no regrets about where they spent their money. It's rare to walk away from a wedding with no regrets … but looking at Mandi and Steve's amazing pictures from White Rabbit Photo Boutique, it's clear they had an amazing day. I hope you enjoy reading Mandi's comments about their colorful, love-filled, springtime Disneyland wedding.
**Remember pricing for DFTW and vendors is subject to change at any time, and the prices listed here are likely outdated. Contact DFTW or vendors for current pricing and rates.**
Disney Bride: Mandi Atilano, 23, New Mexico
Disney Groom: Stephen Lutha, 27, New Mexico
Wedding date: May 24, 2013
Ceremony Venue: Rose Court Garden, Disneyland Hotel
Reception Venue: Sleeping Beauty Pavilion, Disneyland Hotel
Total budget: $21,000
Guest count: 74
Why did you choose a Disney wedding?
We chose a Disney wedding because we both love Disney! Steve and I met at Walt Disney World when we were both in the Disney College Program in 2008, so we knew that when we got married it would be at Disney. We also wanted most of the planning to be taken care of for us. I was in my last year of my college and didn't really have a lot of extra time. We also wanted a "destination" type wedding so that it would be fair to both of our families who are from opposite ends of the country.
How did your family/friends react to your Disney wedding?
I think our family expected it; most people were confused at first because they assumed we would choose WDW for our wedding. When we told them "No, DisneyLAND, not World" they were even more excited since it is closer (to Texas anyways). Our families love Disney just as much as we do so getting them on board was not an issue at all.
What was your theme?
Our wedding colors were orange and blue. We didn't really have a theme, we just added little touches of Disney here and there. We made a mailbox from "UP" for cards, our cake topper was "Sleeping Beauty," we had a "Finding Nemo" candy buffet. We had a hard time sticking to one particular theme.
What was your biggest challenge in planning your Disney wedding?
My biggest challenge was realizing that I could not have everything I wanted. You see all the pictures on the Internet and you get ideas but then you see the price tag and you have to change your plans. I would also say that getting all our stuff from New Mexico to CA was a bit of a challenge, luckily I have family in town and was able to send them some things ahead of time.
Tell us about your ceremony. Did you include any Disney touches?
Our ceremony was short and sweet. We had a wine box & love letter ceremony. We did not have any Disney touches at the ceremony save for the hidden Minnie in the flowers. We wanted to keep it more traditional. We also had the vis a vis carriage which was a nice touch.
Describe your reception. Was it completely traditional or did you do anything unique?
Our reception was so much fun! The DJ had everyone dancing all afternoon long! It was defiantly my favorite part. Mickey & Minnie visited for the cake cutting and they were a huge hit. The poor Cast Members practically had to drag them out of the hall afterwards; I think our guests mobbed them!
What did you splurge on? Where did you save money?
We splurged on the carriage and Mickey & Minnie. In my opinion those things were worth every penny. We also had an open bar which cost a bit extra. We saved money on floral; I had my Bridesmaids carry parasols instead of bouquets and my flower girls carried Mickey wands that my mom made.
What was your favorite moment of the day?
My favorite moment of the day was walking up the aisle and turning back to see the faces of everyone who joined us on our special day. I cannot describe how humbled I felt that so many people took time off and traveled across the country to be with us on our special day. I tear up every time I think about it!
What would you change if you had to do it all over again?
If I could do it all again I would get a videographer. Other than that I would not have changed a thing. Sure, having the draping in the pavilion or getting to have a castle photo shoot would have been great, but in the end more than 70 people traveled to be with us, my dad walked me down the aisle, and both of my grandmothers were there; I know plenty of people who aren't that lucky. So in the end I don't think I would have changed a thing.
What advice would you give to couples that have just started planning their Disney wedding?
My advice would be to just ask if you want something.; you can always take it off your planning sheet ​​later. I would also say to make sure that your vendors are familiar with Disney because Disney has a lot of rules!
Any other details you want to share?
I would like to add if you have a DJ or the carriage at the ceremony be aware that these things will attract a lot of people! There were probably 100 people looking from across the street for the entire ceremony. The loud music attracts a crowd and people want to get a look at the carriage. I also had a lot of people take my picture without my permission so be advised if that is not your thing.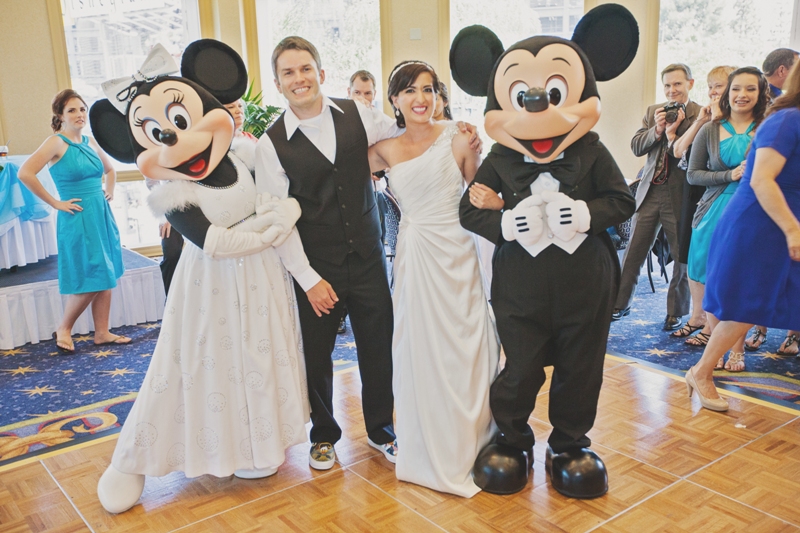 Budget breakdown
Venue: $2,200
Food/Drink: $9,000
Floral: $2,400
Other Decor (chairs/linens): N/A
Officiant: $300
Ceremony Music: Included with DJ package
Reception Music: $1,700
Other Entertainment: $3,000 Mickey & Minnie and Vis a vis Carriage
Favors: $200
Photography: not disclosed
Videography: N/A
Bride's attire: $650
Hair/Makeup: $300
Groom's attire: Already owned
Vendor list
Wedding coordinator: Disney's Fairy Tale Weddings
Photography: White Rabbit Photo Boutique
Officiant: Rev Carolyn Alexander
DJ: Waveform Events
Hair/Makeup: Flawless Faces
Stationery: Michaels