This post contains affiliate links, which means I earn a commission on purchases made through my links at no extra cost to you. Thank you for your support!
If you've been following along with my Blogging and Income reports the last year or so, you know I've been talking about an amazing Facebook course I recently invested in and started implementing. More than a few of you were curious about it, and I'm finally ready to share the results!
If you are a blogger or biz owner and want to know how to make Facebook FUN again, keep reading …
As you may or may not know, I run a side business called Joy Social. It's a consulting business where I work with wedding industry professionals and creative entrepreneurs (like artists and bloggers), teaching them how to strategically market their business on social media. But the one platform I really struggled with myself was Facebook. It's no secret Facebook has become extremely difficult from a marketing standpoint. The algorithm makes it nearly impossible to reach your followers organically, and even when I paid to "boost" posts I felt like I was getting nothing in return. I really needed someone to hold my hand and walk me through what to do – and this course did EXACTLY that!
The course is called FACEBOOK GROWTH STRATEGIES, created by Rachel Miller, and the cart is open right now, for a limited time.
The FACEBOOK GROWTH STRATEGIES course will teach you the following:
– How to grow your audience on Facebook and find your ideal clients.
– How to "niche neighborhood" with similar pages to grow your page.
– How to create your own viral content.
– Various ways to monetize your page.
– How to structure your ads and test them to find what works best for your audience.
That's just a small sampling of the lessons in this course. There are 6 modules included in the course, which you can watch over the course of 10 weeks (guided via email by Rachel). Plus 5 next-level bonuses taught by successful alumni of the course.
Now I feel totally confident talking to my clients about how to succeed on Facebook – because I tested it myself and IT WORKS!
Even though I already have two Facebook pages (one for Fairy Tale Life and one for Joy Social), I wanted to experiment with starting a new page. Since Disney is my favorite topic, I created a new Disney page called Take Me To Disney. I kept the page anonymous and didn't invite any of my friends to join. I wanted to experiment with growing a page completely on its own.
In one month, I grew Take Me To Disney from 0-1000 likes, while spending about $3 a day on ads!
To put this in perspective, it took me over FIVE YEARS to grow my This Fairy Tale Life page to 3000. And now, after 6 weeks, my new page is halfway there. And after a year and a half of experimenting with ads off and on, I've grown the page to nearly 12,000 followers. Guys … a couple years ago I would have never dreamed I'd have a Facebook Page with over 10,000 fans who LOVE my content, click my website links, and buy my products.
AND, I had so much fun growing this page, I've already started ANOTHER new page. Y'all, Facebook is totally FUN again now that I know the right strategies!
But I know what you're thinking – "Mindy, how does this translate into REVENUE?"
With the Take Me To Disney page, I'm creating a community of highly targeted Disney fans who I can direct to my website which means increased page views and increased ad revenue for me. I also post affiliate links for Disney products and sell some Disney-themed products such as shirts and tote bags. My revenue is up and honestly, this is JUST the beginning!
The course recommends you spend about $5/day on Facebook ads, but I spent well below this. I spent about $80 when growing my new page from 0 to 1000. This was an amount I was comfortable spending on my experiment, but if I would have spent more I would have gotten higher results. And if I would have spent less, I would have gotten lower results. How much you set aside to spend on Facebook ads is completely up to you.
If you're not convinced by my success with the course, I encourage you to download Rachel's FREE Audience Growth kit & join the FREE Facebook Growth Strategies group and implement some of the strategies Rachel shares with everyone for free. That's what I did at the beginning!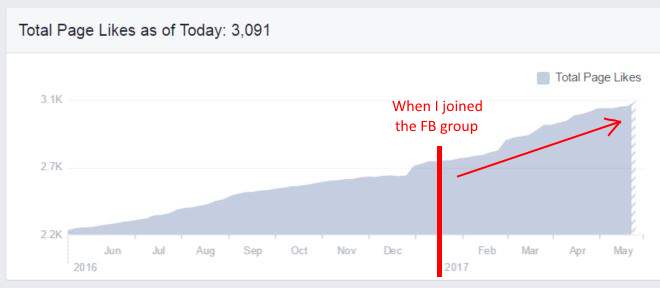 In early January 2017 I caught wind of this new Facebook Strategies course and I joined the free group to see what it was all about. I read Rachel's posts and watched some of her free videos (the "hotseats" are my favorite) and I implemented some of the strategies on my Facebook page for This Fairy Tale Life. The results I achieved – using strategies shared in the group for free and not spending any money on ads – were so impressive, it convinced me the course would be a worthwhile investment.
Between May 2016 and December 2016 (8 months), my page grew by 461 likes. I had pretty much given up on Facebook at this point!
But between January 2017 and April 2017 (4 months), my page grew by 363 likes! I know that doesn't sound like much but my rate of growth grew by about 40% AFTER implementing the strategies I learned for free in the Facebook Growth Strategies group.
And it means more people learning about my brand, more people visiting my site, and more people shopping through my affiliate links.
But it's not just me … here are some success stories from other people who have taken the course!
– Kimberly created a viral post that reached over 10 million people in 72 hours with less than $3 in ad spend.
– Sarah more than doubled her Facebook likes, from 4000 to over 9000, over a span of 2 months.
– Samantha gained 60,000 likes in 5 months.
– Amy had less than 4,000 Facebook likes when she started the course in March. After two months her page grew to over 101,000 likes! Holy smokes!!
So what's the investment?
The course itself is $997.00 if you pay in full, or 3 payments of $397. Remember it's a 10 week course with several hours of content, plus downloads, cheat sheets, bonus courses, and access to the buyers-only Facebook group which is extremely helpful.
This year Rachel is also offering a course + in-person mastermind workshop for $2997! That's great for anyone who is ready to jump right in with both feet!
BUT ALSO!
If you sign up for the FACEBOOK GROWTH STRATEGIES course using my link, you will also get a few bonuses from me for free!
– One hour of private coaching about applying Rachel's strategies to your page. ($100 value)
– My tutorial on how to make video memes.
– A free seat in my Step Up Your Social Media goal setting online course, taking place in January 2019. ($40 value)
– A free copy of my e-book "365 Days of Social Media Marketing." ($15 value)
If I sold these bonuses separately it would be valued at $150. But you get them all for free if you sign up for Rachel's FACEBOOK GROWTH STRATEGIES using my affiliate link.
Once you sign up for the course, forward your confirmation email to me at [email protected]. I will verify your purchase with Rachel. Once the cancellation/refund period passes (14 days), I will contact you regarding the bonuses.
Have any questions? I'm an open book. Let me know your concerns about the course and spending money on Facebook ads (because I know you have them).
And even if you're just on the fence about this course, sign up for the email list so you can be notified when the cart opens again. I don't want anyone to miss out. Remember the course is only available to purchase for a few days, then the cart closes again for at least six months!
I'll see you over on Facebook!