Just a few short months ago, Disney announced at the D23 Expo they would be bringing Star Wars SEASON OF THE FORCE to Tomorrowland at Disneyland, and now it's here! As a big-time Star Wars fan I marked the opening day of November 16 on my calendar, and even woke up at 6am (I KNOW) to get to Disneyland at it's 9am opening time. I certainly was not the only one with this idea. As the lines poured though the main gates, the majority of the crowd made its way to Tomorrowland. Lots of people were wearing their Star Wars finest – t-shirts, Chewbacca hoodies, Her Universe skirts, Yoda backpacks, BB-8 hoodies – it was all there! I wore a classic design Star Wars tank top and switched between two pairs of DIY ears – one paying homage to BB-8 and one repping both the Light Side and the Dark Side. What can I say, I'm a complex gal.
There is SO MUCH to see during the SEASON OF THE FORCE Star Wars takeover at Tomorrowland, and I don't want you to miss a thing. And while there is much more to see than just these 10 things, these are the ones I think are really worth checking out if you're a huge Star Wars fan.
1. Hyperspace Mountain – This is clearly the main attraction during SEASON OF THE FORCE. The vast majority of the park guests made a beeline for the attraction at opening, sending the queue wrapped around Tomorrowland, and the FastPass distribution queue past the Star Trader gift shop! We opted to just jump in the regular queue and despite the crowds we ended up only waiting about 20 minutes. Not bad at all! I really enjoyed Hyperspace Mountain and I don't want to spoil anything for you if you're excited to ride it. I will tell you that the "most" Star Wars bang-for-your-buck happens right at the top of the ride – the launch sequence. It gave me chills! We ended up getting a FastPass for later in the day so we could ride it a second time. I really loved it.
2. Star Wars Launch Bay – The former Innovations building is now known as Tomorrowland Expo, with the lower level dedicated to Star Wars and the upper level dedicated to Marvel. (And it's stationary now – no more rotating!) Launch Bay has a lot of cool features, including video game stations, models and memorabilia, behind-the-scenes videos, special Star Wars merchandise, and character meet and greets. And while we are on the topic of character meet and greets …
3. Hugs from Chewie – Hands down, one of the best parts of my day was getting a hug from the main Wookie himself – Chewbacca! It was fun to interact with him, even if I don't speak Wookie. He was not a big fan of my friend's Darth Vader shirt. Speaking of the main Sith Lord himself, there is also a meet and greet with Darth Vader which I gotta say was a little intimidating. But still fun! He does talk in what seems to be pre-recorded phrases, so you can't have a real conversation with him. But he did tell me the next time I saw him I better bring him a copy of the Rebel plans and I was pretty scared so I just said, "Okay." Please note that when you enter the Launch Bay, you can choose to either line up for a character interaction or just walk the main floor. If you do a character meet and greet, you can walk the main floor after, but if you opt to get in the main floor line, you CANNOT queue up for a meet and greet unless you leave and go back to the line outside. Perhaps this only applies when the park is really busy, but this was my experience so I figured I'd pass it along. Also, there are two separate lines for Chewbacca and Darth Vader. For what it's worth, the line was really long first thing in the morning, about 90-120 minutes depending on the character. Later in the afternoon, around 1pm, it was only a 20-30 minute wait. Your mileage may vary.
4. Star Tours: The Adventure Continues – Full disclosure: this attraction gives me motion sickness and I haven't been on it in years! But new scenes have been added that pertain to The Force Awakens so I encourage everyone to check it out (if it doesn't make you harf) and let me know how it is!
5. Special Star Wars Foods – Tomorrowland Terrace has been temporarily renamed Galactic Grill, with some new Star Wars themed food offerings, including the Jedi Order Chicken Sandwich and the Cheese-3PO burger. There are also Light Side and Dark Side drinks with special glow cubes shaped like the Death Star and Millennium Falcon. The lines at Galactic Grill were intense, so we walked over to Pizza Port and were happy to discover they also had Star Wars themed food! Most of the Pizza Port items were traditional menu items with new names, but I had the new Dark Side Chicken Curry Pizza and it was delicious! I also couldn't resist the desserts – Chewbacca Cheesecake and Darth by Chocolate pudding. They were both REALLY good.
6. All the Star Wars Merch – Star Traders is pretty much ALL Star Wars right now. Her Universe pieces are now available here, as well as lots of other unique, fun items. I had to stop myself from draining my bank account.
7. BB-8 sipper cup and Tie Fighter popcorn bucket – For the collectors out there, the BB-8 sipper is available at Pizza Port and the Tie Fighter popcorn bucket is at the popcorn cart in Tomorrowland (with a line a mile long!). We saw lots of people with those Tie Fighters hanging around their necks so that is for sure the most popular item at Season of the Force. There is also a Chewbacca stein, which we saw for sale at a snack kiosk.
8. Star Wars: Path of the Jedi – Playing in what I will always lovingly refer to as the "Captain EO theater," this is a short film compilation of footage from all six Star Wars movies, plus trailer footage from The Force Awakens. The seats give a light rumble and light effects fill the room during fight scenes. It's well done and worth a visit.
9. Stormtroopers Just Wandering Around! – Yeah, sometimes Stormtroopers just randomly walk through Tomorrowland! HOW COOL IS THAT?!
10. Bring Your Aurebesh Translator – What's that weird code language written on the walls of Star Wars Launch Bay? It's Aurebesh, a language from the Star Wars universe. I wasn't prepared, but print out and bring a translator (or learn the language by heart) so you can impress all your friends and strangers in the queue with you. Maybe eventually they will handout credit-card sized translator codes, just like when Indiana Jones and Temple of the Forbidden Eye opened (omg, am I dating myself?!).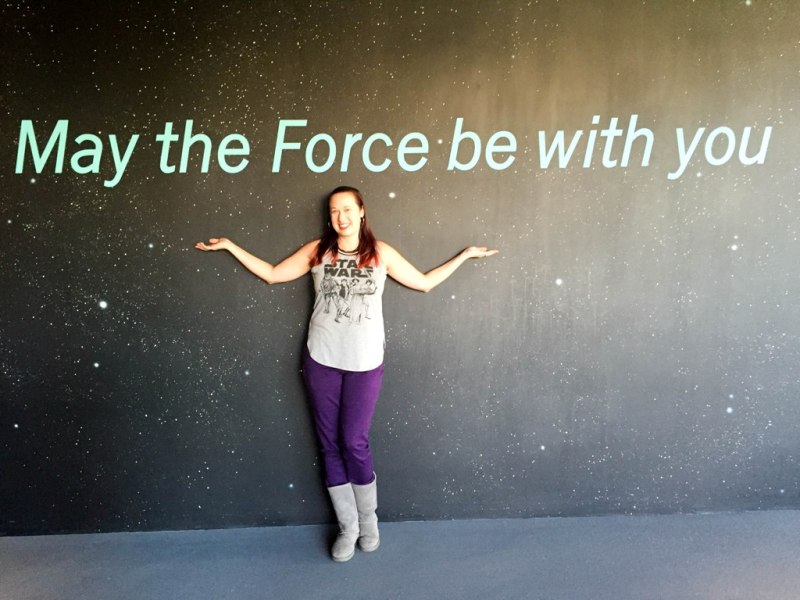 Are you excited to experience SEASON OF THE FORCE at Disneyland?