This post contains affiliate links.
Everyone knows the way to my heart is through Star Wars. And it's a great time to be a Star Wars fan because there is just sooooo much stuff available right now! From official Disney merch to handmade Etsy items to fan art on Redbubble, there's something for everyone, no matter your budget. Celebrate your mutual love of the greatest epic space adventure of all time with these romantic gifts for Star Wars fans.
15 Romantic Gifts for Star Wars Fans
Quite possibly the most perfect Valentine's Day gift of all time … the Star Wars bouquet. Choose from:

"Star Wars Plush Bouquet 3.0"
Various characters from the Star Wars movies.

"I Am Your Flower"
Darth Vader surrounded by Stormtroopers.

"Beep Boop Bloom"
An ode to your favorite astromech droids.
Order a pair of shirts with the iconic "I love you" "I know" phrases from Etsy. There are several options but I love these from the MindyCreates shop the most. (No relation.)
This At-At shirt is one of the cutest things I've ever seen. Who wouldn't want to add this to their Star Wars t-shirt collection?
Want to get a bit cheeky? This Star Wars panty set should do the trick. It is Valentine's Day after all …
If you don't think breakfast is romantic, then we probably shouldn't be friends. Celebrate a special Valentine's Day breakfast in bed with Death Star waffles.
And you can drink your coffee from a pair of cute Han and Leia mugs.
These would make perfect wedding rings!
If the rings are a little too much, consider these "I love you" "I know" necklaces.
Let him or her know exactly how much they mean to you with a "Yoda One For Me" print.
Or perhaps this "I love you to the Death Star and back" print? It's an instant printable, so you don't have to wait for shipping!
Seriously, how adorable is this "The Droid You Are Looking For" card? It's also available as a t-shirt.
And we can't leave out BB-8. He's adorable, too.
If you have a lady love in your life, she wants this colorful Darth Vader top and matching leggings. Trust me on this one.
Good hygiene is totally sexy! And nothing says, "I love you, I know" than these hand towels. No, really, that's what they say.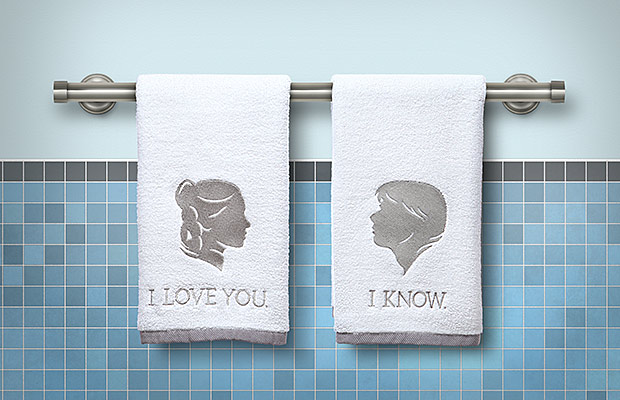 Finally, stick with a tried and true classic – a plushie and candy combo. Choose from Darth Vader or a Stormtrooper. Awwwww … evil has never looked so adorable.