Pete's Dragon opens in theaters today, and I thought it would be fun to put together some wedding inspiration themed to the movie. I'm reviving one of my past features, Poster Palette, where I take a Disney movie poster and create a color palette from it. I create the color palette with weddings in mind, but they can also be inspiration for a nursery, kid's room, office, or any party or event!
I really love how this Pete's Dragon Poster Palette came out. Of course I have a couple shades of green to represent Elliot the dragon and the forest where Elliot and Pete play together. To represent the earth I have a light shade of brown, which is a perfect neutral for an earthy, nature-inspired event. Rounding out the palette I used a smokey blue to match the sky and ivory to represent the clouds. So as you can see, this palette is really inspired by nature which is fitting for this movie!
Using this color palette, I put together a Pete's Dragon wedding inspiration board using images from Disney Weddings Inspiration Gallery.
Details I love: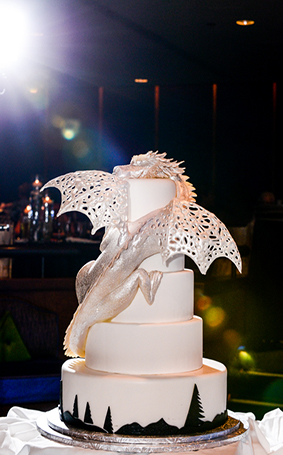 When you're inspired by a movie about a dragon, you need to have a DRAGON ON YOUR CAKE, obviously. The pastry chefs at Disney Parks made this huge dragon out of white chocolate which wraps around the entire cake (the images above are from two different – but very similar – awesome dragon cakes). Talk about making a statement with your wedding cake, wow!
Look at this absolutely dreamy Laniwai Spa common area at Disney's Aulani Resort. The Disney's Fairy Tale Weddings team transformed this secluded space into an enchanted forest, fitting for a magical evening wedding. I didn't even realize this was a potential ceremony spot when I was visiting Aulani a couple months ago and soaking in those same thermal pools!
Which Pete's Dragon wedding inspiration board detail is your favorite?
Pete's Dragon opens in theaters Friday August 12, 2016 and is rated PG. Follow Pete's Dragon on Facebook, Twitter, and Instagram.
All wedding images from Disney Wedding Inspiration Gallery. Pete's Dragon image copyright Disney.