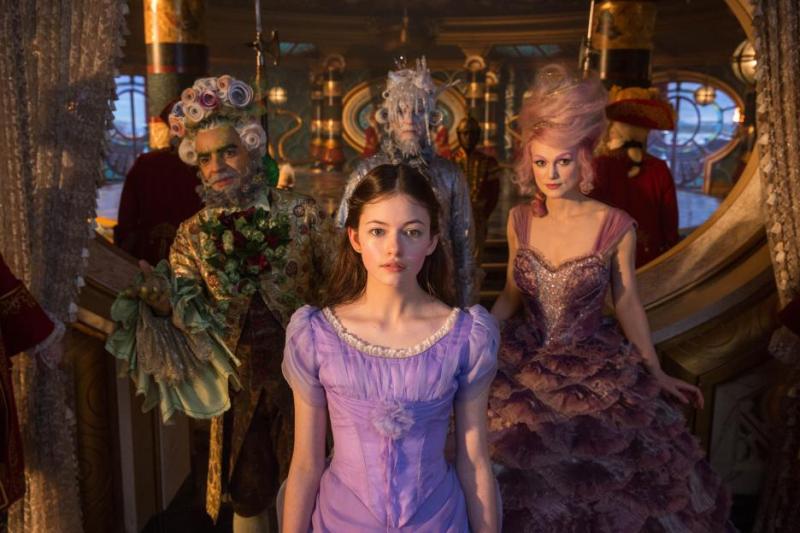 This week I had the pleasure to attend an advanced screening of Disney's newest live action movie THE NUTCRACKER AND THE FOUR REALMS. This magical movie is sure to be an instant holiday classic, enjoyed by families for generations to come!
About the movie:
All Clara (Mackenzie Foy) wants is a key – a one-of-a-kind key that will unlock a box that holds a priceless gift. A golden thread, presented to her at godfather Drosselmeyer's (Morgan Freeman) annual holiday party, leads her to the coveted key — which promptly disappears into a strange and mysterious parallel world. It's there that Clara encounters a soldier named Phillip (Jayden Fowora-Knight), a gang of mice and the regents who preside over three Realms: Land of Snowflakes, Land of Flowers and Land of Sweets. Clara and Phillip must brave the ominous Fourth Realm, home to the tyrant Mother Ginger (Helen Mirren), to retrieve Clara's key and hopefully return harmony to the unstable world. Starring Keira Knightley as the Sugar Plum Fairy, Disney's new holiday feature film "The Nutcracker and the Four Realms" is directed by Lasse Hallström and Joe Johnston, and inspired by E.T.A. Hoffmann's classic tale.
Watch the trailer:
Personally I have never seen a stage production of
The Nutcracker
but I'm familiar with the basics from popular culture. This movie has some familiar music and characters and settings, but the story is told in a new way. There are lots of twists and turns in the plot that I didn't see coming!
Mackenzie Foy is delightful as Clara, a lovely young lady who has lost her way after the death of her mother. After she receives a mysterious Christmas gift, she is led to a fantasy land full of charismatic characters and enchanting (and sometimes scary) surprises. She first encounters Phillip (Jayden Fowora-Knight), a brave nutcracker who helps lead her through this magical new world and stays by her side the entire time. I loved the chemistry between these two; in fact these two were my favorite characters in the movie and I looked forward to their scenes together.
As the Sugar Plum Fairy, Keira Knightley gives us serious fashion and hair goals (who wouldn't want hair made out of cotton candy!?). And Helen Mirren is a force as Mother Ginger. However, I was disappointed to see these two powerful actresses were given limited range and sometimes very goofy dialogue. Morgan Freeman as Clara's godfather has a small amount of screen time but makes it count, setting Clara on the right path to figuring out the mysterious gift her mother left behind for her.
My favorite scene of the movie is when Clara first arrives and is told the backstory of the Four Realms via a ballet show, staring the incomparable Misty Copeland. While Misty dances through the four lands – Sweets, Flowers, Snowflakes, and Amusements – the audience is taken on a stunning journey for the senses that you'll wish will never end. (If you love ballet, there are more scenes during the credits after the movie.) I'm so glad Disney brought Misty to the big screen for those of us who have not been fortunate enough to see her on stage.
Above all, THE NUTCRACKER AND THE FOUR REALMS is a visually stunning movie about a young woman discovering her place in the world, finding her confidence, and learning to appreciate her family even during dark times. It's a sweet movie, especially for fathers and daughters, and a great way to kick off the Christmas season.
THE NUTCRACKER AND THE FOUR REALMS opens in theaters on Friday, November 2 and is rated PG.