In late July 2017, the Rivers of America and Disneyland Railroad re-opened after an extended closure that lasted a year and a half. The closure was to re-route the Rivers and the Railroad track to accommodate Star Wars Land, which is being constructed on the northwest side of the Park. The Rivers is much shorter now, and the Railroad takes a sharp right turn after Hungry Bear restaurant before reconnecting with the Toontown Station. You can see the suspected (and fairly accurate) new route on this old image from Micechat.

Image from Micechat
Aside from the Rivers and Railroad getting a big overhaul, the area around Hungry Bear Restaurant was under construction for a long time. Now there is also a new wide pathway alongside Hungry Bear, which means you can no longer sit at a table alongside the river and watch the ducks beg for french fries. The path will lead to, I'm assuming, one of three entrances to Star Wars Land. Right now the path leads to a tall, wide, dark brown wood wall.
There are three of these potential entrances. The first is next to Hungry Bear, and the other two are located on the newly reopened path connecting Frontierland and Fantasyland. One wall is clearly identified as a future Star Wars Land entrance. The third is further along the path, right behind Big Thunder Mountain and next to Fantasyland with no identifying signs or markers. You can see the approximate locations of these three entrances on the below image from Micechat.

Image from Micechat
Sadly the Mark Twain was not running while I was visiting, so I couldn't take photos from the River. But I snapped a lot of photos from the train. You'll see the Indian dioramas are still around (no more burning house, though).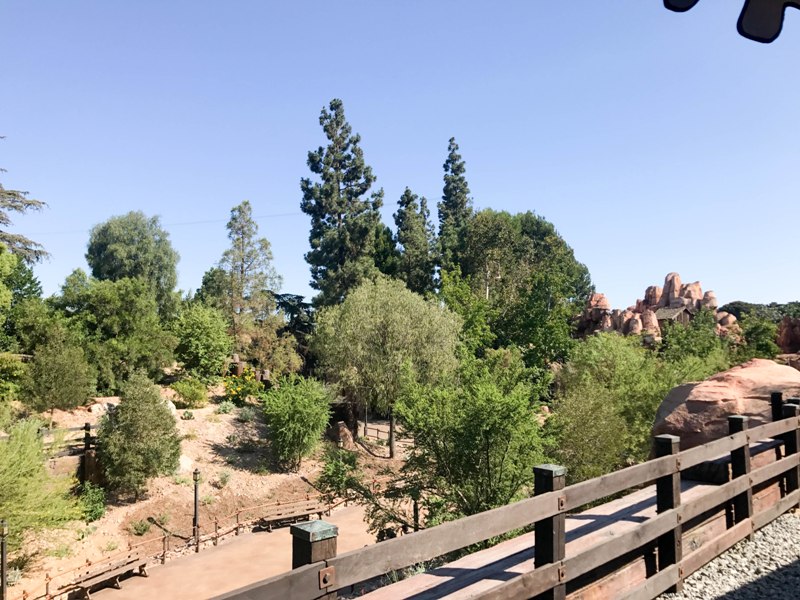 I also took video of the Grand Circle Tour of Disneyland – an entire round trip on the train! You'll see the new areas starting at around the 4 minute mark.
Have you experienced the new Rivers of America yet? It's great to have these attractions back!
Comments
comments