There's no better way to celebrate America than with red, white, blue, and Mickey! I wanted something fun and festive for our porch area for the Fourth of July, and I think this fits the bill. The best part is, I made this Fourth of July Mickey wreath in just about an hour. It's so easy!
What does Fourth of July mean to you? I always think of swimming pools, BBQ, watermelon, and fireworks of course! I would love to spend July 4th at a Disney park someday (although, I could do without the crowds). For now I'll just have to get my dose of Disney with this patriotic wreath. My favorite part is how the blue glitter stars and Mickeys are coming out of the wreath, like fireworks!
Fourth of July Mickey Wreath
Supplies
Foam wreath
Red and white striped ribbon
Gold ribbon
Blue glitter scrapbook paper
Mickey head punch (approx 1″)
Star punch (approx 1″)
Gold floral wire
Wire cutters
Tacky glue
Floral or sewing pins
Small ribbon or twine for hanging
Steps
Step 1 – Wrap the red and white striped ribbon around the wreath form and pin in the back.
Step 2 – Punch 10 Mickey shapes and 10 star shapes out of the blue glitter.
Step 3 – Clip off 10 floral wire pieces about 3 inches long. Glue the wire to the back of a Mickey shape or star, then glue another Mickey shape or star on top, so the wire is sandwiched between the two pieces. Press together for a few sections. Repeat for all the punches. Allow to dry.
Step 4 – Stick the non-decorated end of the wires randomly into the wreath, between the ribbon layers (or if you're brave just punch right through the ribbon!). Shape the wire so they stick out in different directions.
Step 5 – Wrap the gold ribbon around the wreath about 4 times, to add some shimmer.
Step 6 – Use smaller ribbon or twine to create a loop for hanging the wreath.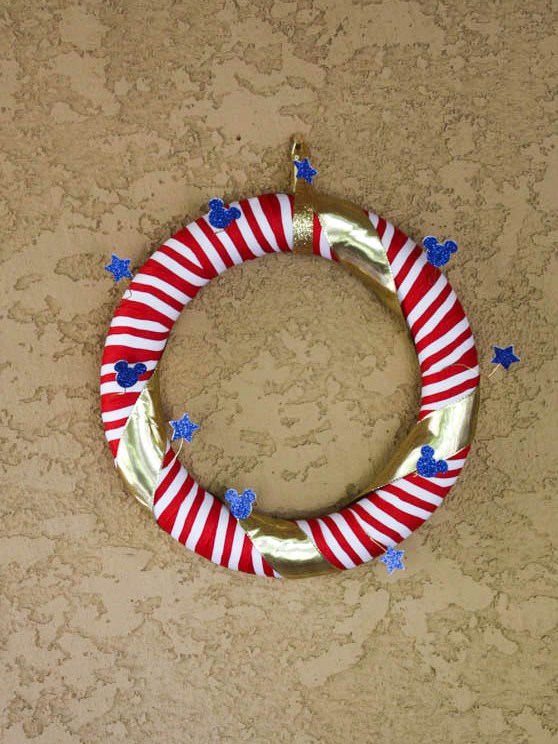 Proudly display your wreath on your front door or wherever you like!
What's your favorite part about Fourth of July?