Guys, it's kind of embarrassing how long it has been since I've shared a Real Disney Wedding with all of you – almost six months! I'm happy to break the dry spell with Jannette and Vincent's Disneyland wedding. This wedding was a true fairy tale event, with florals in pinks and purples, a castle motif, and the bride in a gorgeous ballgown – in fact, I tried on this gown and almost bought it!! Every time I see it on a bride, I always sigh … I loved my wedding gown but this one holds a special place in my heart! Jannette included lots of details about their wedding day, so all you planning couples, pay attention! There's some good stuff below. Congrats to Jannette and Vincent on their gorgeous, perfect, summer wedding day!
**Remember pricing for DFTW and vendors is subject to change at any time, and the prices listed here are likely outdated. Contact DFTW or vendors for current pricing and rates.**
Photos by Stephan Arias Photography.
Disney Bride: Jannette, 28, La Mirada CA
Disney Groom: Vincent, 30, Riverside CA
Wedding date: August 3, 2013
Wedding Ceremony Venue: Rose Court Garden, The Disneyland Hotel
Wedding Reception Venue: Sleeping Beauty Pavilion, The Disneyland Hotel
Total budget: $27,000
Guest count: 100
Why did you choose a Disney wedding?
We choose to have a Disney wedding because we love Disneyland. We are annual passholders. Years ago we were at the Lost Bar at The Disneyland Hotel (now closed and replaced by Trader Sams) and we noticed there was a wedding going on at the Rose court Garden. Vince turned to me and said "One day we will have a wedding like this." In 2012 he proposed to me in Disneyland by Sleeping Beauty's Castle.
How did your family/friends react to your Disney wedding?
Our family and friends were excited to hear our wedding was going to be at Disney. We *did* have to explain to our family and friends that the wedding was at the hotel not inside Disneyland.
What was your theme?
Everyone was expecting our theme to be completely Disney, but our theme was a Fairy Tale Wedding. We used vibrant, colorful flowers. Our colors were different shades of pinks & coral. We did have some hidden Mickeys. Our wedding invitations had a castle print. We also ordered table numbers, menus and place cards to match our wedding invitations.
What was your biggest challenge in planning your Disney wedding?
I am a planner. So the minute we were engaged I knew what I wanted. Our first challenge was the theme. We wanted to incorporate Disney with everything. But then we had changed our minds and thought, it's a summer wedding so let's use vibrant colors and flowers and put some hidden Mickey touches. Disney's planning team was so helpful; it was so easy, they handle everything.
Tell us about your ceremony. Did you include any Disney touches?
Our ceremony time was at 5:00pm. My husband had one groomsmen. I asked my brother to be my Man Of Honor and my cousin to be my Matron of Honor. My twin cousins who were 6 at the time were my flower girl and ring bearer. My in-laws also walked down the aisle followed by my mother who was escorted by my cousin. The song which played while they all walked down the aisle was Canon in D. I walked down the aisle with my dad to the traditional Wedding March. We chose to use a minister, who is a Disneyland Annual Passholder, for the ceremony. He had asked us weeks before to write down thoughts, goals, facts about ourselves, and about our relationship. He wrote a beautiful introduction about our relationship and also spoke about how Disneyland was such a special place for us. We decided to honor both our mothers and gave them each a rose while Ave Maria played.
Decor for the ceremony was simple. The Rose Court Garden is so beautiful. We didn't want to overdo it with too much floral. So we just had the top of the gazebo decorated with colorful flowers and we had flowers going along the aisle, too. Each chair had a Mickey program fan and our DJ played classical Disney music for guests while waiting for the ceremony to start.
After the ceremony guests were escorted to the Adventure Lawn for hors d'oeuvre ( beef empanadas, quesadillas with chipotle chicken & jalapeño jack, and tortilla chips with guacamole).
Describe your reception. Was it completely traditional or did you do anything unique?
The reception was traditional. There were 10 tables and a sweetheart table. We had a father-daughter dance & mother-son dance, and also a honeymoon dance (dollar dance).
What did you splurge on? Where did you save money?
We splurged on Chiavari chairs and we had lighting installed. We saved on re-purposing flowers that were in the ceremony to the reception. I made my own wedding favor, which were pink chocolate castle pops. My cousin helped me DIY the Mickey program fans.
What was your favorite moment of the day?
We had many favorite moments!
• After the ceremony we walked to different areas within the hotel for photos. We went down to Goofy's Kitchen and took a photo with him.
• Our First Dance. We chose "Our Song" by Elton John.
• The food at our reception. It was the second time we had tried it. The first time we tired it was at the food tasting. Very delicious.
What would you change if you had to do it all over again?
We wouldn't change anything! We loved every minute of our wedding day. If we could do it again we would. Disney went above and beyond our expectations.
What advice would you give to couples that have just started planning their Disney wedding?
Enjoy every minute of it. The Disney wedding planners and day coordinators are a blessing. Disney really does make dreams come true!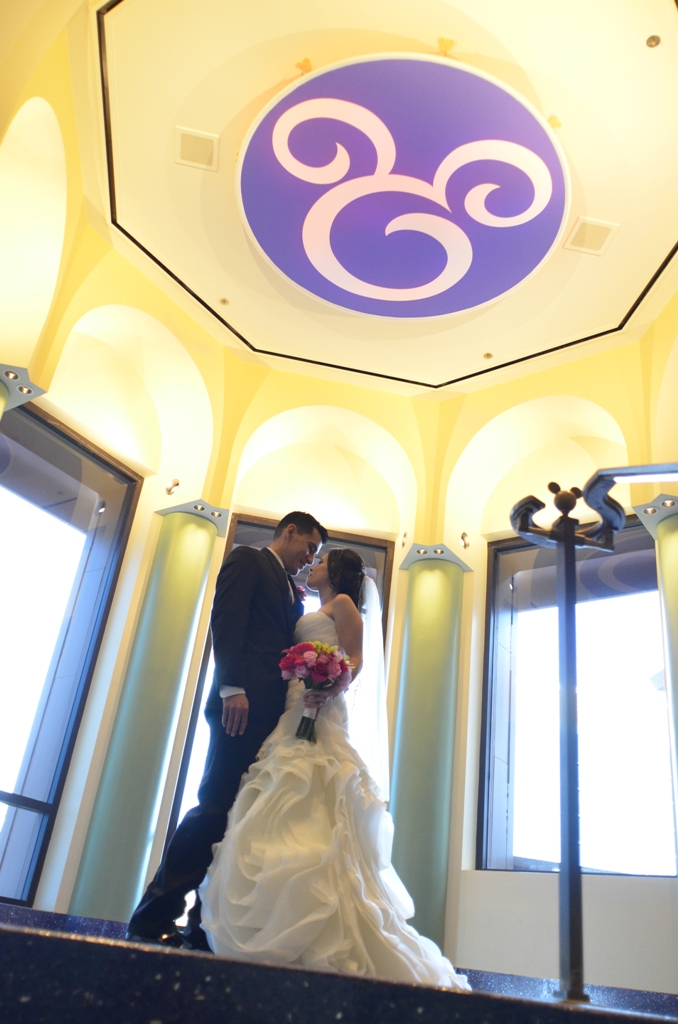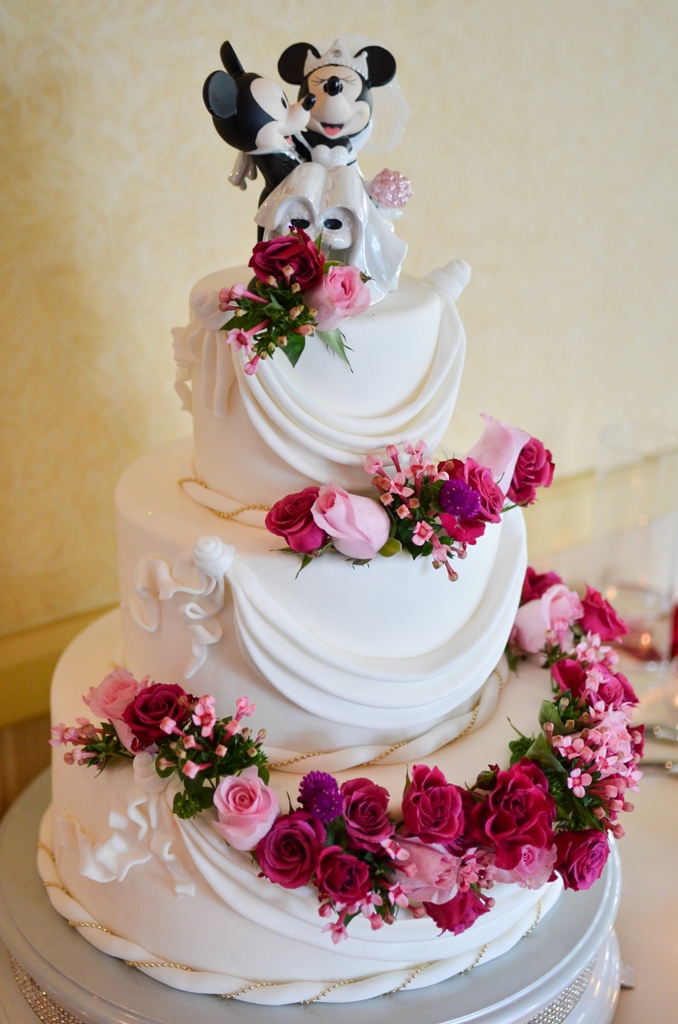 Budget breakdown
Venue:$2200
Food/Drink: $15,760
Floral: $2300
Other Decor (chairs/linens): $392.00
Officiant: $200
Ceremony Music: $200
Reception Music: $1145
Other Entertainment: $1000 (lighting)
Favors: $150
Photography: $1499
Videography: N/A
Bride's attire: $1800
Hair/Makeup: $175
Vendor list
Wedding coordinator: Disney's Fairy Tale Weddings
Photography: Stephan Arias Photography
Officiant: Robert Jabro
DJ: Invisible Touch
Hair/Makeup: Makeup by Angel
Stationery: Somer Studios
Florist: Amazing Blooms Studios