When I was picking up the supplies to make the Baymax ornaments, I couldn't resist picking up a set of red round ornaments to pay homage to Mickey and Minnie, too! I loved how these turned out, even if I realized once I got home the only white paint I had was puffy paint, so Minnie's dots are a little … puffy! But maybe that makes the ornament even cuter??? These now have a prominent spot on our tree, along side the many, many, many other Disney ornaments I've collected over the years. Someday, it's my dream to have enough space in our house to have an ALL DISNEY tree!!!! Although I think the only place in the house where hubby would allow that would be my office. I would be okay with that! How about you, do you have any Disney ornaments for your Christmas tree? If not … well, you could always make some!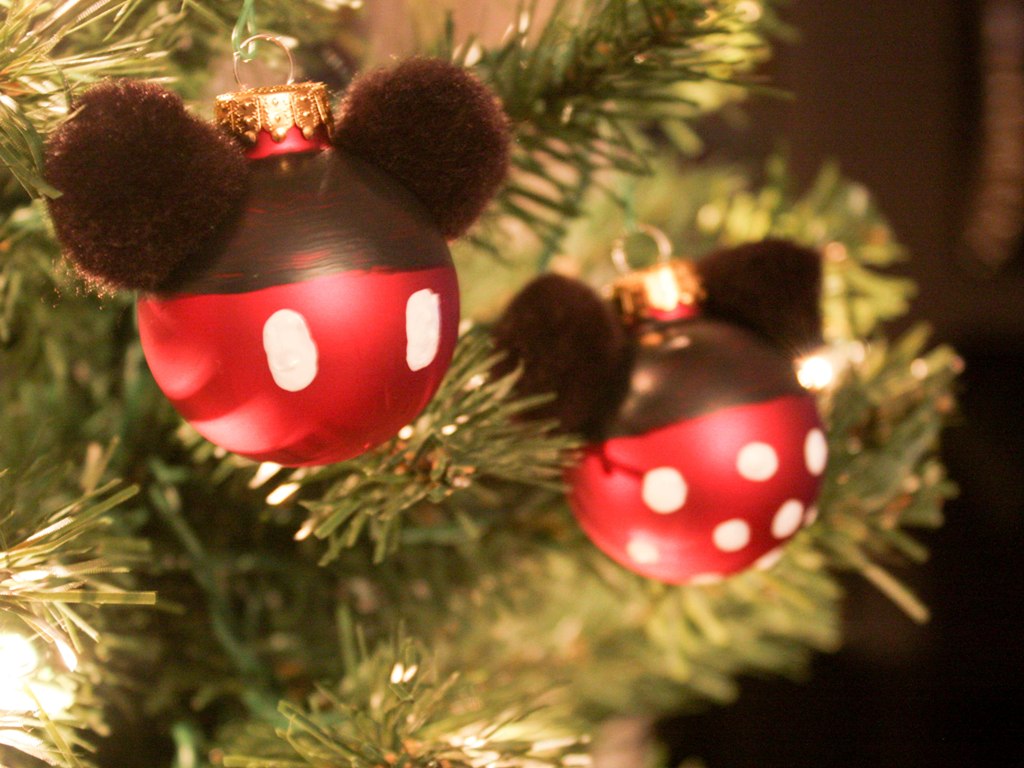 DIY Mickey and Minnie Ornaments
Supplies
Red round glass ornaments
Black acrylic paint
White acrylic paint or paint pen
Black pom poms (2 per ornament)
Black Sharpie
Hot glue gun
Rubber band
Small brush or paint sponge
(Optional) Q-tips
Steps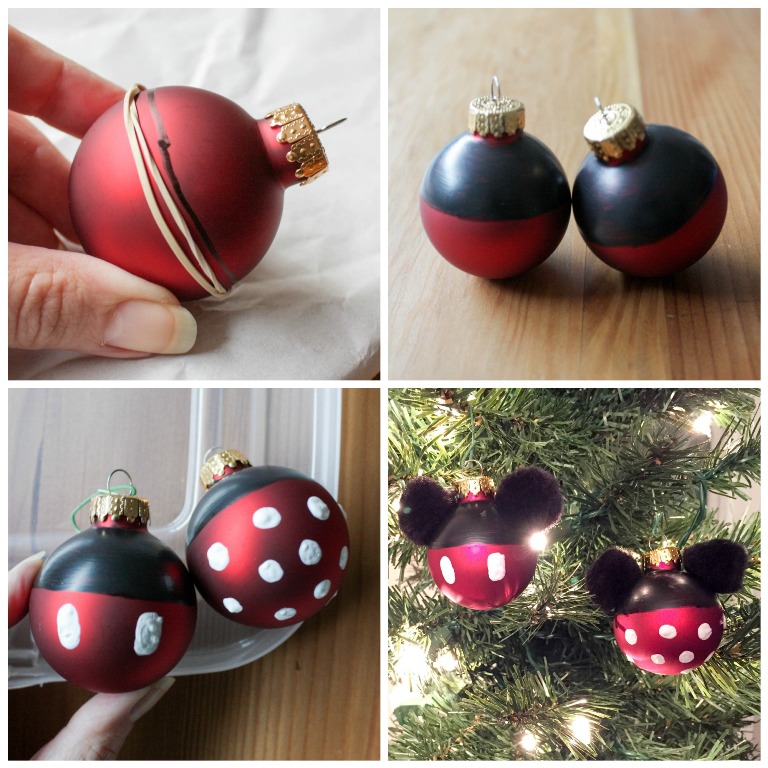 (If you're crafting both Mickey and Minnie, you should complete Steps 1-3 with two ornaments.)
Step 1 – Wrap the rubber band around the thickest part of the ornament, horizontally, opposite from the hanging hook. Then carefully roll the rubber band up, towards the hook, a couple rotations so it's just above the halfway point on the ornament. Draw a horizontal line with the black Sharpie just above the rubber band, all the way around the ornament. Keep it as straight as possible. Remove the rubberband when done. This will be the guide for the paint.
Step 2 – Paint the top half of the ornament with the black paint. Allow to dry. You may need to do more than one coat.
Step 3 – For Mickey – With the white paint, draw two small vertical ovals on the red part of the ornament, just below the black section. These are meant to look like Mickey's button shorts! For Minnie – Draw a row of polka dots on the red portion using the white paint. Draw another row below that, but staggered. Then draw a third staggered row below that. Allow both to dry. (Note – if you aren't using a paint pen or a paint bottle with a fine tip, you can use a Q-tip to draw the ovals and the dots.
Step 4 – Glue the pom poms to the top of the ornament for ears. The ears should be on opposite ends of the top hook. I believe I used one inch pom poms for small sized round ornaments.
Add some ribbon or wire to the hook and hang the ornaments on your tree! Aren't they so cute? I hope they add a bit of magic to your holidays!
Happy crafting!