I received free products in order to host a Disney Side @Home Celebration. The opinions expressed here are my own.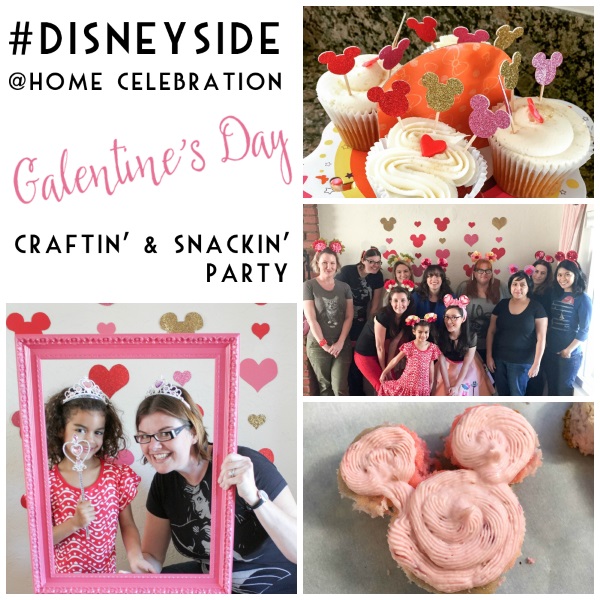 This past weekend, on Valentine's Day, I decided to do something a little different. I was selected to host a Disney Side @Home Celebration and I planned what I'm hoping will be my first annual "Galentine's Day Disney Side" party! I've met so many wonderful women, most of them because of my love of all things Disney, so this type of party just made sense for us. I'm not used to throwing big parties like this but I think everything went well and hopefully all my guests had a good time!
I wanted my guests to be able to do something really special and memorable, and since I'm all about the DIY Mickey ears here on the blog, I decided to provide supplies so my guests could make their own pair of ears! I bought craft foam, felt, and flowers in Valentines shades of pinks, reds, and purples. I had my Valentine's Mickey ears and my floral Mickey ears out as prototypes, and assumed guests would follow those as a guide for their own ears. WRONG! Everyone created their own unique pair of ears! I love having all these creative women in my life!
The craft table was hopping the entire afternoon. See my friend Daniela in the black top looking very determined? She is taking her little one to Disneyland for the first time next week. I told her I am going to stalk her visit so I can watch his little eyes light up when he sees Mickey for the first time. (I'm not really going to stalk them … but I might.)
This little lady is my "niece" Lorelei … her family lives just a few minutes away from Disneyland and she may have already clocked in more visits in her short 5 years on earth than I have during my 35 years. She's a lucky princess!
These two lovely ladies posing with me below are no strangers to Disneyland. Anne, center, who writes at annehogan.net, and Lisa, right, who writes at babesindisneylandblog.com, both created "DisneyBound" ears. Anne was inspired by Briar Rose (Sleeping Beauty) and Lisa made some red and white ears to match a Mary Poppins DisneyBound outfit she is cooking up.
This is my friend Renee, who is an event planner with Moxie Bright Events and blogs about weddings at ThatBridesGotMoxie.com. We met at a conference for aspiring entrepreneurs a couple years ago, and we meet up every couple of weeks to discuss our businesses and life goals. I'm happy she was able to take a couple hours off from her CRAZY schedule to relax and have some fun with us.
I've been friends with the ladies in this picture for over ten years now! The majority of us met online in a chat forum and now we are all friends in real life. There's a lot of immense creativity, wit, and talent in this group and I'm humbled to be a part of it.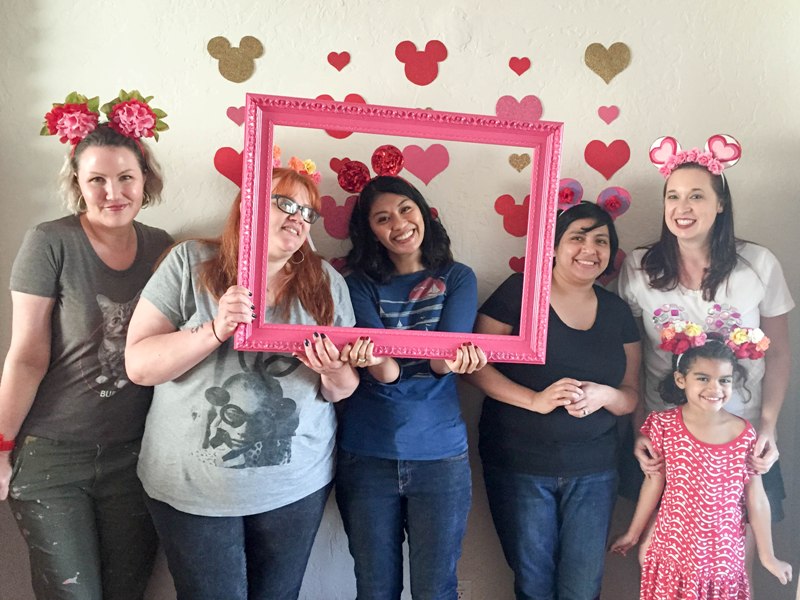 And last but not least, these are my Disney Bride friends. All of us either got married at Disneyland, had a wedding with Disney themes, and/or honeymooned at a Disney Resort. And we all met because of it! I love that our mutual love of Disney brought all of us together.
As you can see in some of the pictures, I created a photo backdrop using scrapbook paper. I love how it turned out! I'll be sharing the tutorial (along with all the DIY projects and recipes seen here) on my blogs over the next couple weeks.
Thanks to my Disney Side @Home Celebration package, I had other activities planned out, including Disney trivia, pin the smile on Mickey, and a nail polish station – but everyone was so busy making their ears, we never got around to them! Next time I'll have to extend my party by a few hours!
And it's not a party without food, right?
I created a Princess Punch by combining raspberry lemonade with blood orange soda. Guests were free to add a little champagne and/or a hibiscus flower to their punch, if they so desired. I also made easy Mickey glass charms out of foil paper and ribbon, so people could remember which glass belonged to them!
The main food event was my 5 layer chip dip I served in the Mickey cake mold from my Disney Side @Home Celebration kit! It was layered with refried beans, tomato, cheese, sour cream, and black olives for Mickey's ears, nose, and eyes. I tried to make a mouth out of tomatoes but it was a fail, so my friend had the idea to put one of the smiles from the "pin the smile on Mickey" game and I think that worked much better. I realize it is far from perfection, but it got a lot of laughs from my guests (and hopefully they were laughing with me and not at me).
I also served sandwiches with deli meat and cheese cut into Mickey shapes using a cookie cutter, as well as little vegan cucumber & hummus sandwiches cut into heart shapes.
For desserts, I used the Duff Tie-Dye cake mix from my Disney Side @Home Celebration kit to create mini Mickey two-layer cakes. I used the provided food dye to make a swirl of pastel red, pink, and purple for the cakes and used a Mickey cookie cutter to cut out Mickey shapes. I then piped homemade Raspberry Honey Cream Cheese frosting in between cake layers and on top of the cakes, then finished off with pink and purple sprinkles provided by Wilton.
I also provided "Bippity Boppity Brownies" and vegan cupcakes from Yummy Cupcakes here in Burbank – they taste better than their regular cupcakes! I decorated the cupcakes with DIY glitter Mickey toppers and displayed them on a Minnie cupcake stand provided in my Disney Side @Home Celebration kit. I also left out Minnie & Daisy treat boxes guests could fill up with chocolate candies and conversation hearts for the drive home. It's Valentine's Day after all, and there was no shortage of sugar at this party!
My party even had some "beary" special guests – a handful of Duffys and a Gelatoni! You'll only see this at a #DisneySide celebration!
I had such a wonderful time hosting my first #DisneySide @Home Celebration and I'm honored these lovely ladies chose to spend their Valentine's afternoon with me. I need to give a special shout-out to my friend Hope who helped me set up AND clean up … she's a rock star. I want to thank the Disney Parks team and MomSelect for selecting me for this opportunity to share my #DisneySide with my friends, and sponsors HP (@MyPrintly and #CMYK) and All laundry products (@all_laundry). All opinions expressed in this post are my own.
Thanks for reading; I hope you have a magical day filled with friendship, love, and Mickey! xo