Did you catch the Disney's Fairy Tale Weddings holiday special on Freeform a couple weeks ago? I watched it, but admit the excitement of Star Wars distracted me for a while. But I do want to share some of my favorite moments (and a couple *eye roll* moments) from this Disney weddings Holiday Magic special!
I enjoyed this holiday special so much more than the first Disney weddings TV special, and it made me really excited for the series that's going to start airing in the spring. For all my complaints about reality TV and how much of these shows are staged (there's no way Greg didn't notice 40 gospel choir singers in bright yellow robes sneaking into his wedding venue, okay?), I will ALWAYS ALWAYS ALWAYS be excited to see pretty Disney weddings on TV!
With all that being said, here are some amazing moments from the Disney weddings Holiday Magic TV special:
1. That Rose Court Garden transformation. Holy wow! This does NOT look like the venue where we had our wedding five years ago! The Rose Court Garden at The Disneyland Hotel was completely transformed into a lush holiday oasis complete with red carpet aisle runner, Christmas trees, and tons of twinkle lights. Sure, it turns a $2,500 venue into something that costs six figures but you can't deny it is absolutely stunning.
2. Greg's daughter London seems like a real life princess. She can sing, she can dance, she loves her step-mom, she seems super chill. London, can we be friends?
3. Twitch and Allison were wonderful hosts. But I guess after the awkwardness of Ben and Lauren, any new hosts would have been an improvement. (It was weird they showed up at Joe and Dominique's wedding, though, right?)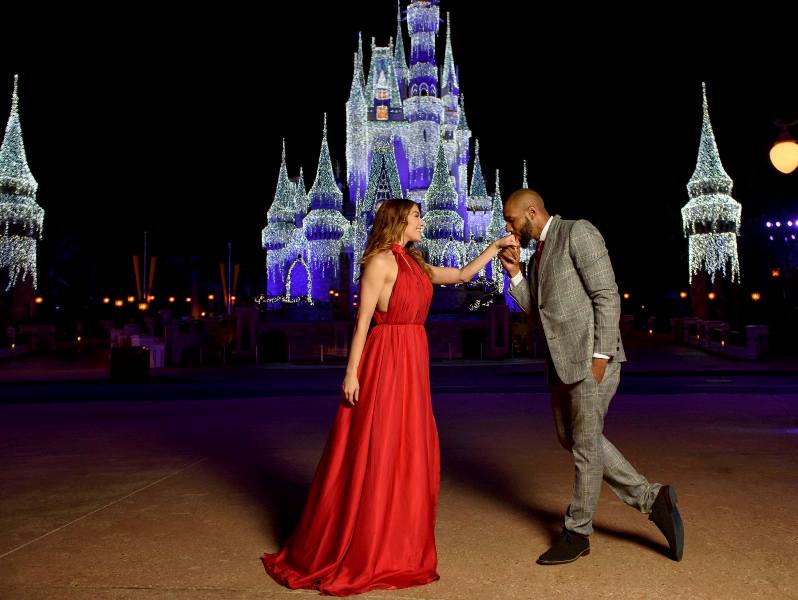 4. Speaking of Joe and Dominique, I can't get over her dress shopping entourage. I don't know that many people IN MY ENTIRE LIFE.
5. Melanie and Greg had a Skype call with DFTW to go through their "box of goodies" which included Disney theme park snacks, linen samples, and a mini-bouquet. Ummmmmmmmm, what? Where's my box of goodies? FYI, if you're planning a DFTW wedding you should know you'll get lots of magic but you will NOT get a "box of goodies" like this.
6. Snow. Snow everywhere. And I'll never get enough of it. Real snow kind of sucks but Disney snow is nothing but magical.
7. The hidden Mickey. Did you catch it?
What was your favorite part of the Disney Weddings Holiday Magic TV special?
All photos copyright Disney and Freeform