I may be biased, but there's nothing more romantic than a Disney proposal. My magical moment happened on Main Street USA at Disneyland during the holiday snow. My favorite time in the park! The thing I love about Disney is that there are so many unique ways to make a marriage proposal special. Everyone has their favorite spot in the park, or their favorite restaurant, or their favorite ride attraction, or their favorite character, and I LOVE reading Disney proposal stories that are so full of meaning, thoughtful planning, and love. That's why I rounded up a few of my favorites! If you have your own special Disney proposal story, feel free to share it in the comments, or even better, submit it to be featured here!
1. Joshua and Shannon got some major luck and pixie dust which created their own little private moment inside a crowded Disneyland Park! Read all the details from White Rabbit Photo Boutique.
2. While we're on the subject of castles, Kristina and Dan had their own magical moment during the fireworks show at Cinderella's Castle inside the Magic Kingdom at Walt Disney World. From Magical Day Weddings.
3. Signs are always a good idea, like this message from inside the Beasts Library at Disney California Adventure, from Vanessa and Art's proposal on How He Asked …
4. … to this fun proposal on Splash Mountain from Magical Day Weddings …
5. … to the Esplanade area between Disneyland and Disney California Adventure (you don't even need a park ticket for this one)! From How He Asked.
6. How about planning a fun scavenger hunt that ends with a diamond ring, like Calvin planned for Courtney? From Budget Fairy Tale.
7. This Magic Bands proposal is uniquely Walt Disney World, from Inspired By Dis.
8. The steps of the Haunted Mansion is a popular proposal spot, as seen here with Nadia and Danny's Bat's Day proposal. From Budget Fairy Tale.
9. Get the famous Disney caricature artists in on the act! If you arrange it ahead of time, you can turn a normal Disney ritual into a very special moment. From Inspired By Dis.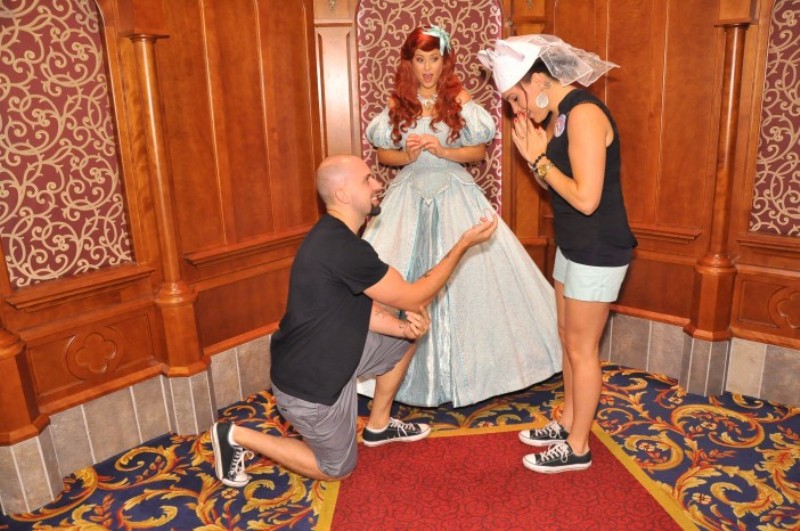 10. Proposing in front of characters makes for a fun story! Tommy knew Elizabeth's favorite princess is Ariel, so he waited for the perfect moment. From How He Asked.
11. Drew knew getting Peter Pan involved with the proposal would make things interesting! I love how he played along! From Magical Day Weddings.
12. Did you know sea turtles understand true love, too? This Turtle Talk with Crush proposal is like totally awesome, duuuuude!! From How He Asked.
13. There are lots of beautiful spots at Disney hotels to set up a beautiful proposal spot, like this elaborate celebration Patrick planned for Gavin at Disney's Boardwalk Resort. From Perez Hilton.
14. Through the Disney Weddings department, or with the right connections, you can arrange a VERY special and exclusive moment for you and your partner. Jason was able to propose to Alissa inside the members-only Club 33! From Budget Fairy Tale.
15. AJ planned an elegant and surprise proposal for Michelle inside the exclusive Dream Suite at Disneyland. From Budget Fairy Tale and White Rabbit Photo Boutique.
16. Katherine thought they were simply filming a commercial for Walt Disney World as a happy couple, but had no idea Marc-Andre and Disney had something much more special planned for her! From How He Asked.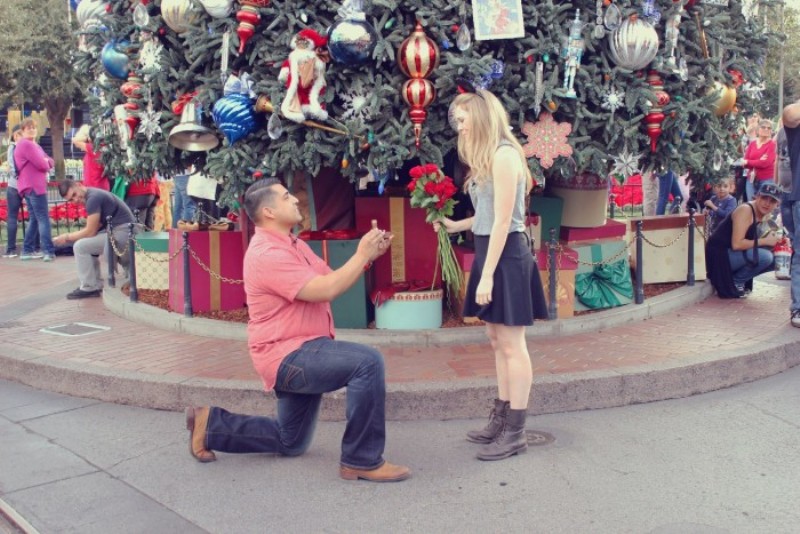 17. What kind of proposal do you plan for two Disneyland Cast Members who met while performing in the Christmas Fantasy parade? Read Samantha and John-David's story from How He Asked to find out!
18. Christmas is always a magical and romantic time for proposals. Chelsey found this out during a proposal from David during the Hollywood Studios Osbourne Dancing Lights, which he pulled off with the help of an excited entourage! From How He Asked.
19. Christmas isn't the only romantic time of year at Disney parks! Valentine's Day is another perfect time for a Disneyland proposal, as Eric and Delia already know. From Ohana Photographers.
20. It's always a good idea to propose with a special keepsake, like this engraved ring box Steve had made for Ashley for their Christmastime engagement at Disneyland. From Budget Fairy Tale.
21. Brandi was so distracted with enjoying a ride on King Arthur's Carousel that she didn't even notice what Tivon had in his hand! (But don't worry, she saw it eventually!) From Budget Fairy Tale and John W. Farrand Photography.
22. A stranger was able to capture this magical moment between Michelle and George after he proposed to her on her favorite Walt Disney World ride, Dumbo! From Magical Day Weddings.
23. A Disney proposal doesn't HAVE to take place at a Disney Park! Brian planned this Frozen-themed proposal for Michelle. Check out the perfect ring box! From How He Asked.
24. A Disney Cruise is another beautiful location for a memorable proposal as well! Francisco had help during his proposal to Lilian from a very special princess. From How He Asked.
25. Don't forget Aulani! Dale put together this sweet slideshow from his surprise proposal and subsequent photo shoot with Shanna.