It's time for one of my favorite annual articles – the Disney Bride Halloween Costume Parade! Every year I ask my Facebook followers to send me their Disney costume pictures and you guys never disappoint. I love seeing all the fun costumes you put together – including couples and family costumes. And of course we can't forget the sweet Disney babies, too. I hope you enjoy another year of the Disney Bride Costume Parade!

Disney Bride and Groom Jenna and Jacob are super adorable as Carl and Ellie at Mickey's Halloween Party!

Disney Bride Deana with her little Dopey babe (that's NOT an insult, I swear) enjoying the fairy tale view at Walt Disney World!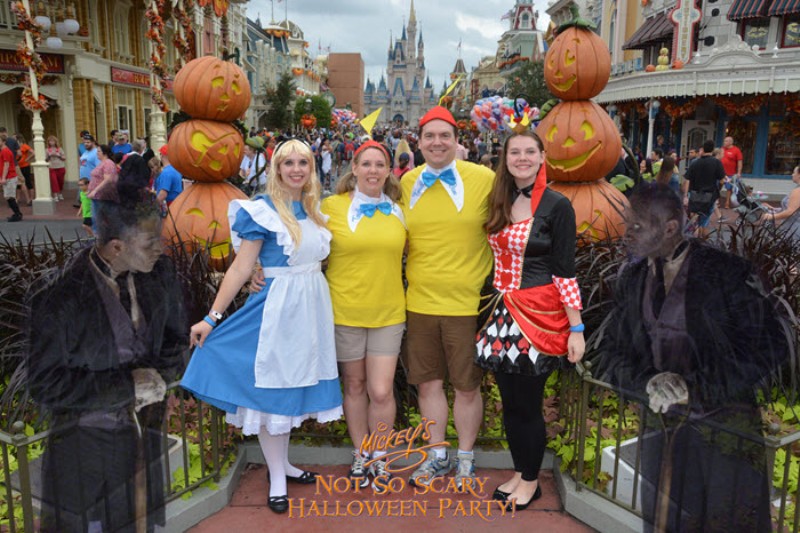 Tricia and her family always come up with the cutest costumes! This year it's Alice in Wonderland!

Disney Bride Mandy is so perfect as the Haunted Mansion ballerina it's scary.

Newlyweds Michelle and Brian as Jack and Sally!

Two iconic Disney attractions represented by George and Lauren … Mr Toad and Haunted Mansion!

Ohhhhh isn't this amazing ….. Anita made her own "live action" Belle costume and it's just perfection.

Becky and Jason at Mickey's Not-so-scary Halloween Party as Joy and Fear!

Heather and her family and friends always crush it with their group costume and this year was no different. How many Toy Story characters can you identify?

My Disney blogger pal Tania and her husband win #BusStopCostumes with their Evil Queen and Magic Mirror costumes.

Blogger Kathy shared a pic of her adorable kids as Jake and Izzy from Jake and the Neverland Pirates.

Disney blogger Patty and her littlest #OhLucy as Cruella and one of 101 dalmatians.

The family that Star Wars together, stays together. Disney Bride Ari and her family make a cute galactic bunch!

Have you ever seen a cuter Wreck-it Ralph trio?!? Great job Michelle and family!

Paty and family as Judy, Nick, and the cutest Assistant Mayor Bellwether you've ever seen.

Molly and Evan channeling Angel and Stitch! Perfect!

Disney Bride Cynthia sent in these photos of her little cuties … A big tough Captain America, a Coco-inspired niña , and Maleficent!
Have a wonderful and safe Halloween, friends!