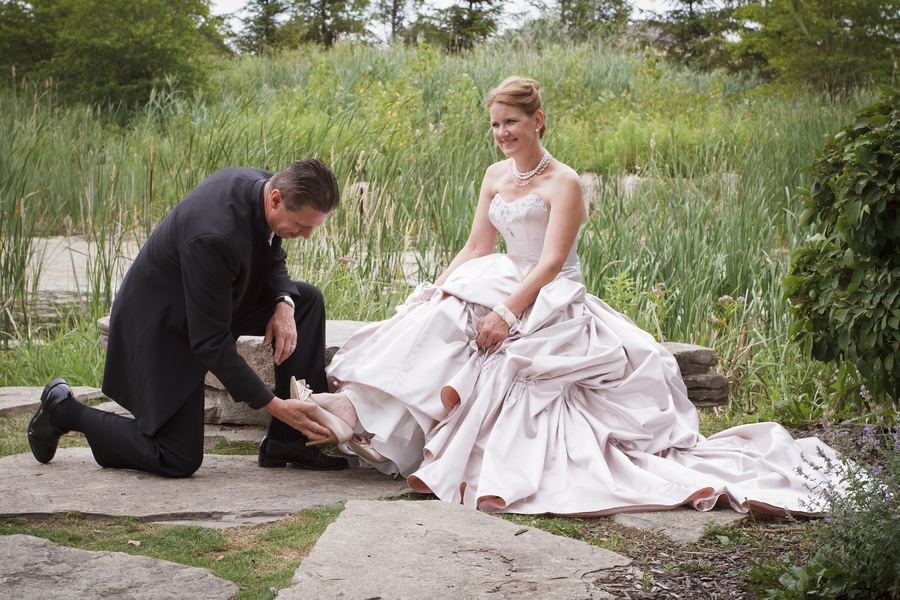 I've decided I don't receive enough vow renewal submissions.
I just love the idea of reaffirming your marriage vows, because getting married is easy but happily ever after takes some work.
Martha and Dale were married in 1977 with a simple church ceremony. 35 years, two kids, and countless adventures later, Martha and Dale decided to celebrate their anniversary with a Cinderella vow renewal. While shopping for her gown, Martha came upon this blush ballgown by Sophia Tolli which is called "Cinderella," and they ran with that theme!
From the Photographer Dawn with Degrees North Images: "Marty and Dale (and their kids) are what one would call Disney-philes. Marty and Dale visit the parks in Florida at least every other year.
"They went Disney style Cinderella with tables named after characters and personalized place cards that read 'prince' or 'princess' and the person's first name, and each was adorned with a crystal crown.
"The Bride knew she wanted the main focal point of the centerpieces to be elegant and after weeks of looking, her and her wedding designer came across the unique clock lanterns. Marty knew she wanted them right away and it was a bonus that they matched the clock theme on the invitations!
"Favors were Hershey bars (Marty's favorite snack) in custom wraps made by the bride's friend that featured the wedding dates and a photo on Marty and Dale on their wedding day in 1977 along with a recent photo. A snack table featured "glass slippers" filled with none other than pumpkin seeds.
"The cake was a conversation piece. They decided to go full on quirky. After looking at cakes for hours and not being able to decide on a style, they decided to make it the stand out piece that would get everyone talking.
The guest book was a classically illustrated hardcover Cinderella storybook bought online. Guests were invited to write their sentiments on the pages of the storybook which they plan to share with their grandchildren.
"A small ceremony was performed outside of the reception hall where Dale's lifelong friend and hunting buddy officiated. The couple shared personal thoughts with each other about their years together and recollected all they have been through and concurred together and then Dale gave Marty a pear shaped diamond ring to commemorate the day.
"At dinner the Best Man and the couple's daughter gave speeches about traveling through the decades with Marty and Dale. It was heartwarming, emotional and inspirational."
I'm so pleased to share this submission here today to show that it's never too late to have that Disney wedding you've always dreamed of!
Congrats to Martha and Dale and your lovely family!
Beautiful Cinderella Themed Vow Renewal
Photography: Degrees North Images
I can't get over the cute details on these invitations.
What point is a wedding party if you can't have fun with it??
Each table was named after a different character in the Disney animated classic "Cinderella." Guests were instructed to look on the seating chart – divided between Princesses and Princes – for the image matching their table!
This reception is a pink dream!
Little Cinderella details everywhere. I love it.
I think it's so fun that Martha and Dale put their original wedding photo on their chocolate bar wedding favors!
You don't have to tell me twice, Gus Gus!
Such a stylish couple. I love Martha's updo!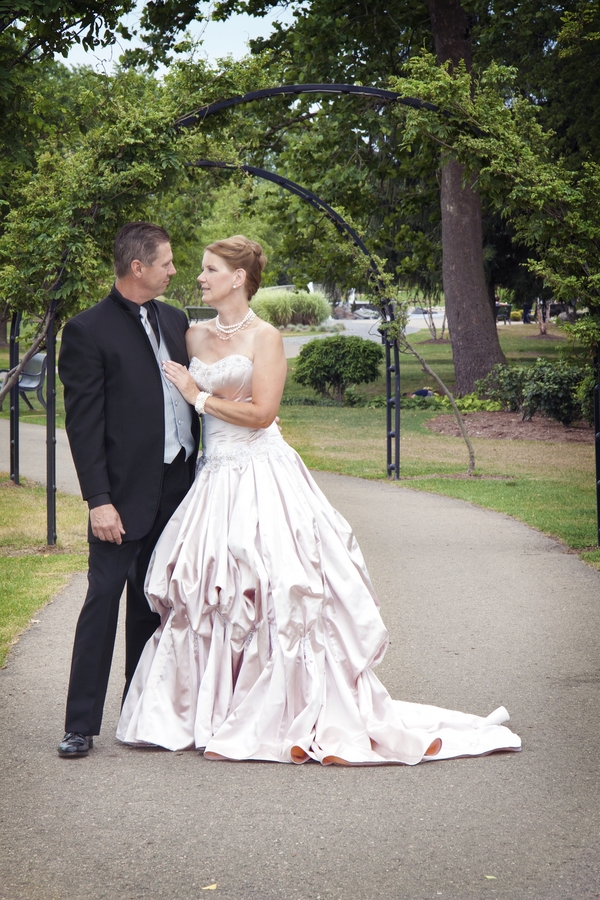 You can't have a Cinderella vow renewal without a proper shoe fitting.
Vendor list:
Wedding Design – Dawn Browne Photography and Designs
Venue – Enchantment Banquet Hall, Shelby Township, Michigan
Catering – Crank's Catering
Flowers – Viviano Flower Shop
Flower Containers – Michael's
Clock Lanterns – Koehler Home Decor
Invitations, Table Signs, Place Cards, Seating Charts – Dawn Browne Photography and Designs
Cake – Sweetheart Bakery
Cinderella Guest Book – (affiliate link) Amazon
Submitted via Two Bright Lights