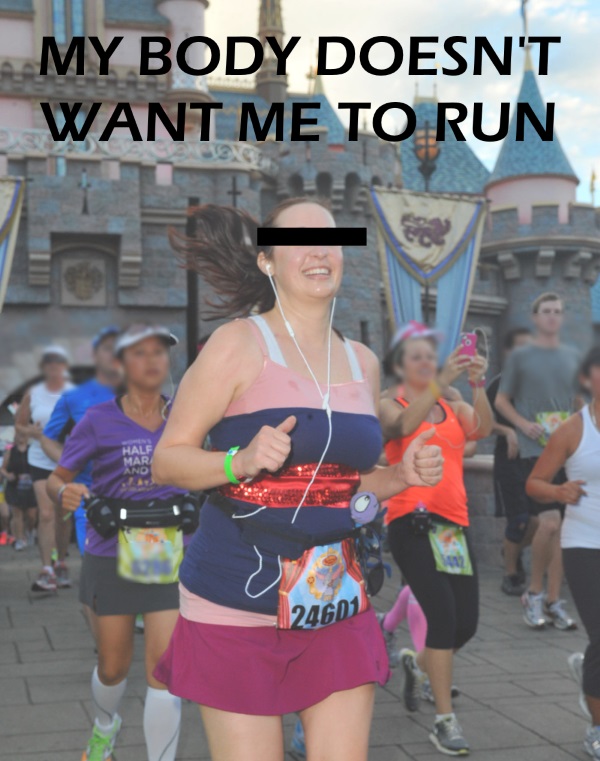 I think it's time to finally admit that running long distances is not for me. My body simply does not want me to run.
First of all, as I've mentioned before, I have a rapid heartbeat. That means my heart's resting rate is most people's elevated cardio rate. Which means if I do too much cardio, my heartbeat goes up into dangerous levels. This is why I'm so slow. My legs wanna go fast but my heart won't let me. Over the last 10 years or so (how long I've been doing light running) I have learned how to listen to my body. Aside from feeling my heart pounding, my head gets light and my vision gets fuzzy. I love running but physically I can't keep it up for more than 30 seconds or so. And if I overdo it, I know I'm sidelined with dizziness the rest of the day. Aside from, you know … my heart might stop working (and that would suck).
Now, my bursitis is back. Late last year, while training for the Tink 10k, I started to feel pain in my hip. It was bad in the morning, and bad after a run, but otherwise it was just a dull pain. My doctor told me to rest … but, I couldn't rest. I was preparing for a 10k. So I rested about a week and then did small runs and slowly made my way through that 10k. Then I rested. I think I didn't run for over a month. My hip healed and I started doing small runs again. 2-3 miles, 3-4 times a week. In the meantime I put on 10 pounds due to lack of cardio and my love of food. I was doing my light yoga and lifting weights but it simply doesn't burn enough calories, at least not as much as running did.
A couple weeks ago I realized the Disneyland 10k was coming up quickly and I needed to get myself prepared. I was sick of feeling overweight and having none of my shorts and jeans fit me anymore. I had completely forgotten about my hip bursitis. Last weekend I did seven miles and it felt really good. I had dull pain in my hip and my knee (another problem spot) but wasn't too worried about it. I did a normal two miles on Monday and set out on Wednesday evening to do four miles. Around mile two I was waiting for a light to change. When it did, I stepped off the curb and it felt like someone shot me in the hip. (Maybe – I have never been shot before, thank goodness.) It was the worst my hip has ever hurt. I grimaced and ran through it because I was trying to play it cool in front of all the strangers sitting in their cars. But once I crossed the street I let the pain overcome me. I started crying and I limped home. So if you were driving near the Disney lot on Riverside yesterday and saw a girl limping, hi, that was me.
Ironic that this happened on the same day I registered for the 2015 Tink 10k.
So now here I am, resting again. Three weeks before the Disneyland 10k and two weeks before I'm trekking around Alaska. I don't do well with resting.
And this is not to say I'm never going to run again. Oh no. I enjoy my runwalks and you can't keep me away from the bling. I just need to remember to slow my roll. And maybe find a supplemental way to burn calories.
Have you ever had an injury while running? How do you stay in shape while also resting?