This post contains affiliate links.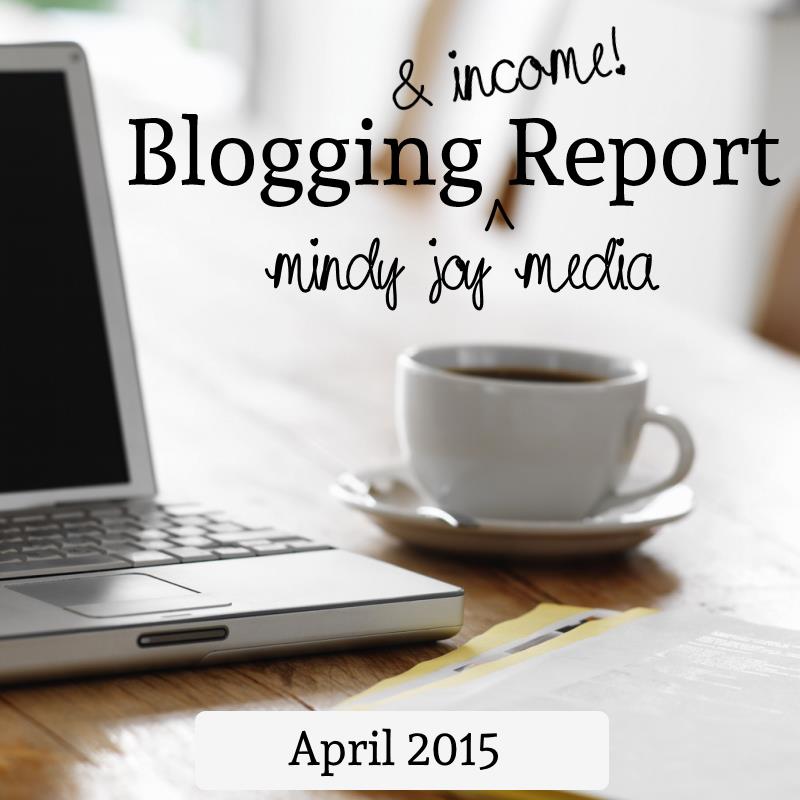 Heyyy, remember these blogging reports? Oh, April, I wish I could just skip right over you. You were difficult, and also my best month of traffic ever. Isn't that how it always goes? To sum up as quickly as possible, I wrote about being harassed while at a convention and the story went viral. More on the numbers in a bit but I just want to say that, in a perfect world, I would not have been harassed and I would not have written about it and April would be a totally normal, boring month. Right now I would love to be complaining that my numbers aren't quite where I'd like them to be. But it is what it is.
Blogging and Income Report – April 2015
Starting with my goals from the previous month. I wanted to work on my email capture methods, finish my email incentive for Budget Fairy Tale, begin to research rebranding for Inspired By Dis, and do more with affiliate links. I didn't do any of that. But (spoiler alert), my May report will have some exciting announcements.
Numbers
Budget Fairy Tale
So here it is. The blue is where my post went viral. All my stats more than doubled. I had nearly 40,000 unique visitors to my blog in April, which is nearly triple March's count. What does this mean? Well, it was exciting in a way, to know so many people were looking at my website. What does it mean in the long run? Not much, probably. My article that went viral is not my typical material. The vast, vast majority of those new visitors will not become long-term readers. I wrote the article to hopefully bring about some kind of social change or way of thinking, not to grow my audience. While the numbers make my heart flutter a little, I don't think this is my big blogging break that will send me into Internet superstardom.

My referral sources were rearranged a bit, since my post went viral thanks to Facebook. My top 5 were: Facebook, Google, Direct traffic, Pinterest, and Twitter.
Inspired By Dis
Meanwhile, over on Inspired By Dis, I had a relatively disappointing month. And that's because I neglected it. I only wrote 12 posts in April, and my goal is about 20 posts per month (although I rarely hit that lately). I admit I got swept up in Viral Post Mania and it burnt me out a little bit. So, I was down across the board, but about 10%. Ouch. Sadly May will not be much better, since I was out of town for nearly two weeks of the month. Gotta get back on track!

My top 5 referral sources were Google, Pinterest, Direct, Feedburner/Pinterest, and old URL traffic.
Other April Happenings
In April I went to the Star Wars Celebration and spoke on a panel with six other Star Wars fans. I had never done anything like that before and it was a fun experience. I enjoy public speaking and guesting on podcasts, so I guess being on a panel like this is not too much different. You can read my recap post (and listen to the panel recording) here. I hope to do more of this in the future!
Monetizing
Here's what I earned in April. I list the earnings by network, and then state the specific brands/shops in parenthesis. If I didn't make any money through a specific affiliate channel, I will leave it off the list (all those zeros could get depressing)!
(Keep in mind this is just money I'm making through my websites. I also have a few other part time jobs which I am not including here.)
Ad Networks
Google Adsense – $57.07
Media.net – $6.86
PadSquad – $326.42
Brand Campaigns
I earned $326.80 for sponsored content this month (includes blog and social media campaigns).
Affiliates (some of the links below contain my affiliate code)
Amazon – $28.29
ShopSense – $1.82
Skimlinks – $2.66
Share-a-Sale – $3.15 (Modcloth)
Izea (sponsored tweets) – $9.00
Affiliate Window – $4.78 (Etsy)
Scoutmob – $1.70
Pepperjam – $1.28 (Hot Topic)
Total revenue for April 2015 = $769.83.
– Total revenue the previous month = $720.36.
– Difference: +$49.47
That's enough to buy about 192 Disneyland churros! (Because I'm motivated by food, y'all.) I had two sponsored campaigns in April, which is great. Although I faltered on the affiliate side of things in April, I'm honestly just happy to see my monthly income continue to increase.
Things I need to work on:
Since May is practically over it seems silly to make goals for May. How about my goal is I'll get May's blogging report completed in the first week of June. That should be enough of a challenge.
That's it for now! Thank you for reading. Let me know if you have any questions and I'll try my best to answer! I also would like to know if the information I'm providing is helpful or what else you would want to see/learn from an income report. Let me know how I can help you! Have a great month, everyone!
Comments
comments