Okay, I admit it. I'm procrastinating. I have SO MUCH to write about – LENGTHY, complicated posts about conference recaps and vacations – and I'm sitting here looking at cake. Yep! Totally dreaming about Disney wedding cake. The Disney Fairy Tale Wedding dream boards make it easy to browse and drool over the cakes, and sometimes I just find myself scrolling through, and not even remembering how I ended up there. Sometimes, when I my tiny brain gets too overwhelmed, I just shut down and think about cake. I can't be the only one, can I?!? Well, my lack of focus this weekend is your gain, because I've gathered 11 of the prettiest, yummiest, Disneyland wedding cakes I could find. Let's discuss this very important subject in great detail, shall we?
1. Love this simple white two-tiered ruffle cake, surrounded by flowers and topped with two ceramic frogs – a nod to Princess and the Frog!
2. Who wouldn't want their own individual mini cake? The peppermint motif here is adorable (was it peppermint flavored, too?!?).
3. A three tiered white cake with classic silver accents. Love the initials in the middle.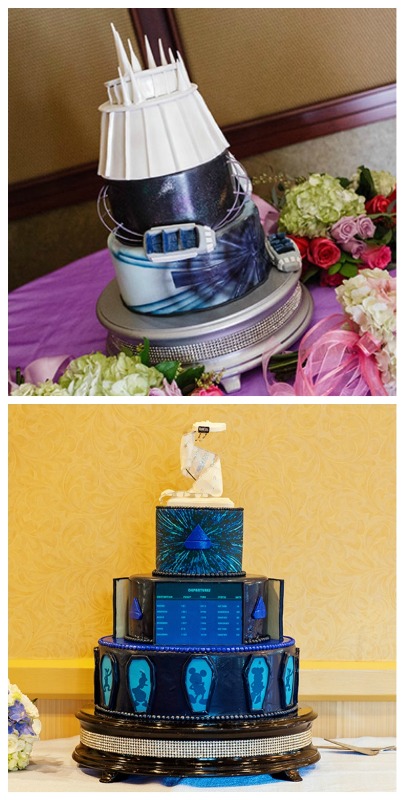 4. A couple of spacey cakes! Check out the white chocolate model of Space Mountain on this one! Not to mention the little ride vehicles. Amazing.
5. And this futuristic cake has a tiny Millennium Falcon on the top! Gahh!!
6. A classic fairy tale take: Cinderella and Prince Charming, with the words "Happily Ever After" scrawled across each tier.
7. A plain white cake is elevated with lots of delicate detailing and the signature Disney white chocolate castle on top.
8. This blue and yellow cake is just so cheerful and happy!
9. This "pull" cake is perfect for a New Orleans themed wedding (or, any kind of wedding, who are we kidding).
10. This naked cake reminds me of Twinkies and Ho-Hos (you know, when you turn them upside-down and you can see the filling oozing out), and that's a really good thing.
11. This gorgeous cake took inspiration from Mary Blair and the facade of It's A Small World, only it was executed in the couple's wedding colors. The silver accents are amazing!
Which cake would you eat first?
All images from Disney Weddings Inspiration Gallery.