Valentine's Day is coming up! If you don't know, I have several Valentine's Day crafts here on the blog from my days as a DIY blogger. Those days seem so far behind me now, but I'm proud of the items I created and I'm happy people seem to still be enjoying them!

Printable Mickey Conversation Valentines
This was an experiment for me. Something a little different from what I normally post. I really enjoy trying new things, but I have to admit this was difficult! I have a whole new respect for DIY bloggers who do these kinds of tutorials four or five times a week, every week. From concept, to buying materials, to trying it, failing, and trying again … then photographing, editing, taking new photos because the first batch isn't good enough, then writing the post! It's so much work. Don't get me wrong, it's really fun, but I'm exhausted! The good news is that my daily page views were higher than average this week, and steadily climbed each day. It seems you all enjoyed my DIY tutorials, and that makes me very happy.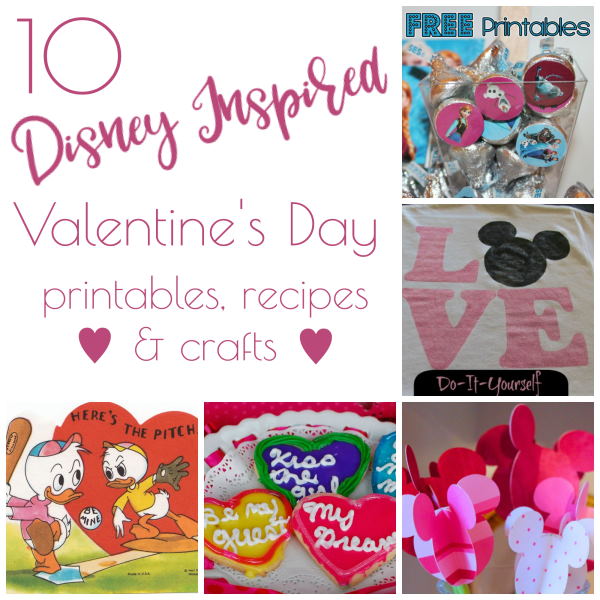 Today I want to share a round up of other blogger friends' Disney Valentine's Day Ideas posts. These crafts, printables, and meals are so cute and clever!
⚪ We only love Baby Yoda, so these printable Baby Yoda valentines cards are a must! Via Desert Chica.
⚪ Love these Mickey and Minnie Cutie Cozy from Disney Family.
⚪ Print out your own Frozen Valentine's Day cards from Homeketeers.
⚪ Toy Story printable valentines for the young men in your life. Via Disney Family.
⚪ Adorable … er, I mean, tough looking DIY Jake and the Neverland Pirates lollipops from The Joys of Boys.
⚪ Learn how to make your own Mickey flower bouquet, to give to someone special or keep for yourself! Via Capturing Magical Memories.
⚪ Valentine adventure is out there! Up-inspired DIY card from Disney Family.
⚪ Cute and surely yummy princess themed Valentine cookies from Adventures in Familyhood.
⚪ Frozen printable treat bag covers and stickers from Homeketeers.
⚪Make your own "LOVE" Mickey Valentine's Day shirt via Heidi's Head.
⚪ A delicious Mickey and Minnie smoothie bowl from The Healthy Mouse!
This article was originally published in February 2014 and has been updated.